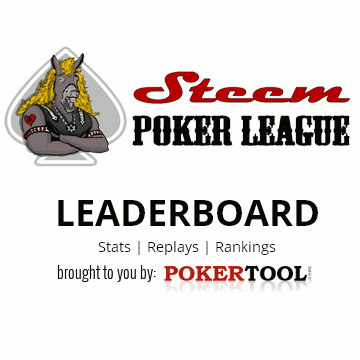 Cody
PLAYER OF THE WEEK honor this week went to
Cody
. It was very close between Cody and reigning Champion
lebekons
. lebekons took down the Low-Limit championship while Cody took down the Mid-Limit Championship. Since the Mid-Limit has larger fields, the nod goes to Cody. Cody and lebekons both played nearly the same amount of games this past week 50 to 52. lebekons and Cody were also the top two biggest cashers. Not many have taken down the mighty lebekons, so congrats to Cody for winning this week's Player Of The Week.
---

NO TRIPLE CROWN WINNER THIS PAST WEEK
There was actually no 50 SBD played this past week on LuckSacks. Therfore, no one had a chance to be a Triple Crown Winner this past week.
---

tom74
There is a new name in the #1 spot as the most profitable player last week.
tom74
averaged 2.75 SBD per event!
---

CronusRiley and m211
We have a tie for the most consistent players.
m211
and
CronusRiley
won 50% of the events they played. These two were on a roll. Had they played more events, they may have made Player Of The Week. When you are running hot, you need to take advantage of it and play more events.
---

raphavongal
Somebody finally knocked lebekons off the top spot as LuckSacks most active player. The honor this week goes to
raphavongal
playing 62 events to second place
lebekons
52 events played. Missing from the list were the consistent players,
m211
and
CronusRiley
which may have cost them the Player Of The Week Award.
---

samest00 and luj
The biggest donks this past week were
luj
and last weeks biggest donk,
samest00
. Both played 18 times and never won this past week. If you remember from last week, samest00 was the biggest SPL donk for playing 19 times and never winning. This week he added 18 more times played and he kept the losing streak alive by failing to cash in any. I also had the pleasure to take samest00 this past week into a ring game with bots. I tried to teach him the system on how to get free chips from the bot so he can use the free chips to buy into the tourneys and win SBD. Instead of following my step-by-step system, he started raising me and going after me instead of the bots. WTF? samest00 definately loves action, even if he doesn't have the best hand, and that is why he landed the top spot again as SPL's biggest donk.
---

Carl Marx and brains1ck
The Wall of Shame does not stop with samest00. This week I'm proud to announce that our beloved
bethalea
managed to get herself off this list and we have two new champs who tied for first,
Carl Marx
and
brains1ck
. Both of these players finished on the bubble, 40% of the time played!
---
Congrats to all the winners and donkeys. No matter where you end up, have fun and win free SBD! Special thanks to @tuck-fheman for his tireless work in manually curating the files so we can have these stats.
---
Starting Monday payouts will be in STEEM! Goodbye SBD, Hello Steem
---
---
Please help raise awareness for these contests and the SPL games by resteeming this post.
On the set of the Professional Poker Tour with @internetguy