From television to Youtube and Netflix, to Hollywood film and mass media, we cannot escape motion picture entertainment. And so like anything you ingest physically, it is good to know what happens when you ingest things psychically. The science is easy to understand and there is something we can do in order to slow or nullify the rate of mental regression.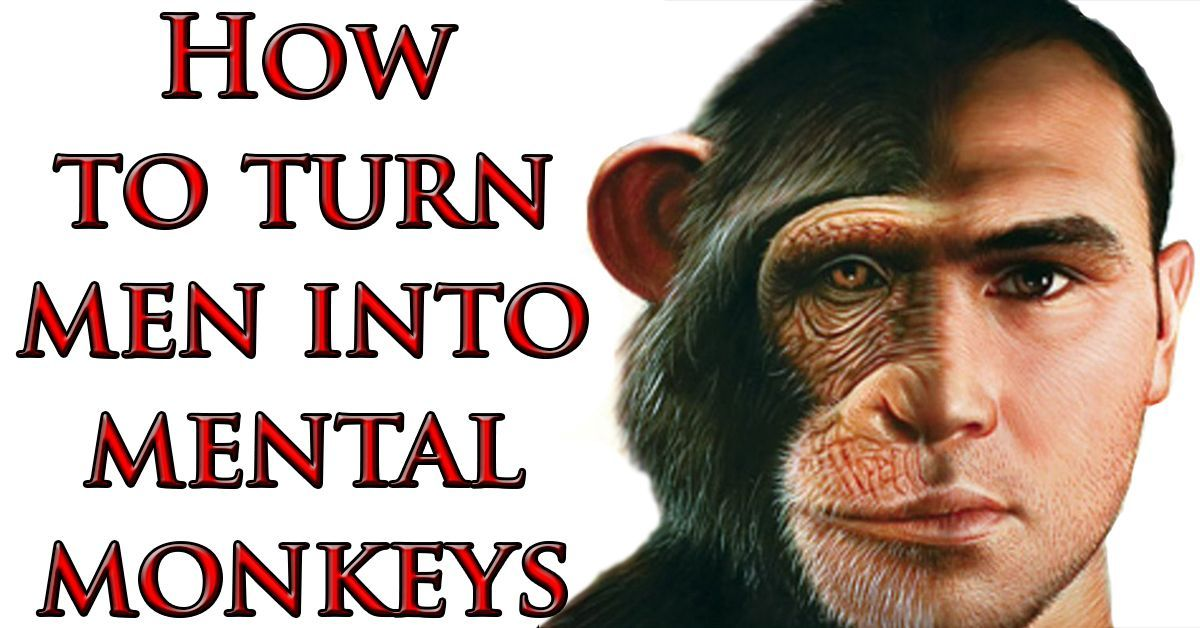 What separates men from apes is our well developed forebrain. This gives us tremendous mental advantages over our evolutionary cousins. We have the ability to critically engage our environments as well as plan for the future and reflect on the past. We can delve deep into creative processes and imagine great things.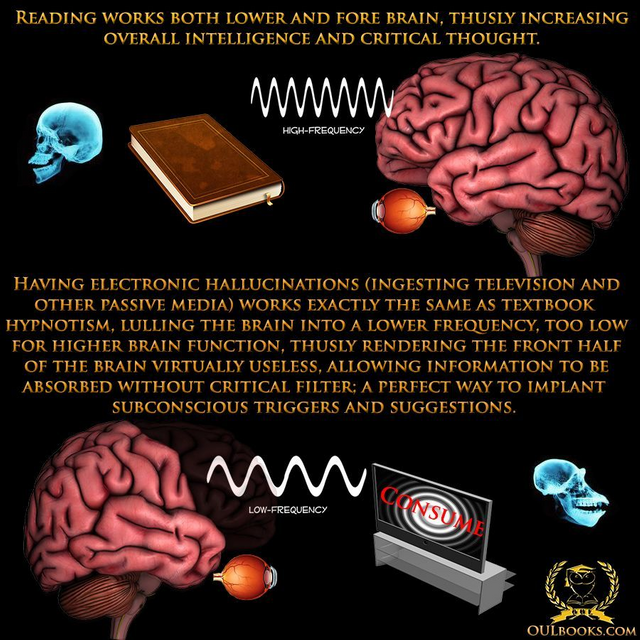 It is to the advantage of those who wish to control people to keep them in a lower operating state mentally. The ideal sheep is reactionary, with little to no critical thought. TV watchers over the years become perfect sheep, consuming like madmen, triggered easily by fear propaganda, believing everything mass media created "authorities " tell them. They dont challenge any of it. They are propelled into belief and action through their lower Limbic Brain which is highly emotionally driven.
Thats right! Our brains are psychically and physically altered over time by passive screen entertainments

When one sits in front of a screen ingesting electronic hallucinations of reality, within minutes, depending on how strong the pysche, they are lulled into Alpha Brainwave state, a state that essentially turns the person into a receiver, allowing the media to write directly on to their subconscious.



Those who indulge in a lot of motion picture entertainments and rarely read, do not have strong forebrains, and this forebrain acts as a critical filter for the sensory information we receive. Reading strengthens the forebrain, which is great practice to offset the negative effects of motion picture media that we passively ingest. It makes us better bullshit detectors as well, as the mainstream media and Hollywood are full of propaganda.

The following short clip shows exactly how passive motion picture entertainment weakens and exposes us.

In these modern times, we are all going to indulge in at least some film and shows, but it is important that we spend some time doing things like reading, solving puzzles and doing other exercises that strengthen the neo-corticular faculties.



The liberal artistry in modern productions from "news" to cinema, contain much occult science, from color and sound manipulation, to lighting, to logical fallacies hidden in masterful rhetoric, that with with the continued drop in literacy due to "education" and increased passive entertainments, the power over our minds just keep increasing, as our mental abilities regress to that of monkeys.



The following .gif image I made before my hair became insane, illustrates forebrain activity; not typical when one is in an hypnotic Alpha Brainwave state receiving electronic hallucinations.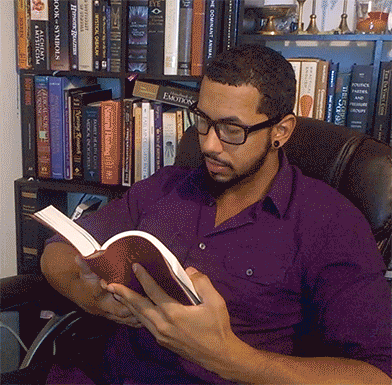 When we scan plain text characters, they turn into dream characters and landscapes, as well as our own creations. It takes a person with imagination to do that.
The main reason why people dont read anymore is because they are being bred through "education", food and social life to become increasingly illiterate, and where does that leave them? Well, they must consume the imaginations of others, dumbed down to the lowest common denominator entertainment via passive screen media.
Their dreams are replaced with the creations of others, with increasing ill-morality, consumerism and idol worship sprinkled into the mass productions, and thus, a collective based, predictable and easily herded subconscious grows.
Most people think because they can close their eyes and see images, that it is true creative imagination, but all it really is, is the replaying of downloaded images, artificial dream imagery, and this is what guides their lives without them even knowing.
Read books and increase your knowledge and creative imaginations.

It increases the brains operating frequency, and thus the new brain faculties of the Neocortex. It increases not only imagination, but critical thought.



Reading even a terribly written book about nonsense beats almost anything you can find on TV. It exercises the brain, increasing forebrain faculty.

With love,
Doc