SPInvest: A Steem DAO In The Making
SPInvest is rapidly becoming one of the more successful tokens on Steem-Engine.
This project is really starting to heat up showing the potential. A great deal of this might be word is spreading among Steemians. Another could be the fact that the timing within the industry where these types of projects are starting to appear all over the place. The fact that it is available on Steem makes it very attractive.
Investment in cryptocurrency is exploding. We not only see more people buying individual tokens but, also, the entry of Wall Street. While true institution money is still on the sidelines, some wealthy are starting to pile in with big numbers.
There was an announcement about Wall Street billionaire Alan Howard opening up a hedge fund that is going to invest in stablecoins. The idea is to provide stability in what is normally a very volatile asset. This could hold great interest to conservative institutions that shy away from volatility.
The fund seeks to manage as much as $1B.
https://www.coindesk.com/billionaire-investor-eyes-1-billion-crypto-hedge-fund
SPInvest is an investment club that is designed to create a conservative cryptocurrency return that enables participants to "get rich slowly".
While the project is only a few months old, it is making great progress in an effort to decentralize and spread out. The number of people involved is expanding. There are presently 108 accounts that are holding tokens. We also saw the introduction of the Partnership Agreement which is establishing the foundation for the community to control the course the club takes.
https://steempeak.com/spinvest/@spinvest/steempower-investments-official-partnership-agreement-and-the-formation-of-the-steempower-investment-club
We are already seeing different people getting involved in aspects of the project. Community members will start to take on a bigger role going forward. This is logical in a club but also provides the situation where the power base is distributed among a number of individuals.
Presently, things are very manual. However, as we see in the traditional world of finance, there are many tools of automation. Hopefully, we will see many of these same options appear in the world of blockchain. Automatic re-investing is a vital aspect to all this. So far, the only token with that option is @tipu. I would expect features like this to be commonplace on a Steem-Engine down the road.
As rewards are earned, the club could have an on-going investment table which automatically routes the funds based upon the votes of the community. One of the advantages of blockchain is that it allows real-time, instantaneous updates on the votes. Hence, all can take place based upon the on-going daily voting of the community.
This could be used for both on and off-chain investments. Whatever rewards enter, the STEEM could be directed by the Smart Contract to whatever wallets as dictated by the community voting. Thus, if 10% goes to BTC, then the STEEM is sold for BTC. By the same notion, we could see a percentage directed to purchase of ENG or LEO tokens.
This provides the community members with the say over what takes place with the project while removing much of the human element. This is the idea behind DAOs.
One of the greatest benefits to this is the cost associated with operating a pool such as this. Unlike a hedge fund which have huge fees, the investment club operates without that drain. Whatever enters the projects, either as investment or via rewards, is re-directed at 100%. Over time, this will allow for much greater results. Wall Street tends to take a couple percent annually meaning growth, over the long-term, is stunted.
So what is the potential of SPInvest?
Using a compounding calculator, I simply followed the expected goal of 20% annual return as set out at the origin of the project. If this level can be met, we will see a great return over time. A return of this type is what allowed Warren Buffett to be considered one of the greatest investors ever to live.
Of course, the potential in something like cryptocurrency can make this return look small. Just consider what Bitcoin yielded over the past decade. In spite of the larges run ups, followed by the inevitable collapse, this asset exceeded the return on most assets in that time (by a wide margin).
SPInvest prices everything in STEEM. This is one of the novel aspects to this project. To price it in fiat, we have to take the extra steps ourselves. All returns are based upon STEEM.
For this analysis, I used 500 SPI tokens, which is worth roughly 537 STEEM. Anyone getting involved at this level could see enormous potential going forward.
This will also illustrate how bug the numbers can get when looking at a 20% annual return.
Using the calculator, I entered a 15 year time frame without any addition input, getting 20% annually.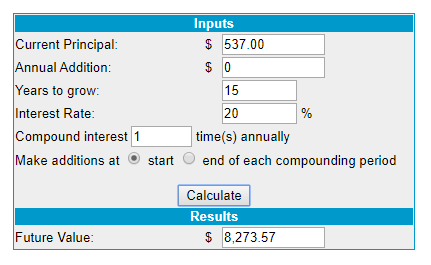 http://moneychimp.com/calculator/compound_interest_calculator.htm
As we can see, the amount of STEEM backing these 500 SPI tokens would surpass 8,200 over the 15 year period. If we want to see what this is in USD, simply apply a price per STEEM that you think accurate over the next 15 years. Is $10 realistic? That would mean one would have over $80,000.
Not bad considering the initial purchase of 500 SPI tokens is presently in the $100 range.
We must keep in mind that, for the foreseeable future, the primary means of return is through leasing of Steem Power. I think it safe to conclude that this form of financing is going to become more popular within the world of crypto as we go forward.
Essentially, we can view it as leasing out "digital real estate".
Can returns like this be achieved through the "hivemind" of a community who is thoroughly invested in cryptocurrency? Obviously, only time will tell on that. However, as we can see, options are starting to appear for average individuals which previous were only available to the select few who were insiders on Wall Street.
This is the power of the shift taking place. Many on Wall Street received returns like this since they were able to get into deals long before the average person. Now, we have a project that anyone can get involved with today.
Hopefully, we see a way to automate more of the processes so that most of the project can operate with little human interaction.
This could end up being a very interesting DAO that is housed on the Steem blockchain.
---
If you found this article informative, please give an upvote and resteem.