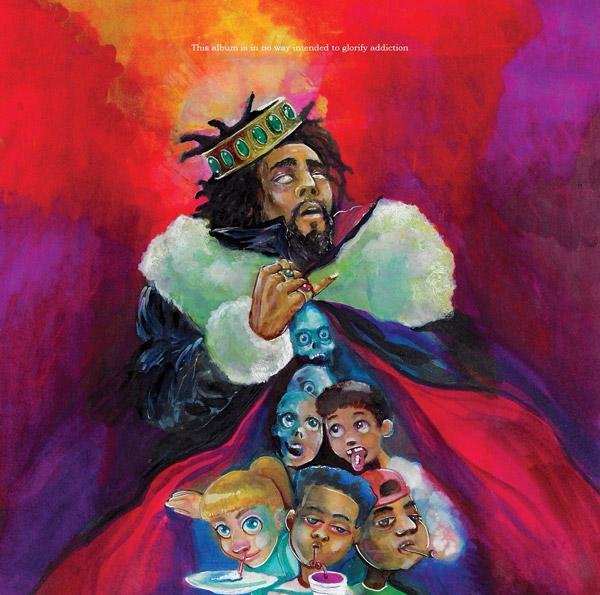 "Life can bring much pain. There are many ways to deal with this pain. Choose wisely."
---
Cole Is The Greatest!
Ok before I get into this mini review on J Coles new album "*KOD", I want to put out the disclaimer that he is my favorite artist, so I don't think he can put out a bad project. As of late however, he has drifted away from chasing radio hits to telling stories and instilling very much needed messages to our youth and community.
As the huge J Cole fan that I am, I had to force myself to grow with him and keep an open mind when ever it came time to digest a new product. As far as replay value I don't think I'll be bumping this all summer, but I'm positive that more than one of these songs are going to impact me on an intrinsic level moving forward. Considering the lack of, or negative impact that many of these new artists are leaving on the culture, Cole's words continue to be a source of substance and change the lives of many without direction. So with out Further ado, here is my initial take away from the album.

The Title
When ever I'm digesting a new project I try and listen to it at least three times before I form an opinion, because every listen I am able to interpret the album in a different way. A good place to start is always the title.
Cole recently confirmed that the title has three meanings.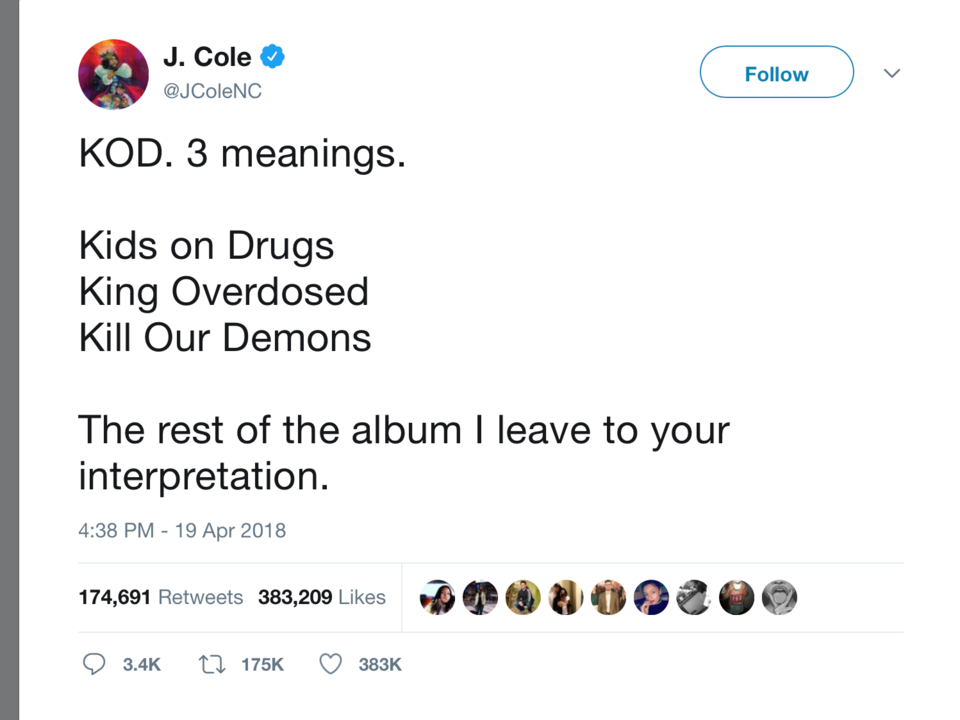 His tweet is pretty self explanatory and you can probably guess what his album is about, but for those without the mental fortitude to think objectively, I'll dive in.
You can hear from the first line of the intro that this album is trying to highlight the prevalence and inevitability of pain that we will experience in our lives, while simultaneously making the listener reflect on how we should deal with it.


A Deeper Meaning?
Even though any gender or race can take away something impactful from Cole's ability to cleverly construct and build on a story, I believe the majority of his music is geared towards the black community, which can be narrowed further to specifically black men.
This album actually couldn't have came at a better time when the prevalence of mental illness in the black community continues to be brushed under the rug for more alternative methods like praying and unconsciously coping with our life circumstances with a 40 and some backwoods.
Charlamagne Tha God, who is a host on the critically acclaimed and highly controversial radio show, The Breakfast Club described Coles performance as, "Ted Talk Rap", which had some merit and was kind of funny.
I do miss Cole using his genius for more ratchet purposes, but I believe using his powers for good will stand the test of time and impact countless of us without the resources or support to pursue another alternative than drinking or smoking our problems away.
After listening to the album, I wouldn't say it was his best work, but I understand his message and believe it's very selfless of him to risk everything for his art. I think he did a great job tackling a few issues that I think about on the daily like infidelity and how easily it is to fall into destructive tendencies. I'm positive that Cole is very much solidified in his own lane and will gladly take the criticism and jokes if it means he can continue to create what our community needs at the moment!
Let me know how you liked his new album and if you haven't heard it yet, then go give it a good listen. You won't regret it! Until next time this has been a message from your friendly neighborhood #spiderblogger!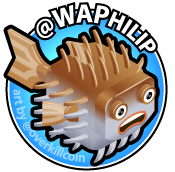 ---