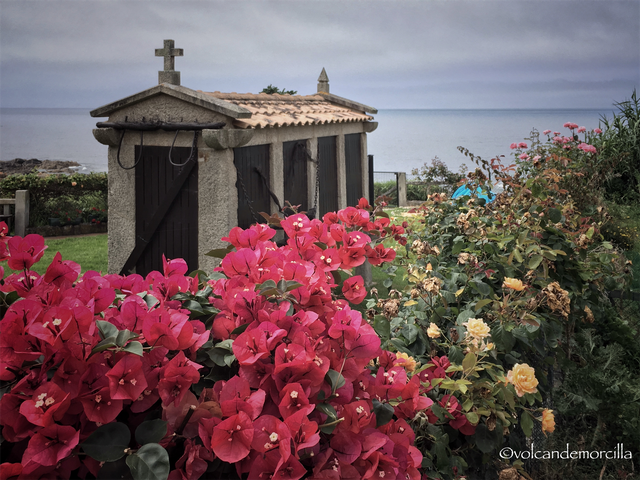 Todos los veranos me gusta hacerlo. Reconozco que me siento enganchado a la ruta Xacobea.
Una de las cosas más agradables de realizar el Camino a pie es que se deambula pausadamente por entornos naturales, más o menos salvajes. Aunque, también se camina por lugares algo mas urbanizados.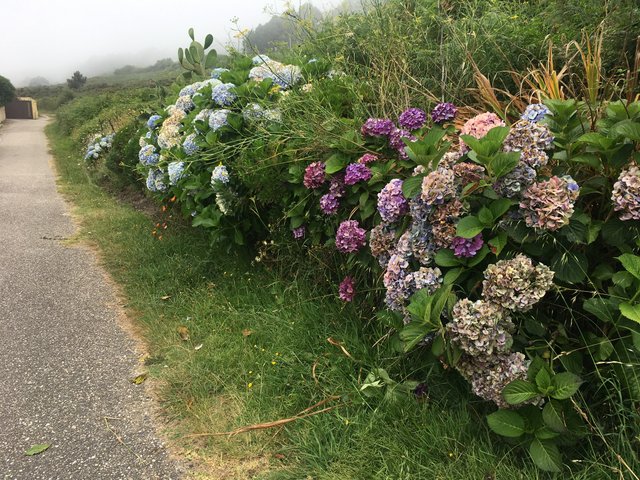 Es cierto que en algunas zonas no se ha respetado mucho esta via. Sin embargo, todo tiene su encanto. Un ejemplo, son las flores y plantas que algunos han plantado y decoran el recorrido. Por ejemplo, hay muchos grupos de hortensias que alcanzan grandes tamaños.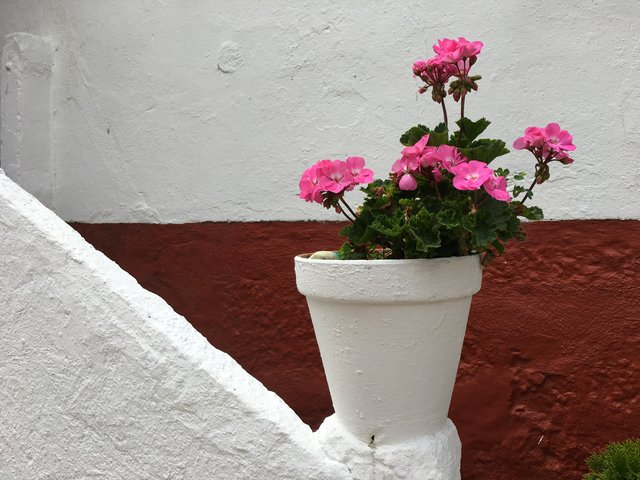 A lo largo de los Caminos de Santiago que personalmente hecho en años anteriores, he ido haciendo fotos de flores que encontraba durante el recorrido. Este geranio en su maceta blanca es un primor.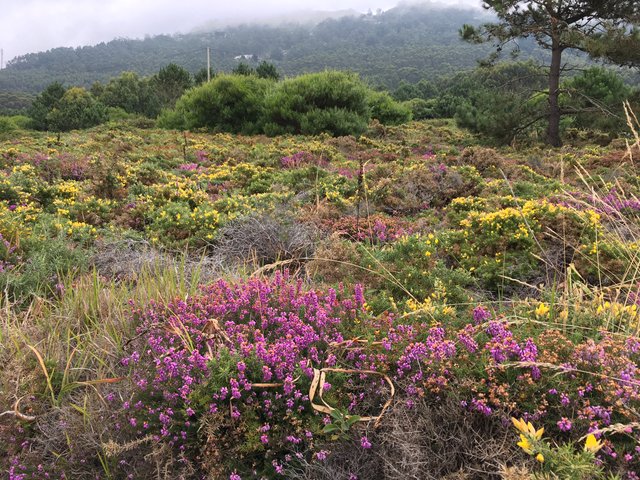 Ahora las he ido juntando en una carpeta. Muchas son flores bastante habituales, como son las hortensias o los geranios. Otras son mas raras y nunca mas las he vuelto a ver.

El hórreo de la portada, enmarcado por la buganvilla y con el mar de fondo, siempre me ha gustado mucho. Hice esta foto el año pasado durante la etapa que nos llevaba hacia el Monasterio de Oia.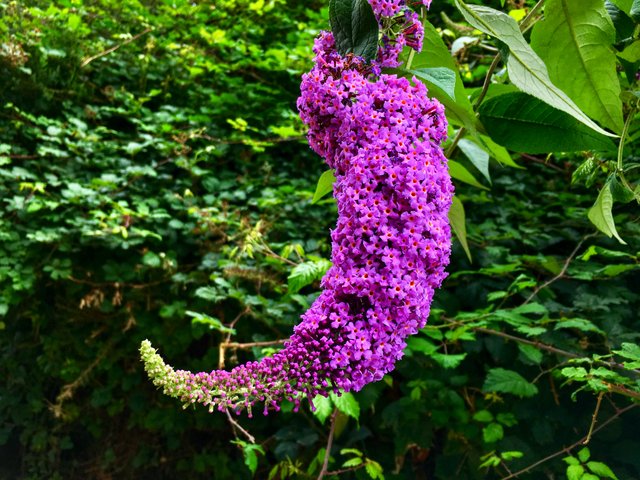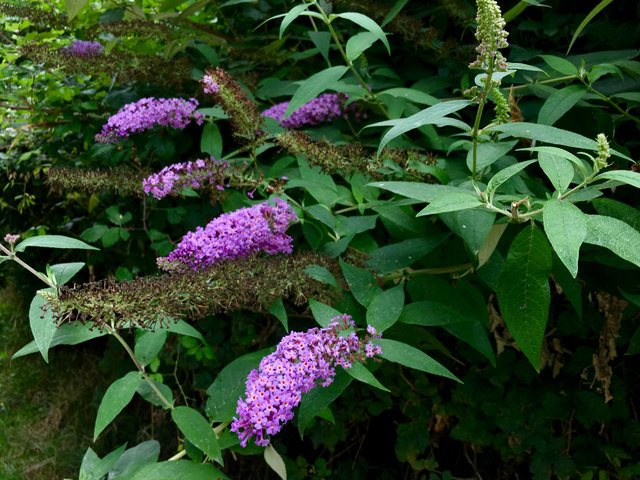 Esta flor debe ser de algún tipo de Glicinia, sin duda. Desprenden un agradable olor. La encontré algunos kilómetros mas allá en la salida de Pontevedra.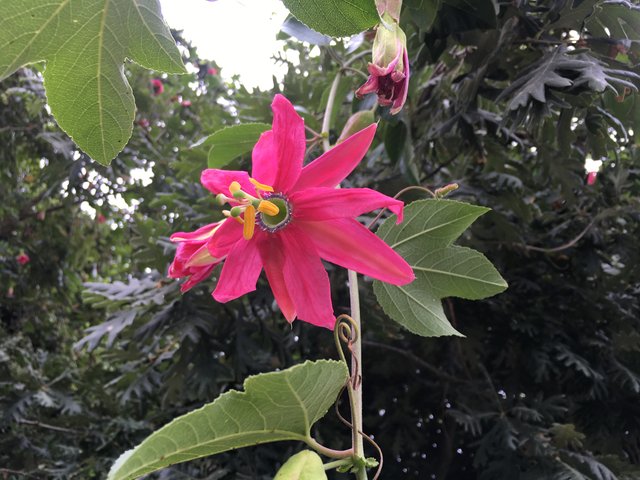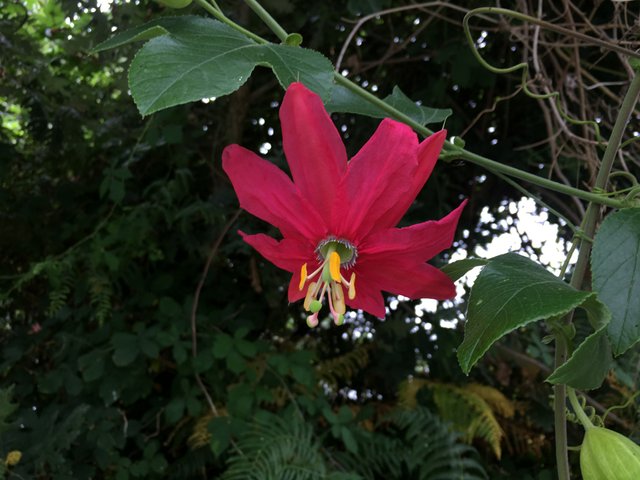 He investigado para averiguar algunos de los nombres de las flores pero, aún así, desconozco como se denominan algunas. Tal vez, alguno de vosotros pueda ayudarme.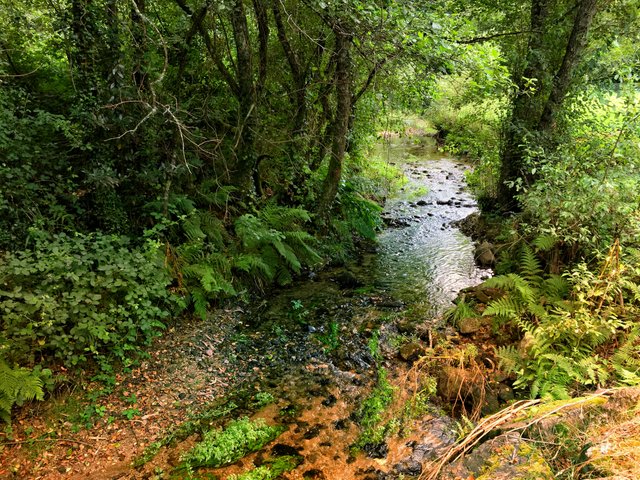 Soy un enamorado del Camino. Me gustan tanto los trayectos inhóspitos como los urbanizados. Tanto en unos como en otros recodos, nuestra mente transita entretenida admirando la naturaleza, las costumbres, la gastronomía y el estilo de vida de la comarca.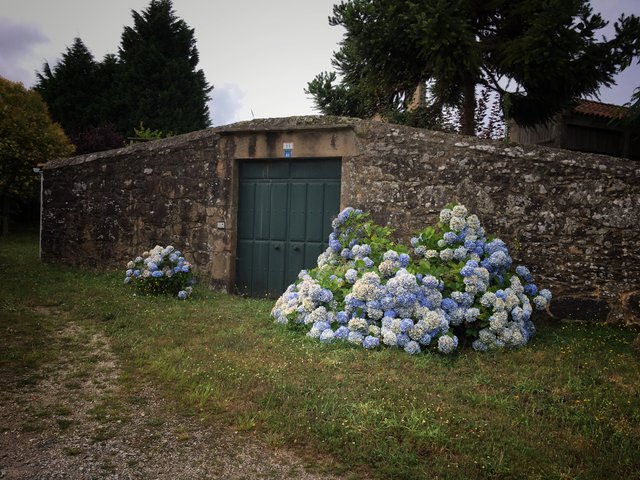 Es un estilo de turismo en el que se conoce la zona tal cual es. No solo se visita lo mas turístico sino que también se recorren las zonas descuidadas. Así, se tiene ocasión de conocer y charlar con personas que no habrías conocido de otro modo.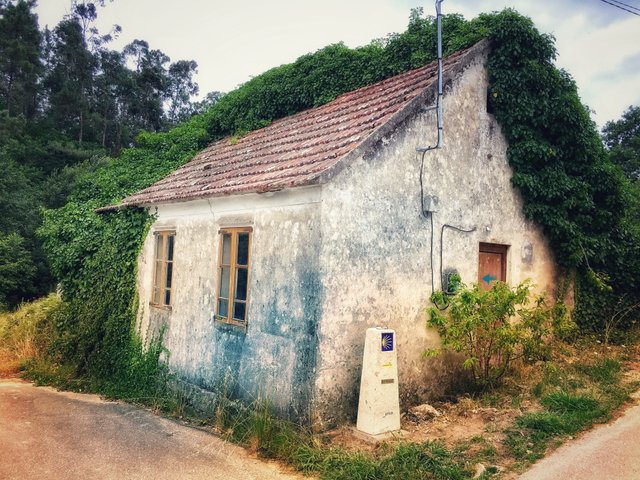 Probablemente uno de los motivos por los que la ruta jacobea tiene cada vez mas éxito es precisamente esta superposición de periodos temporales.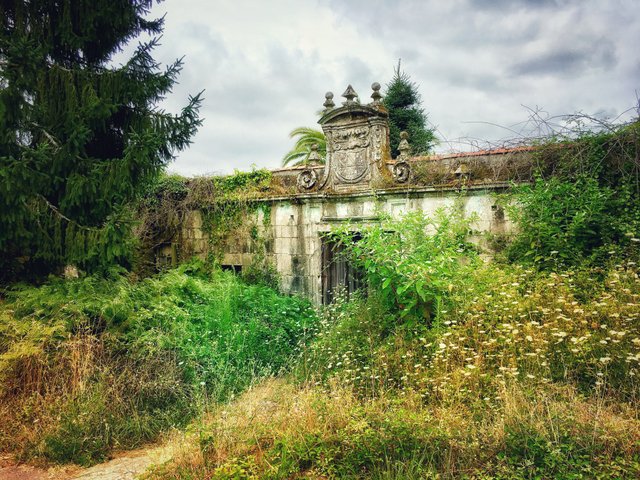 Haciendo el Camino de Santiago somos conscientes y percibimos la historia que ha quedado coagulada impregnando esta ruta de peregrinación que cuenta con mas de mil años de antigüedad.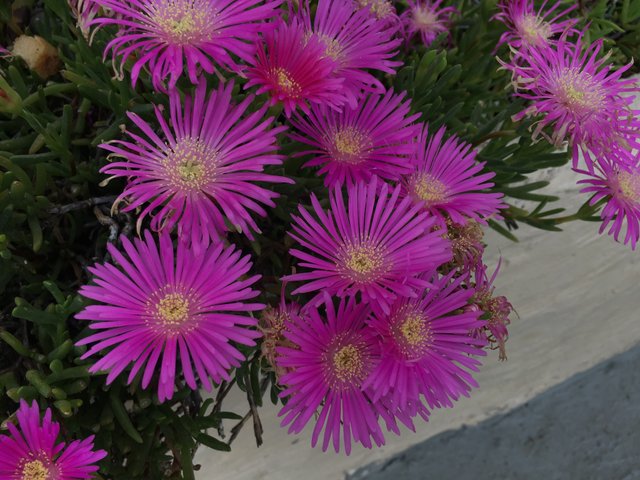 El año pasado hice lo que podríamos denominar el primer Steem-Camino de la historia. Este año lo haremos de nuevo. Para poder hacerlo y que tenga sentido, os necesito. Sabéis que disfruto mucho, si hacemos juntos este reto. Espero que os guste.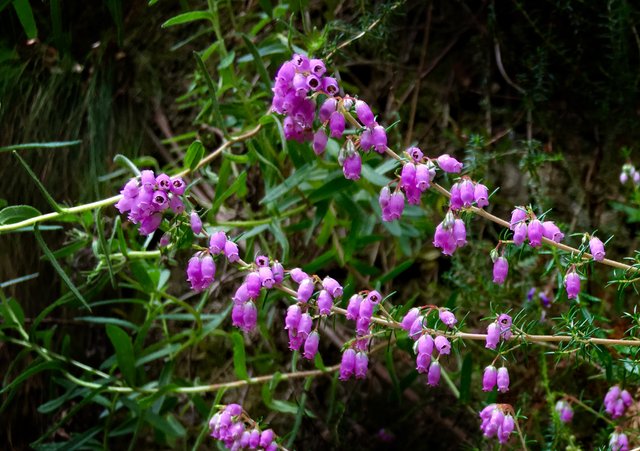 The flowers of the Camino
Every summer I like to do it. I recognize that I am hooked by the Xacobea route.
One of the most pleasant things to do on the Camino is that it wanders slowly through natural environments, more or less wild. Although, you can also walk through somewhat more urbanized places.
It is true that in some areas this route has not been much respected. However, everything has its charm. An example is the flowers and plants that some have planted and decorate the route.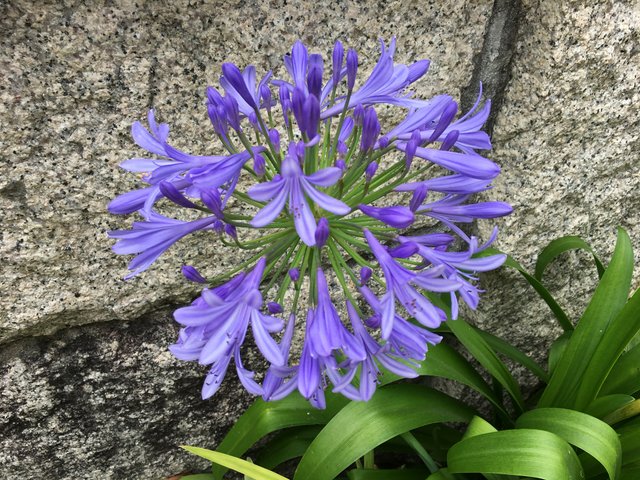 Along the Ways of Santiago that I personally made in previous years, I have been taking pictures of flowers that I found during the tour.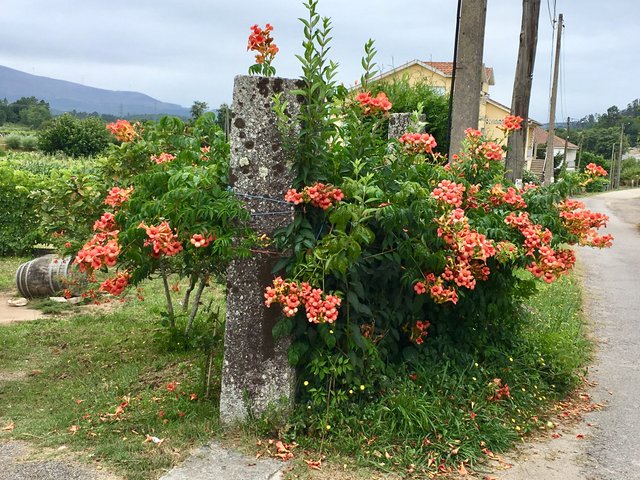 Now I've been putting them together in a folder. Many are quite common flowers, such as hydrangeas or geraniums. Others are more rare and I've never seen them again.
The hórreo framed by the bougainvillea and the sea in the background has always liked me a lot. I made this photo last year during the stage that took us to the Oia Monastery.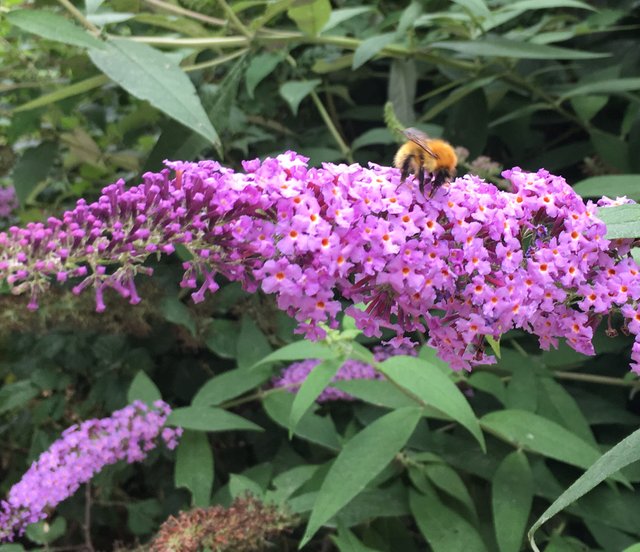 This flower must be of some type of Wisteria, no doubt. They give off a pleasant smell. I found it a few kilometers further on at the Pontevedra exit.
I have researched to find out some of the names of the flowers but, still, I do not know how some are named. Maybe, some of you can help me.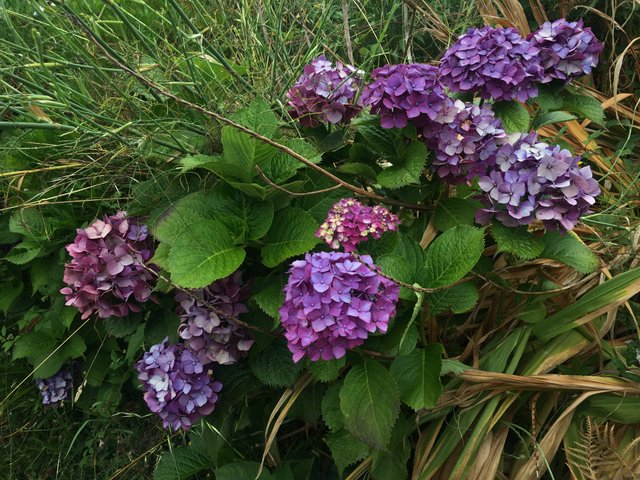 I am a lover of the Way. I like both inhospitable and urbanized routes. As much in some as in other corners, our mind transits entertaining admiring the nature, the customs, the gastronomy and the way of life of the region.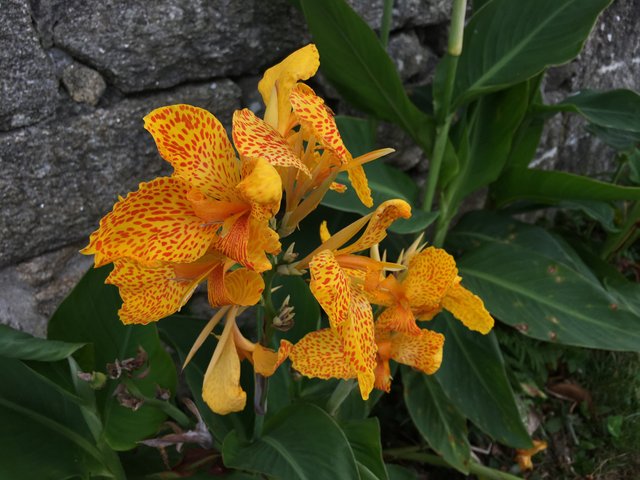 It is a style of tourism in which the area is known as it is. Not only visit the most tourist but also go through neglected areas. Thus, you have the chance to meet and chat with people you would not have known otherwise.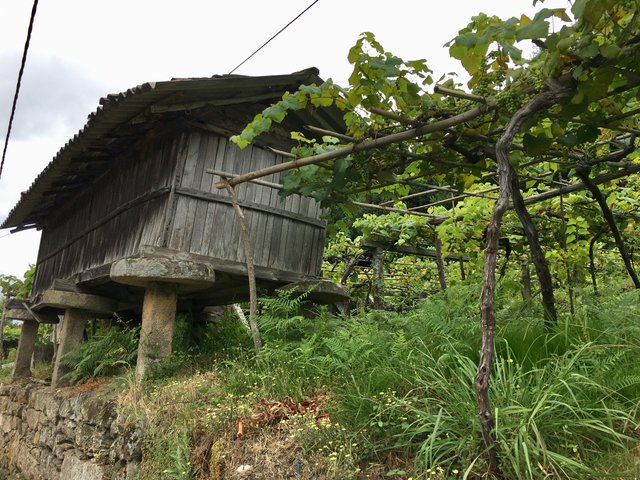 Probably one of the reasons why the Jacobean route has more and more success is precisely this superposition of time periods.
Making the Camino de Santiago we are aware and we perceive the history that has been coagulated impregnating this route of pilgrimage that has more than a thousand years old.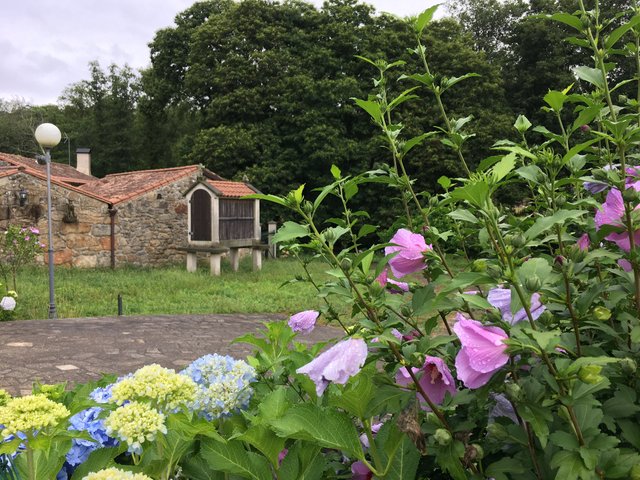 Last year I did what we could call the first Steem-Camino in history. This year we will do it again. In order to do it and make sense, I need you. You know I enjoy it very much, if we do this challenge together. I hope you like it.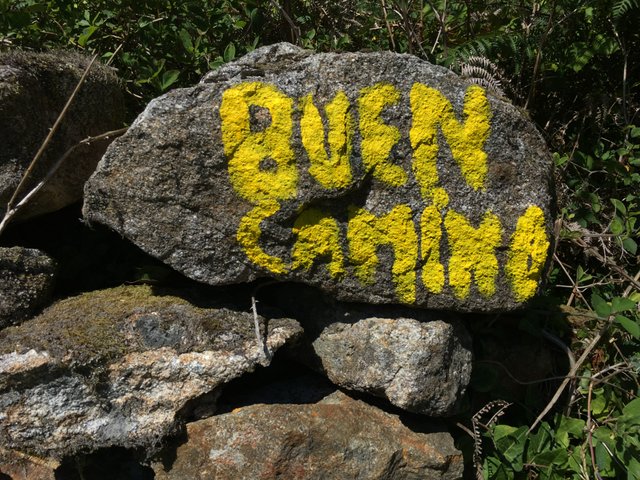 Cómo lo hago
Hice las fotografías con mi iPhone 6. Para la edición utilicé la aplicación Snapseed y para la firma digital usé la App Watermark.
Los dibujos los hice en el iPad con el programa Sketches.
For the photography I use my iPhone 6. For edition I use the Snapseed application and for the digital signature the Watermark app.
Everything I did on my mobile phone, I did not use the computer at all.
For the drawings, I use the Sketches program and paint them on the tablet.
Si quieres ver como lo hago, visualiza estos tres enlaces de publicaciones previas.
If you want to see how I do it, visualize these three links from previous publications.


Original design for @talentclub de @carlos-cabeza
Las fotos son mías y originales. También, soy el autor del dibujo separador.
¡Espero tus comentarios!
The photos are originals and mine. Also, I am the author of the separator drawing.
I await your comments.
¡Buen Camino!