El Mariposario. Curiosidades de Tenerife #3 🦋 The Butterfly Graden. Curiosities of Tenerife # 3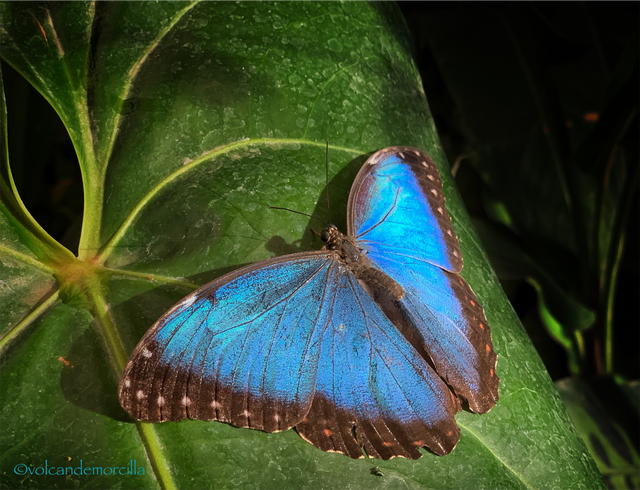 Un lugar interesante y poco conocido es el Mariposario de Tenerife. Se encuentra en Icod de los Vinos. Este pueblo está en la vertiente norte de la isla pero bastante distante de las zonas más turísticas. Quizás sea esa la causa de que podamos considerarlo una curiosidad de Tenerife.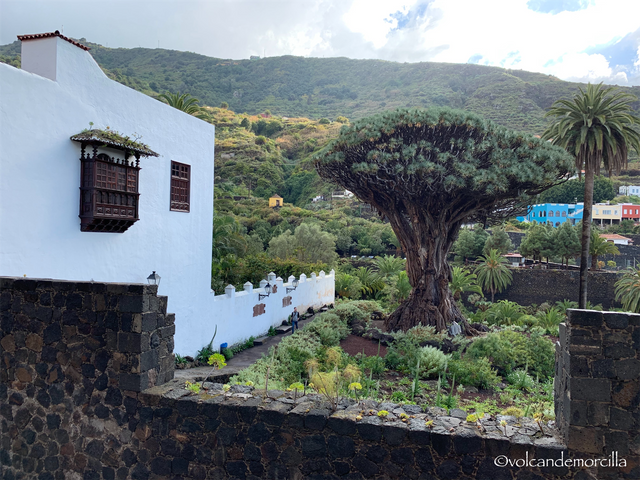 Icod de los Vinos es un pueblo famoso sobre todo por una planta gigantesca que parece un árbol y que está alojada en su centro histórico. Se trata del Drago Milenario y se llama así por su dilatada longevidad. Se dice que esta planta de aspecto arbóreo cuenta con más de 1000 años.
Este drago ya lo adoraban los pueblos aborígenes de Tenerife, los llamados Guanches, cuando llegaron los conquistadores. En el siglo XV El drago milenario ya era inmenso. Actualmente es el espécimen más longevo que se conoce. Su altura son 18 m y el perímetro de la base del tronco mide 20 metros. En otra ocasión me centraré en él y redactaré un artículo de la serie "curiosidades de Tenerife " especifico para él.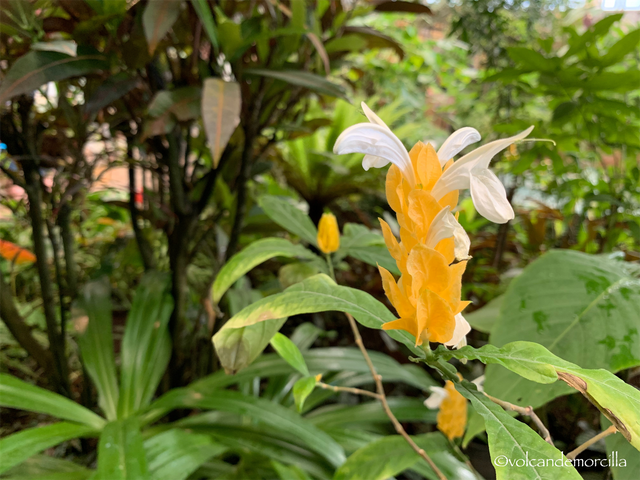 Y hoy os hablaré sobre el Mariposario del Drago. Hacía tiempo que tenía ganas de volver a visitarlo. Lo conocí hace varios años cuando fui con los niños. Recuerdo que disfrutaron mucho en él y aprendieron muchas cosas tanto en los vídeos divulgativos como de los paneles dispuestos en las instalaciones.
Hace unos meses, aprovechando que vinieron a Tenerife unos amigos y les hicimos una ruta turística por la isla y pasamos por Icod de los Vinos.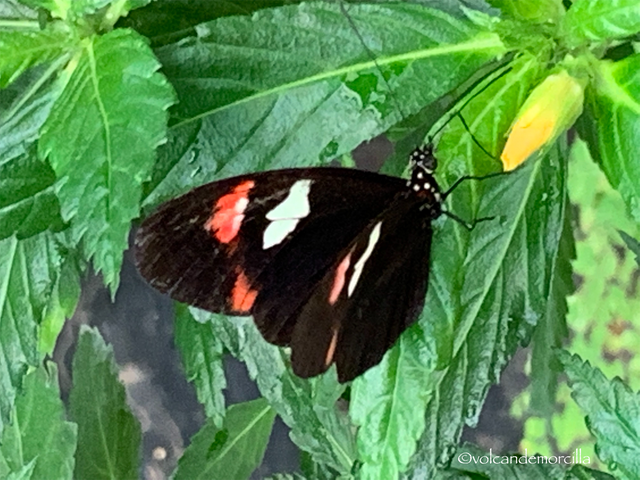 Para que las mariposas puedan criar y vivir, han de tener unas condiciones ambientales muy especiales. Dentro de las instalaciones del Mariposario se controla que la temperatura y la humedad sean algo cálidas y permanezcan estables. La temperatura oscila entre 25 y 29° y la humedad relativa es del 80%.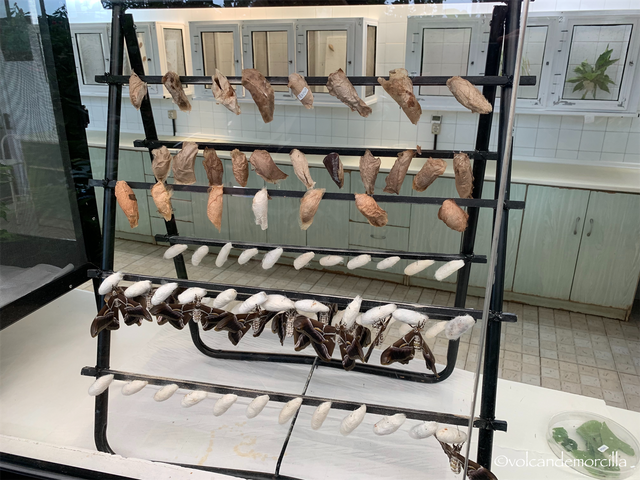 Las mariposas son insectos muy frágiles. No está permitido cogerlas o molestarlas. No pasa nada si alguna se posa sobre nosotros. Lo que no tenemos que hacer es apartarla bruscamente porque se dañan fácilmente. Las mariposas son inofensivas y no pican.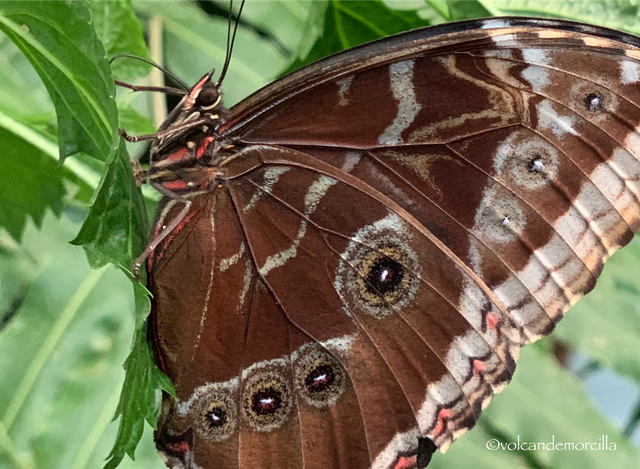 La mariposa es un insecto lepidóptero. Se llaman así porque tienen escamas. En las alas de las mariposas ahí diminutas escamas que son las responsables del color y de los dibujos que hay en ellas. Por eso se llama lepidóptero porque "lepido" significa escama y "ptero" es ala. Este tipo de escamas no las posee ningún otro insecto, es exclusivo.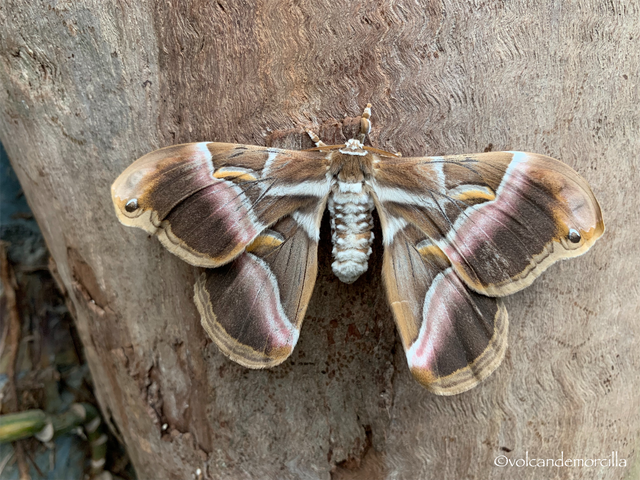 La Samia Ricini es una mariposa muy grande que estaba en grupos y permanecía inmóvil todo el rato.
The Samia Ricini is a very large butterfly that was in groups and remained motionless all the time

Existen 250.000 especies conocidas y representan por tanto el segundo grupo animal con mayor diversidad de especies de la tierra. La gran mayoría de las mariposas son nocturnas (235.000 especies.)
Las mariposas viven entre una y tres semanas. Aunque algunas especies pueden vivir incluso meses puesto que permanecen inactivas y sin gastar energía durante mucho tiempo; son las especies que hibernar.
Algunas especies nocturnas no llegan alimentarse nunca porque viven solamente de 3 - 6 días.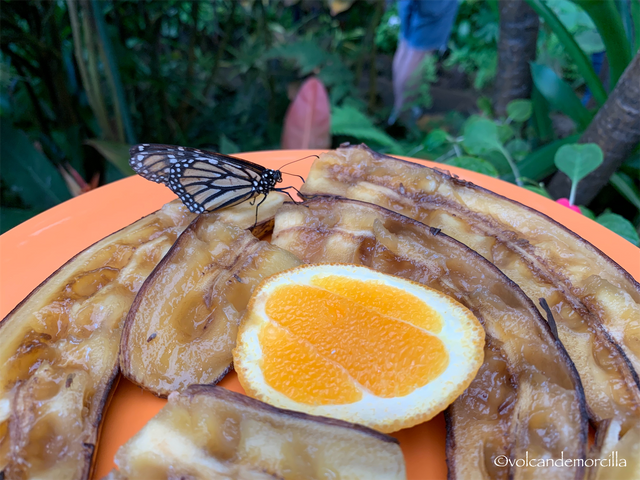 Las mariposas se alimentan del néctar de las flores. Les gusta chupar también la fruta muy madura. También liban la sabia de algunos árboles y pueden también succionar secreciones animales como el sudor, las lágrimas o la orina porque de ellos obtienen sales minerales.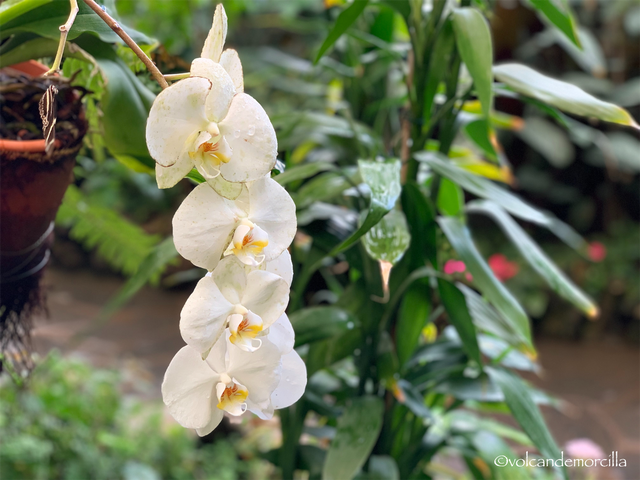 Las mariposas son sexuadas. Hay dos sexos, el macho y la hembra.
Una cosa curiosa es como hacen para encontrarse y copular. Las hembras atraen al macho mediante de un perfume, que contiene las llamadas feromonas. Cada especie despide un "perfume del amor" distinto. Pequeñísimas cantidades de feromonas secretadas por las hembras son suficientes para que los machos las detecten a kilómetros de distancia. Las hembras solo se aparean una vez en la vida.
Después de un apareamiento que puede llegar a durar 24 horas, la hembra pone entre 50 y 1000 huevos. Cada tipo de mariposa elige una planta específica donde poner los huevos y en ella se desarrollarán sus orugas.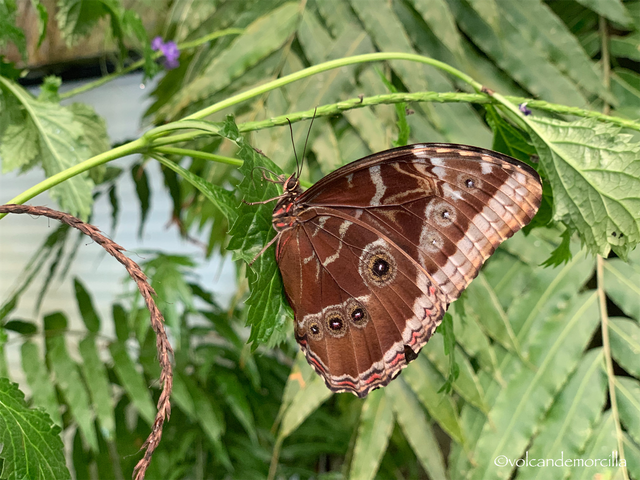 Todas las mariposas del Mariposario del Drago proceden de crianzas en cautividad mediante programas controlados. La mayoría se crían en la propia instalación y otras han sido traídas de centros especializados ubicados en sus países de origen. Tales como Malasia, Filipinas, Costa Rica, Australia etc.
La cría de mariposas contribuye, por tanto, a la conservación de sus hábitats naturales ya que esta actividad productiva está ligada a la preservación de la flora autóctona de la que depende su supervivencia.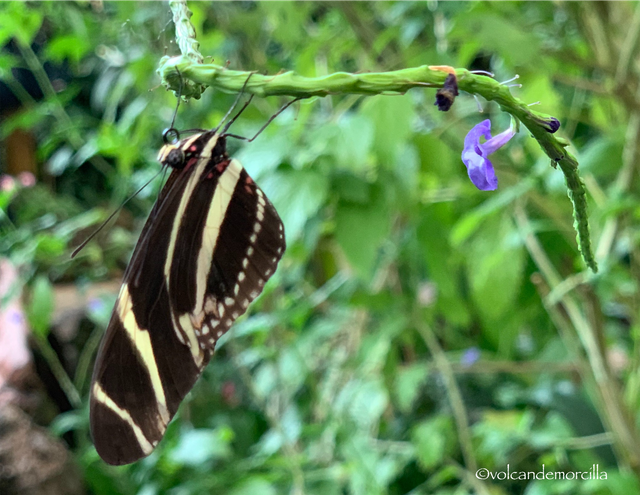 La mariposa comienza su vida como un huevo del que eclosiona una oruga. Cuando alcanza un tamaño, tras un proceso de transformación que se llama metamorfosis, pasa primero por una fase de crisálida y finalmente de este capullo surge un adulto que es el apropiado para el apareamiento.
Mis amigos y nosotros quedamos encantados con estas instalaciones y con esta experiencia. Si venís a Tenerife os recomiendo su visita os va a gustar.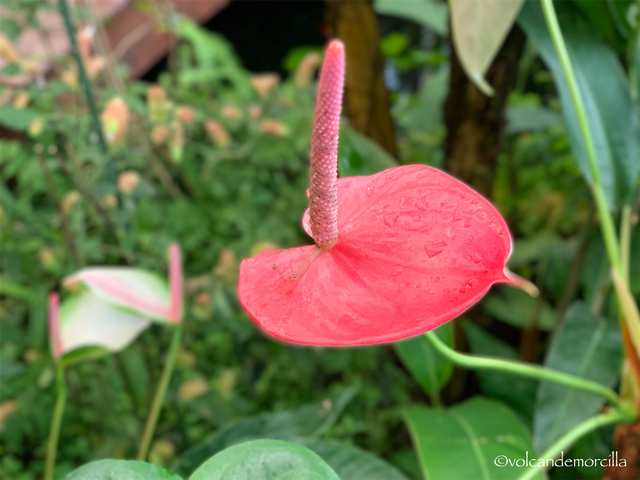 The Butterfly Garden
An interesting and little known place is the Butterfly Garden of Tenerife. It is located in Icod de los Vinos. This town is on the northern slope of the island but quite distant from the tourist areas. Perhaps that is the reason why we can consider it a curiosity of Tenerife.
Icod de los Vinos is a town famous above all for a gigantic plant that looks like a tree and is housed in its historic center. It is the Millennium Dragon Tree and it is named for its long longevity. It is said that this arboreal plant has more than 1000 years.
This dragon tree was already adored by the aboriginal peoples of Tenerife, the so-called Guanches, when the conquerors arrived. In the fifteenth century The millenarian dragon tree was already immense. It is currently the longest known specimen. Its height is 18 m and the perimeter of the base of the trunk measures 20 meters. On another occasion I will focus on him and write an article of the series "curiosidades de Tenerife" specific for him.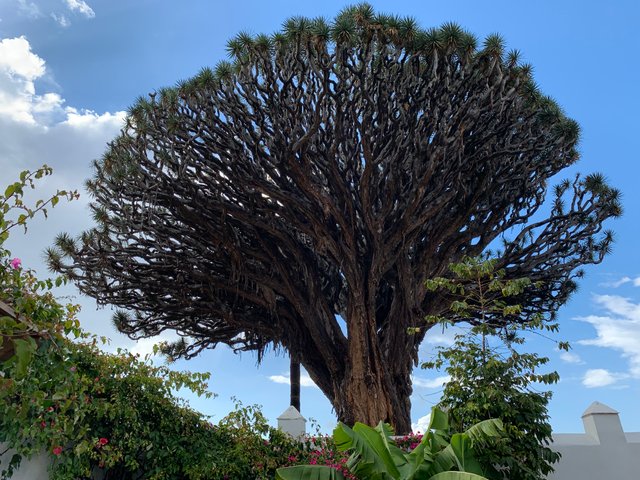 And today I will talk about the Butterfly Garden of Drago. I had wanted to visit him again for some time. I met him several years ago when I went with the children. I remember that they enjoyed it a lot and learned many things in the informative videos as well as in the panels arranged in the facilities.
A few months ago, taking advantage of the fact that some friends came to Tenerife and we made a tour around the island, we passed through Icod de los Vinos.
So that the butterflies can breed and live must have very special environmental conditions. Within the facilities of the Butterfly, it is controlled that the temperature and humidity are somewhat warm and remain stable. The temperature ranges between 25 and 29 ° and the relative humidity is 80%.
Butterflies are very fragile insects. The butterflies are harmless that do not sting. It is not allowed to pick them up or disturb them. Nothing happens if someone lands on us. What we do not have to do is move it away abruptly because they are easily damaged.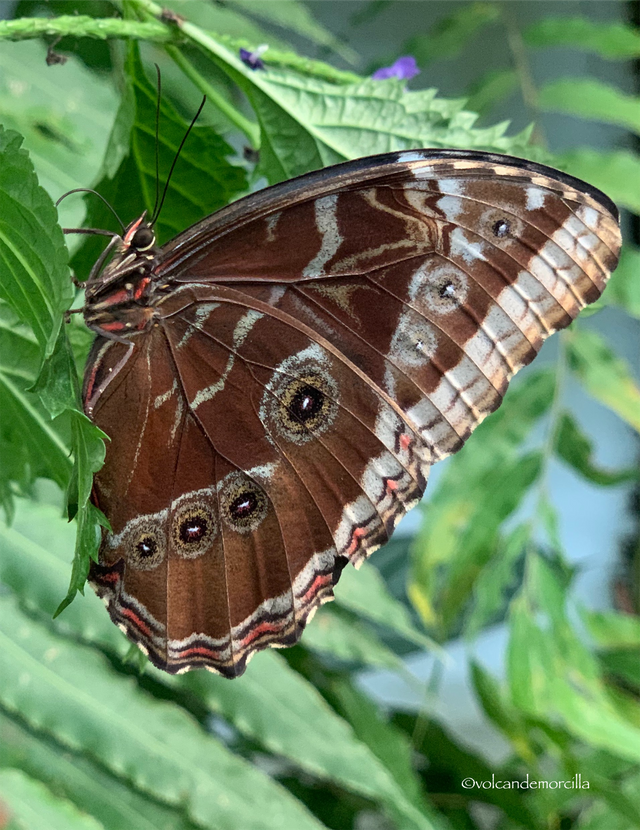 The butterfly is a lepidopteran insect. They are called like that because they have scales. On the wings of the butterflies there tiny scales that are responsible for the color and the drawings that are in them. That is why it is called lepidoptera because "lepido" means scale and "ptero" is wing. This type of scale does not possess any other insect, it is exclusive.
There are 250,000 known species and therefore represent the second animal group with the greatest diversity of species on earth. The great majority of butterflies are nocturnal (235.000 species.)
The butterflies live between one and three weeks. Although some species can live even months since they remain inactive and without spending energy for a long time; they are the species that hibernate.
Some nocturnal species never feed because they only live for 3 - 6 days.
Butterflies feed on the nectar of flowers. They like to suck also the very ripe fruit. They also save the wisdom of some trees and can also suck animal secretions such as sweat, tears or urine because they obtain mineral salts from them.

The butterflies are sexed. There are two sexes, the male and the female.
A curious thing is how they do to meet and copulate. The females attract the male through a perfume, which contains the so-called pheromones. Each species gives off a different "perfume of love". Very small amounts of pheromones secreted by females are enough for males to detect them miles away. The females only mate once in life.
After a mating that can last 24 hours, the female lays between 50 and 1000 eggs. Each type of butterfly chooses a specific plant where to lay the eggs and in it their caterpillars will develop.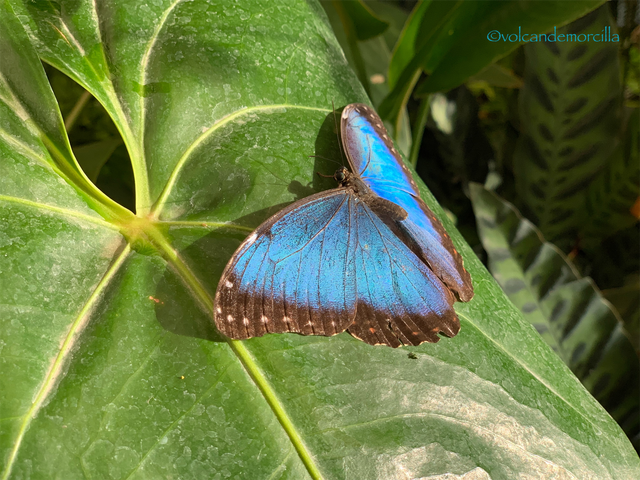 All the butterflies of the Drago Butterfly Garden come from captive breeding through controlled programs. Most are raised in the facility itself and others have been brought from specialized centers located in their countries of origin. Such as Malaysia, Philippines, Costa Rica, Australia etc.
The breeding of butterflies contributes, therefore, to the conservation of their natural habitats since this productive activity is linked to the preservation of the autochthonous flora on which their survival depends.
The butterfly begins its life as an egg from which a caterpillar hatches. When it reaches a size, after a transformation process called metamorphosis, it first passes through a chrysalis phase and finally from this cocoon an adult emerges that is appropriate for mating.
My friends and we are delighted with these facilities and with this experience. If you come to Tenerife I recommend your visit you will like it.

A continuación, os muestro algunos especímenes a los que conseguí hacer alguna foto, con sus respectivos nombres
Next, I show you some specimens to which I managed to take a picture, with their respective names.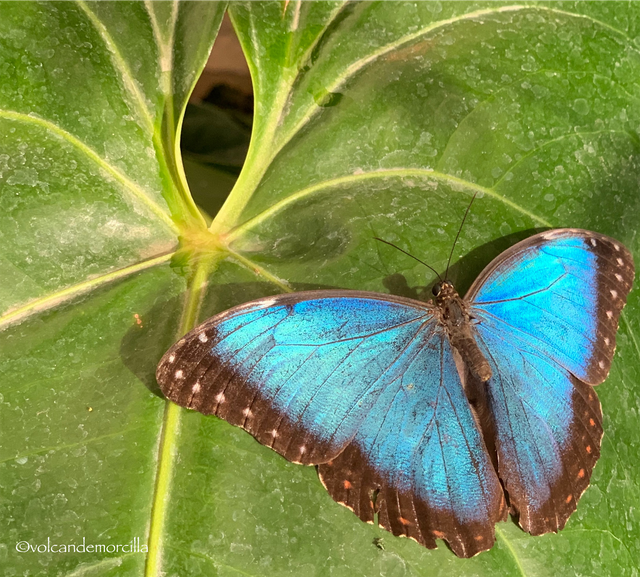 La "Morpho pheleides" es una mariposa azul de brillo metálico plateado y muy grande. Fue muy divertido verla volar.
The "Morpho pheleides" is a blue butterfly with a metallic silver shine and very large. It was very fun to watch her fly.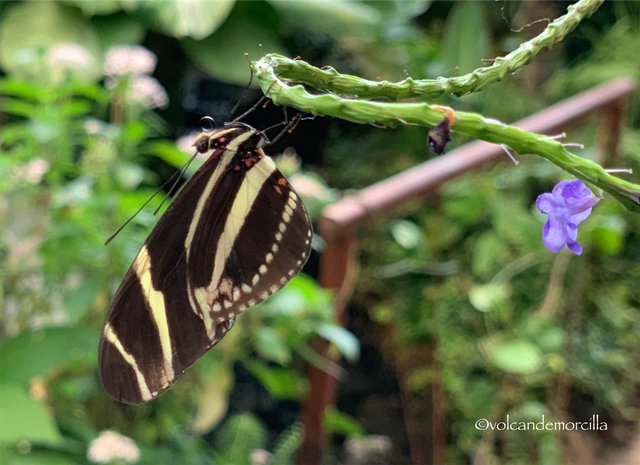 La "Heliconius charitonius" es una mariposa que tiene rallas amarillas y negras.
The "Heliconius charitonius" is a butterfly that has yellow and black stripes.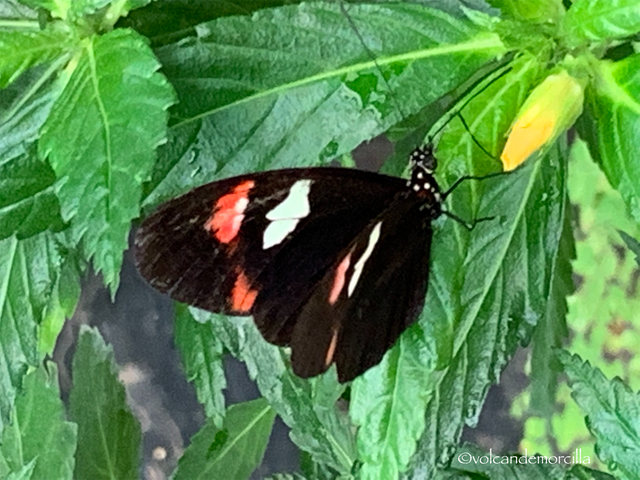 La "Heliconius melpomene" es de color negro con algunas manchas de colores.
The "Heliconius melpomene" is black with some colored spots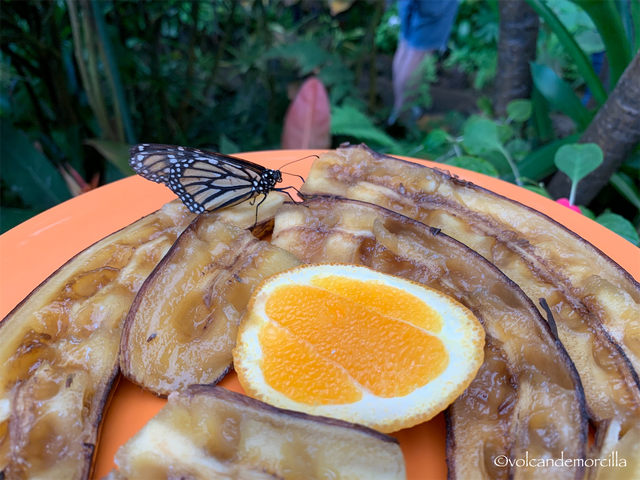 La "Danaus plexippus" es la famosa mariposa Monarca y la encontramos succionando en un plato de fruta.
The "Danaus plexippus" is the famous Monarch butterfly and we found it sucking on a fruit plate.

Bibliografía/ Reference Drago Milenario
Bibliografía/Reference Mariposario del Drago

Proyecto "Curiosidades de Tenerife".
Con esta entrega continuo con un nuevo proyecto. La idea es seguir descubriendo con vosotros lugares interesantes, costumbres, leyendas, gastronomía, tradiciones, etc...de esta isla tan maravillosa.
Tenerife es una de las ocho Islas Canarias. Es un archipiélago de origen volcánico que se encuentra en el océano Atlántico, cercano a las costas africanas. Su clima no es cálido porque recibe unos vientos que soplan desde el norte: los vientos Alisios. Gracias a este aire fresco que trae humedad, las islas disfrutan de un clima especial, casi siempre templado y hay mucha vegetación. Por estas razones, los antiguos romanos las denominaron las "Islas Afortunadas."
En los próximos artículos, seguro que habrá muchas curiosidades que os podré ir contando. Espero que las futuras publicaciones de "Curiosidades de Tenerife" os resulten gratas, os gusten y os proporcionen entretenimiento e información. A mí, personalmente me resultará muy divertido que descubramos juntos estos lugares, tradiciones y en definitiva patrimonio cultural. Cuento con vosotros.

Project "Curiosidades de Tenerife".
With this delivery I continuous a new project. The idea is to continue discovering with you interesting places, customs, legends, gastronomy, traditions, etc ... of this wonderful island.
Tenerife is one of the eight Canary Islands. It is an archipelago of volcanic origin that is located in the Atlantic Ocean, close to the African coasts. Its climate is not warm because it receives winds that blow from the north: the trade winds. Thanks to this fresh air that brings humidity, the islands enjoy a special climate, almost always temperate and there is a lot of vegetation. For these reasons, the ancient Romans called them the "Fortunate Islands."
In the next articles, I'm sure there will be many curiosities that I can tell you. I hope that future publications of "Curiosidades de Tenerife" will be pleasant, like and provide entertainment and information. Personally, it will be very fun for us to discover together these places, traditions and, in short, cultural heritage. I count on you.


Cómo lo hago
Hice las fotografías con mi iPhone X. Para la edición utilicé la aplicación Snapseed y para la firma digital usé la App Watermark.
Los dibujos los hice en el iPad con el programa Sketches.
For the photography I use my iPhone X. For edition I use the Snapseed application and for the digital signature the Watermark app.
Everything I did on my mobile phone, I did not use the computer at all.
For the drawings, I use the Sketches program and paint them on the tablet.
Si quieres ver como lo hago, visualiza estos tres enlaces de publicaciones previas.
If you want to see how I do it, visualize these three links from previous publications.


Original design for @talentclub de @carlos-cabeza
Las fotos son mías y originales. También, soy el autor del dibujo separador.
¡Espero tus comentarios!
The photos are originals and mine. Also, I am the author of the separator drawing.
I await your comments.
¡Buen Camino!