"Rise" composed by @titin
Hello dear Steemians.
For a long time I have used Finale to compose and edit my own scores. But, finally, after proving it for a week, I have decided to use Sibelius.
Sibelius allows me to be quicker in the composition. It´s a more intuitive software and I think it´s also easier to edit music with it. I still have a lot to learn about it, but this morning I have try to write my first piano piece, a miniature called "Rise".
If you look at the score you will see that I have not written everything what I´m playing, such as some octaves, and especially the different dynamics.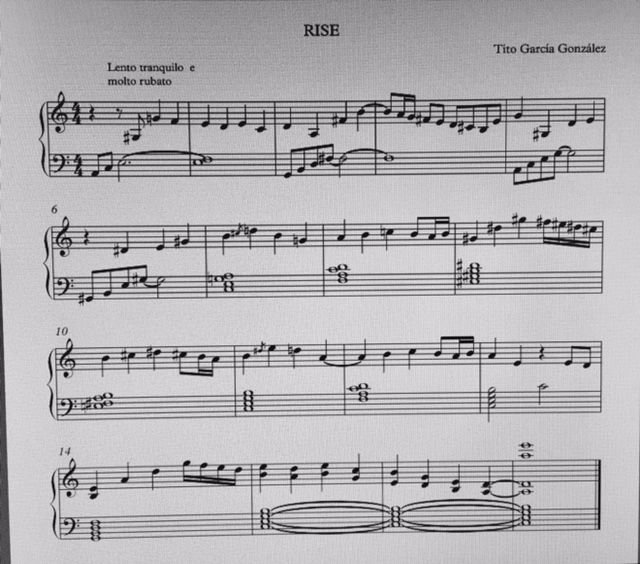 During my professional career I played a lot of Bach's music, which originally doesn´t contain any indication of dynamics or articulation. Probably his clean writing has influenced my way of composing music.
"Rise" also could be played in many different ways. Please try to play it!
And in this video I present my own version of my piece.
I hope you like it!
@titin
---
Hola querido Steemians.
Durante mucho tiempo he usado Finale para componer y editar mis propios puntajes. Pero, finalmente, después de probarlo durante una semana, he decidido usar Sibelius.
Sibelius me permite ser más rápido en la composición. Es un software más intuitivo y creo que también es más fácil editar música con él. Todavía tengo mucho que aprender al respecto, pero esta mañana he intentado escribir mi primera pieza para piano, una miniatura llamada "Rise".
Si miráis la partitura, veréis que no he escrito todo lo que estoy tocando, como algunas octavas, y especialmente las diferentes dinámicas.
Durante mi carrera profesional he tocado mucha música de Bach, que originalmente no contiene ninguna indicación de dinámica o articulación. Probablemente su escritura limpia ha influido en mi forma de componer.
"Rise" también se podría tocar de muchas maneras diferentes. Por favor, intentad tocarla!
Y en este video, presento mi propia versión de mi pieza.
¡Espero que te guste!