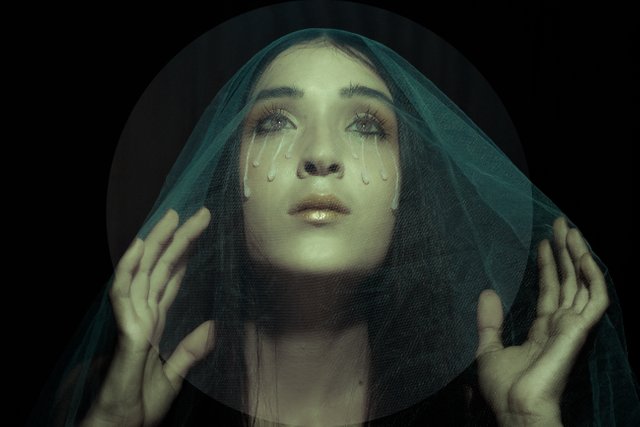 ¡Imágenes que evoquen todo y nada a la vez! Ese es el lema que compartimos mi compañero y yo al momento de ejecutar las fotografías conceptuales. No buscamos escandalizar ni ofender a ninguna religión o etnia en específico con las similitudes simbólicas de estas piezas, solo empleamos las referencias como herramienta para componer una historia. Es aconsejable "beber" de todas las fuentes del arte, la danza, el cine, la pintura, la escritura… etc. (ya sea que te gusten todas o no) para nutrirse y poder expresar con soltura aquello que está oculto en tu mente. Como lo menciona Victoria de Stefano en Poesía y Modernidad, Baudelaire: "Como el caníbal, que cree exorcizar los poderes del enemigo, devorando sus miembros, el poeta hace uso de las imágenes de más alta peligrosidad".
Images that evoke everything and nothing at the same time! That's the motto that my partner and I share when shooting conceptual photography. We don't aim to scandalize or offend any religion or ethnic group with the symbolic similarities of these pieces, we only use the references as tools to compose a story. It's advisable "to drink" from all sources of art, dance, theater, film, paintings, literature, etc. to nurture yourself and be to express more easily that which is hidden in your mind. Like Victoria De Stefano mentions in her book "Poetry and Modernity: Baudelaire": "Like the cannibal, who believes in exorcising the powers of the enemy, devouring his limbs, the poet makes use of the most dangerous images".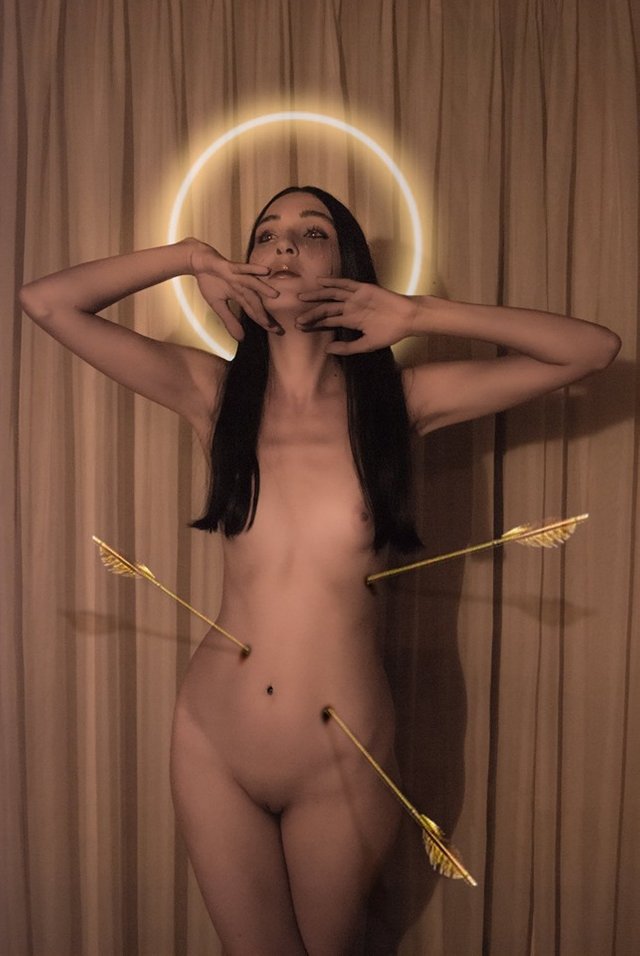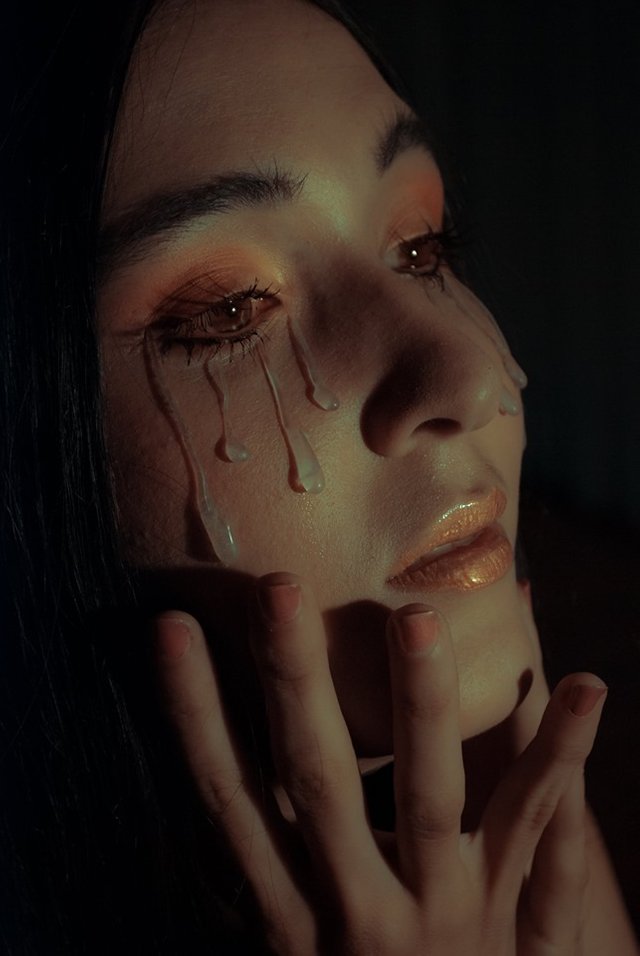 Los fotógrafos, exhibiendo nuestros trabajos, muchas veces quedamos desnudos ante el público (metafóricamente hablando) revelando aquello que no podemos decir con palabras, tal y como lo dice la señora Victoria de Stefano en el mismo libro: "En un debate entre el arte y la vida. El arte le da a la vida lo que ésta en sí misma no posee, el arte hace lo que ella no puede hacer: establecer relaciones libres, fusionar lo que está separado, recrear la vida en la inteligibilidad del circuito poético."
When we photographers, display our works, are often bared naked before the public (methaphoracally speaking) revealing that which we cannot say with words, just like Victoria De Stefano says in the same book: "In a debate between art and life, art gives life what art itself does not possess, art does what it cannot do: establish free relationships, merge what is separate, recreate life in the intelligibility of the poetic circuit".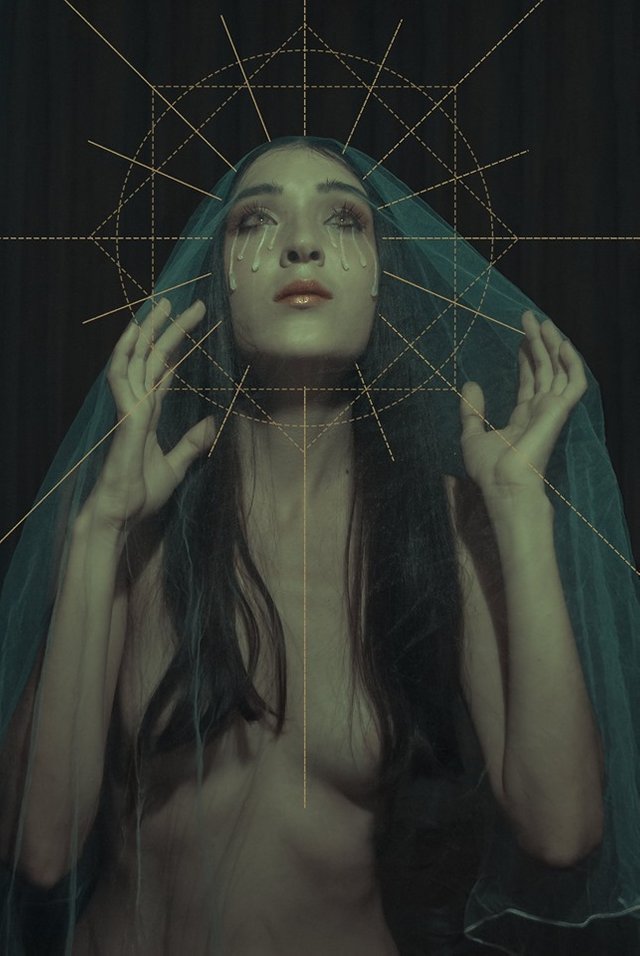 Con estas imágenes que les presento hoy, hemos creado un enlace con la serie que les mostré en el artículo "El sueño de la virgen" , donde les hablo un poco del proceso creativo para las fotos. Esta serie aún no posee un título definido, como les mencione anteriormente, deseamos evitar que el público aprecie nuestros trabajos con una idea pre-concebida del contenido. Nuestro enfoque en la actualidad, es crear una diversidad de personajes que puedan unirse en un mismo universo, tomando estas imágenes como partida para una serie que unifique a todas las demás.
With these images that I present today, we've created a link with the series shown in the article "The Virgin's Dream", where I speak of the creative process for the photos. This series doesn't have a defined name yet because like I mentioned before, we wish to avoid that the public view our work with a pre-conceived idea of the content. Our present focus is to create diverse characters that can be placed in the same universe, with these images being the first of a series that will unify the rest.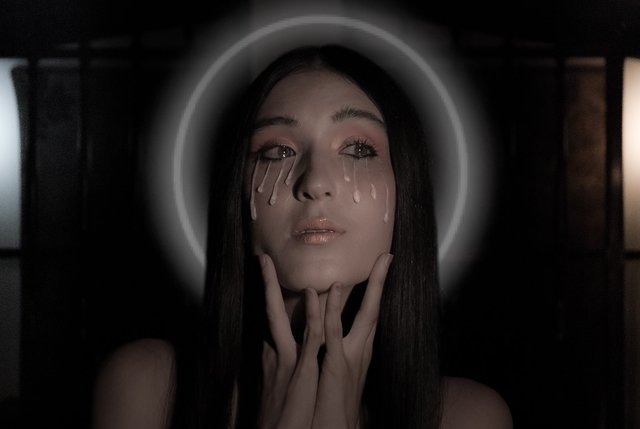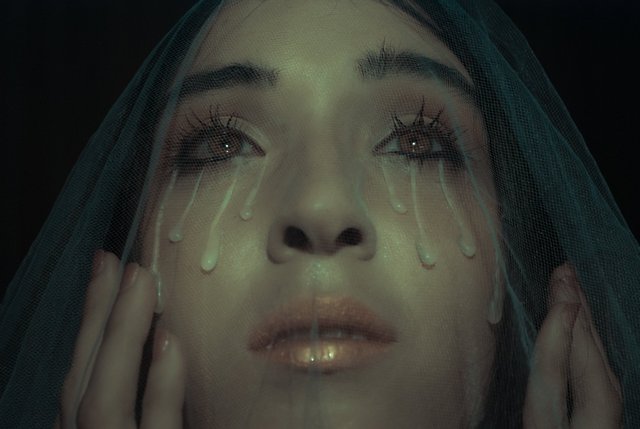 Para concluir, les agradezco de antemano a todos los que se han tomado el tiempo de ver este artículo, con su apoyo y comentarios constructivos podemos llegar mucho más lejos. También le agradecemos especialmente a nuestra modelo Estefanie Franco por brindarnos siempre su disposición para trabajar con nosotros.
¡Saludos!
To conclude, I thank everyone that has taken the time to view this article. With your support and constructive comments, we can achieve a lot more. I specially thank our model Estefanie Franco for always being at her disposal to work with us.
Greetings!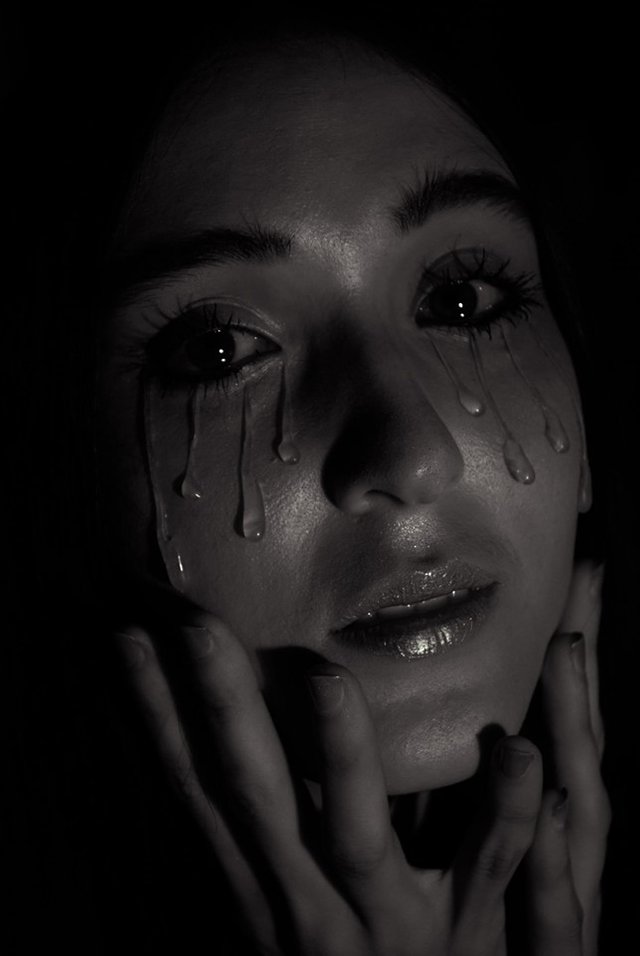 Photography, editing and makeup (Fotografía, edición y maquillaje):
Gerardo Arenas. & Genesis Ochoa.
Model (Modelo):
Estefanie Franco.