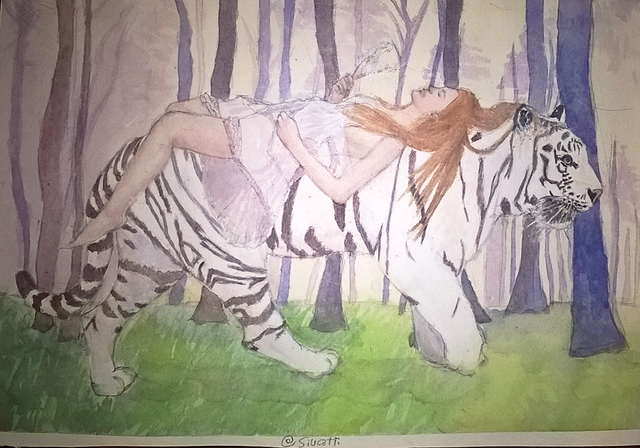 Acuarela, 21/08/2018
Watercolor, August 21, 2018
Mientras pintaba esto falleció Mili, mi perra pekinesa de 17 años. Todavía no pasa un minuto en que no deje de extrañarla y es que con ella se fue uno de los resabios de mi infancia, nació en mi casa en 2001, yo en ese momento tenía 8 años.
While I was painting this, Mili, my 17-year-old Pekingese dog, died. Not a minute goes by that I do not stop missing her and it is because with her, left one of the remnants of my childhood, she was born in my house in 2001, I was 8 years old at the time.
Fue toda una revolución, en medio de la noche, y a través del ruido del aire acondicionado empecé a escuchar un leve sonido parecido a un gatito y le avisé a mi madre. Bajamos juntos y encontramos a Kala, su madre, raspando nerviosamente una silla que quedó arruinada y a la cachorra en el suelo aún mojada.
It was a revolution, in the middle of the night, and through the noise of the air conditioning I began to hear a slight sound like a kitten and I told my mother. We went down together and found Kala, her mother, nervously scraping a chair that was ruined and the puppy on the floor still wet.
Esperamos a que amaneciera y salimos rumbo a la veterinaria que todavía estaba cerrada. Yo estaba emocionado, no era consciente de que quizás la cachorra hubiese sufrido un golpe o la posibilidad de que surgiera algún problema. Cuando por fin abrió, las llevamos a ambas y mi madre respiró tranquila al escuchar de que estaban en perfectas condiciones, era una cachorra sana.
We waited until dawn and left for the vet that was still closed. I was excited, I wasn't aware that maybe the puppy had suffered a blow or the possibility of a problem. When it finally opened, we took them both and my mother breathed easy to hear that they were in perfect condition, she was a healthy puppy.
Tan sana fue que me acompañó todos estos años, espero que ahora descanse junto a Coco, su padre, y Kala. Por eso este dibujo se lo dedico a ella.
She was so healthy that accompanied me all these years, I hope that now she rests with Coco, his father, and Kala. That's why this drawing is dedicated to her.
Proceso - Process
Por esos motivos, abandoné unos dias el dibujo y creo que allí se fue cierta inspiración por el camino.
For these reasons, I abandoned for a few days this drawing and I think along time went some of the inspiration I had.