Buenas noches, saludos a los lectores y seguidores que leen mis publicaciones todos los días,les comentare cual es el cierre del mercado para el dia de hoy.
Good Night, greetings to the readers and followers who read my publications every day, I will tell you what is the closing of the market for today.

Hoy por tercer día consecutivo el mercado de criptocurrency tiene un día bajo, donde hoy ha sido el más fuerte de "7,92%" en estos 3 días ha perdido +13%.
Today for the third consecutive day the cryptocurrency market has a low day, where today has been the strongest of "7.92%" in these 3 days has lost +13%.


Graph
El gráfico hoy comenzó el mercado de nuevo con estabilidad, pero queríamos en el almuerzo vino una gran caída de la que no pudo recuperarse por la tarde, pero para terminar de rematar al mercado la noche estaba en contra de nosotros y de nuevo otra caída del mercado "al momento de escribir sigue bajando en el mercado" estamos casi a mitad de semana, sólo podemos confiar y esperar que el resto de la semana sea positivo para el mercado de criptomonedas
Today's graph started the market again with stability but we wanted to give lunch a great fall from which it could not recover during the afternoon, but to finish killing the market the night was against us and again another fall of the market "writing is still going down market" we are almost midweek, we can only trust and hope that the rest of the week will be positive for the cryptocurrency market.

El día de hoy es DÍA NEGATIVO desafortunadamente por tercer día consecutivo todas las criptocurrencias con saldo negativo.
Today is NEGATIVE DAY 👎 unfortunately for the third consecutive day all cryptocurrencies with negative balance.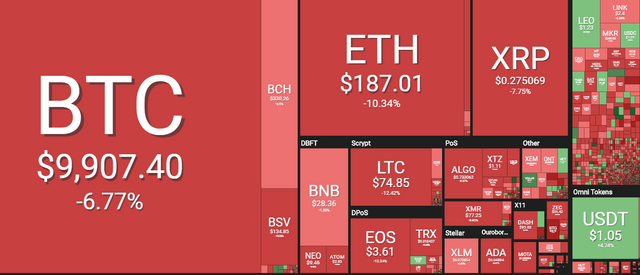 Colors of the Market

Sólo hay dos formas de vivir tu vida. Una es pensar que nada es un milagro. La otra es pensar que todo es un milagro.
There are only two ways to live your life. One is to think that nothing is a miracle. The other is to think that everything is a miracle.


Design Made to: sevillaespino
P.D. Edito post gracias a sugerencias @acostaeladio