Los invito a mi oficina! I invite you to my office! I do not have a pen, but a few pedals!
Castellano:
Bueeeeenas mi gente de Steemit!!! Ya me tomé mi café y lo acompañé con unas galletas tipo waffer de chocolate para abrir este hermoso día, no me juzguen por mis habilidades para hacer una cena súper sana y balanceada (Si hay algún fitness presente espero que se ría y siga leyendo).
English:
Hiiiiiiii beautiful people from Steemit !!! I already had my coffee and I accompanied with some chocolate waffer cookies to enjoy this beautiful day, do not judge me by my abilities to make a super healthy and balanced dinner (If there is any fitness present I hope you will laugh and read on)
Hace días subí a mi cuenta de instagram una foto de mi "oficina" el cual es uno de mis lugares favoritos en la vida!
En nuestro caso son unos 15 o 20 minutos en los que montamos los instrumentos , afinamos, comprobamos el volumen adecuado para cada uno, nos aseguramos de escuchar a los demás por los monitores mientras el técnico se asegura de que los volúmenes fuera de tarima sean los correctos y todo se escuche genial. Al terminar es turno de mi fiel Blu R1 HD (que ya va para un año con la mica partida, por eso lo de fiel)
Some days ago I uploaded to my instagram account a picture of my "office" which is one of my favorite places in the world!
In our case it takes about 15 or 20 minutes to install the instruments, we tune, check the volume for each one, we make sure to listen to the others by the monitors while the technician makes sure that the volumes outside the stage are correct and everything is great. At the end it is my faithful Blu R1 HD's turn (which is already going for a year with the screen broken, so it's faithful)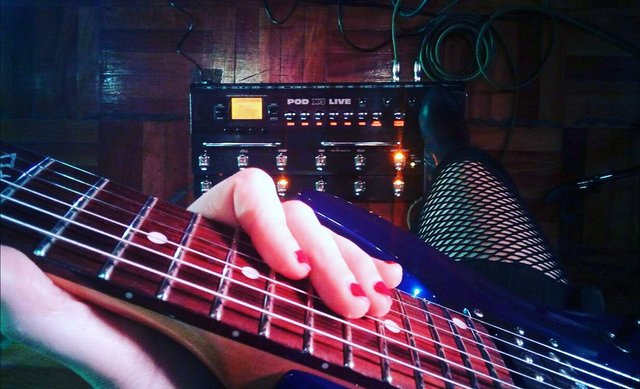 Esta foto la tomó el dueño de la agrupación (@lavacteria en instagram) justo mientras afinábamos los últimos detalles técnicos para empezar el show de esa noche, él también es cantante principal y maneja las redes sociales de dicha agrupación.
This shoot was taken by the owner of the group (@lavacteria in instagram) just as we tuned the last technical details to start the show that night, this guy is also a lead singer and manages the social networks of said group.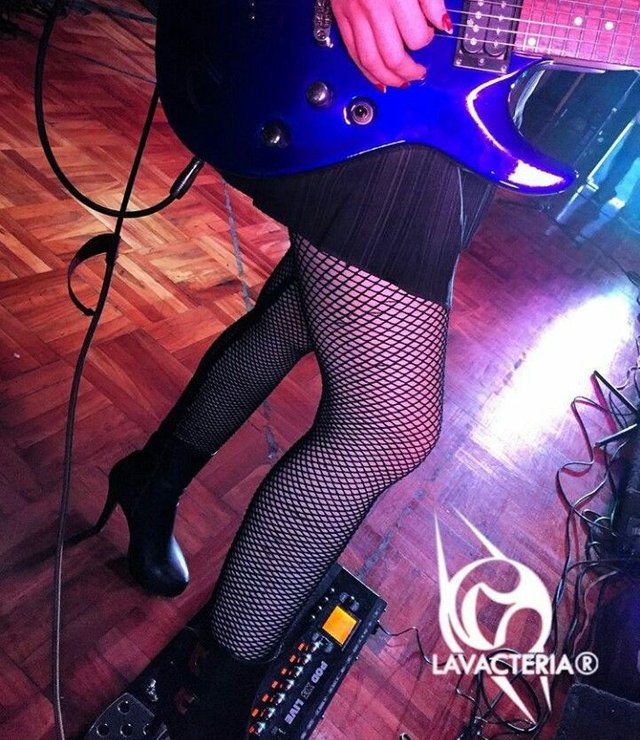 Ya con todo listo sres!!!! esa es mi oficina! Trabajando con una Schecter SRG C-1, pedal multiefectos Line 6 pod X3 Live, botas de tacón y muchísimas ganas de dar música!
So we're ready ladies and gentlemen!!!! that's my office Working with a Schecter SRG C-1, multi-effects pedal Line 6 pod X3 Live, high-heeled boots and a lot of music!


La siguiente foto la tomó uno de los integrantes del Staff con el celular de Carlos (cantante principal), en esta foto salimos Marcial (bajista) Él y yo, en nuestro labor por animar a todas las personas presentes en el evento!
The next picture was taken by one of the Staff members with the phone of Carlos (lead singer), in this photo Marcial (bass player) He and I, in our work to liven up the party!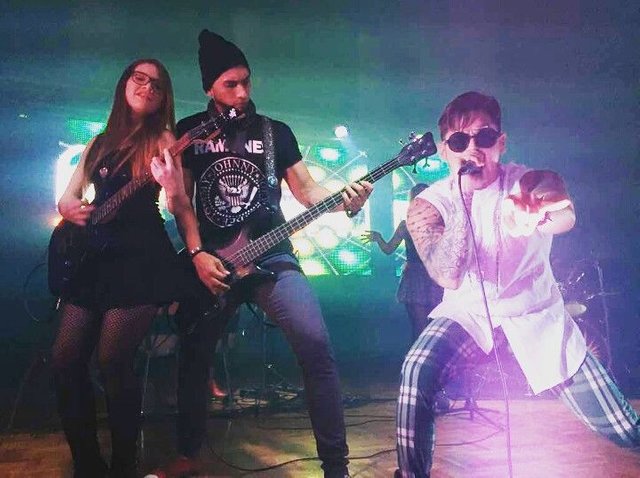 Espero les haya agradado este post!!! Solo quise compartir un poco de mi trabajo sin agobiarlos con detalles técnicos jaja!!! Si deciden hacer lo mismo que yo y comentar un de su trabajo me gustaría ver sus posts y conocer un poco de su vida, dejenme el link con un saludo que eso es cuestión de educación!!! un abrazo y mil saludos, nos leémos!!!
I hope you liked this post !!! I just wanted to share some of my work without bothering you with technical details haha!!! If they decide to do the same thing and share your work I would like to see your posts and know a little about your life, leave me the link with a greeting that is a matter of education!!! a hug and a thousand greetings, I'll see you later!!!