⟡ Remake of my psychedelic afro babes [and the tragic short story behind]. Re interpretación de mis chicas afro psicodelicas [y la trágica historia detrás.] ⟡
Sometimes things can go very wrong and bad in a short amount of time, we can't process it on the instant, but eventually we do. This is what happened when on this past saturday, day like any other weekend I woke up and turned on my phone.
surprise
he couldn't stop to re-boost, no matter wich buttoms I pressed. A system failure, I knew it. From some weeks ago, said phone didn't stop showing that it was under 3% of storage. No matter what did I erased, having no music, no games. It was a really nuisance.
This little incident made me loose almost all my precious creative process and step by step of my two psychedelic babies.
I know people would say "is not that much" but... the thing is; I lost track of something I care and put close to heart, like this painting. And also several photos of different phases through time, travels, birthdays... I guess I have to just move on.
Why am I rambling instead of showing my art? I felt that had to explain why there's almost no photos on this remake.
And yes, the phone is now good and amnesiac after a recovery and total reset.
That's the short long story.
---
A veces las cosas pueden ir muy en un corto período de tiempo, tanto que no podemos procesarlo en el instante, pero finalmente lo hacemos. Esto es lo que sucedió cuando el sábado pasado, en un día como cualquier otro fin de semana, me desperté y encendí mi teléfono.
sorpresa
No podía parar de reiniciarse, sin importar qué botones presionara. Una falla del sistema, lo sabía. Desde hace algunas semanas, dicho teléfono no dejó de decir que tenía menos del 3% de almacenamiento. No importa qué es lo que borrara, no tenía música ni juegos. Era realmente una molestia.
Este pequeño incidente me hizo perder casi todo mi preciado proceso creativo y paso a paso de mis cuadro aquí presente.
Sé que la gente diría "no es mucho", pero... la cosa es; Perdí el track de algo que me importa y atesoro, también varias fotos de diferentes periodos en el tiempo, viajes, cumpleaños... Creo que tengo que superarlo y seguir avanzando.
¿Por qué estoy divagando en lugar de mostrar mi arte? Sentí que tenía que explicar por qué casi no hay fotos en este remake.
Y sí, el teléfono ahora está en buen estado, quedó amnésico después de un restablecimiento forzoso.
Esa es la corta historia larga.
---
♡♡♡
Now, my painting. Ahora, mi pintura.
Title - Título: Afro psychedelic babes. Chicas afro psicodelicas.
Technique - Técnica: Oil on canvas. Óleo sobre tela.
Artist - Artista: Andrea Gutiérrez
Year - Año: 2018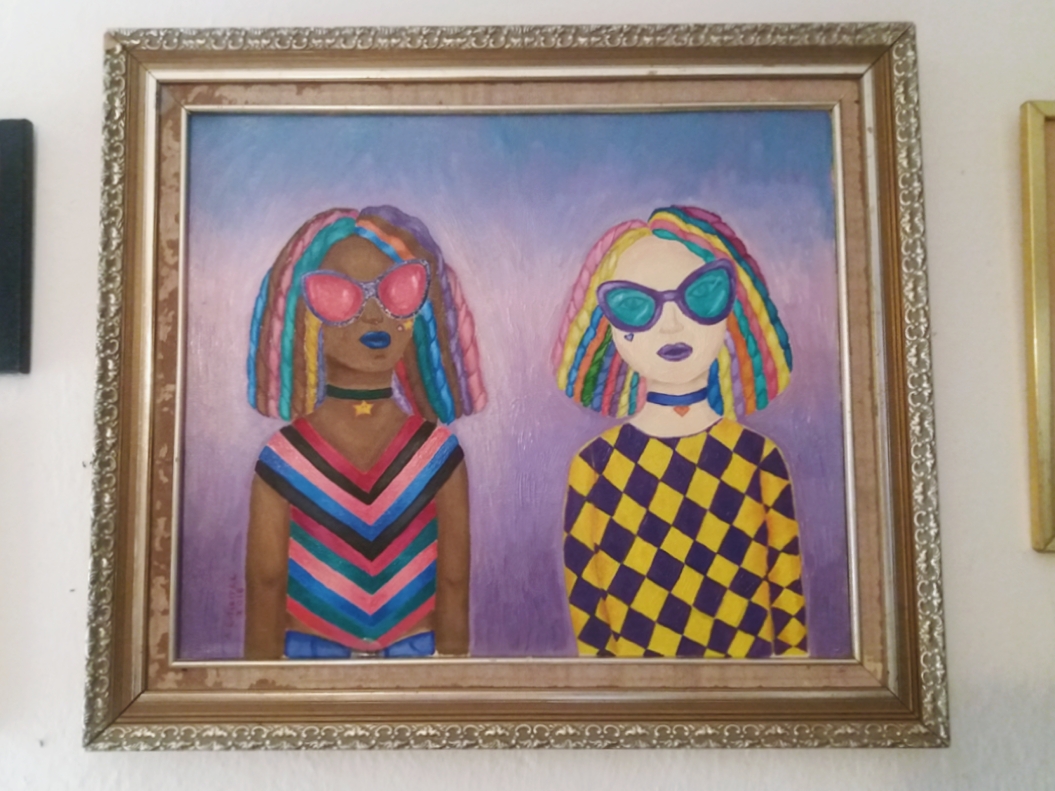 At first I was thinking of a modern frame but then after seeing very classic frames I liked the juxtaposition of modern over classy.
Al principio estaba pensando en un marco moderno, pero luego de ver cuadros muy clásicos me gustó la yuxtaposición de lo moderno con lo elegante.
---
◇ what survived of the process - lo que sobrevivió del proceso ◇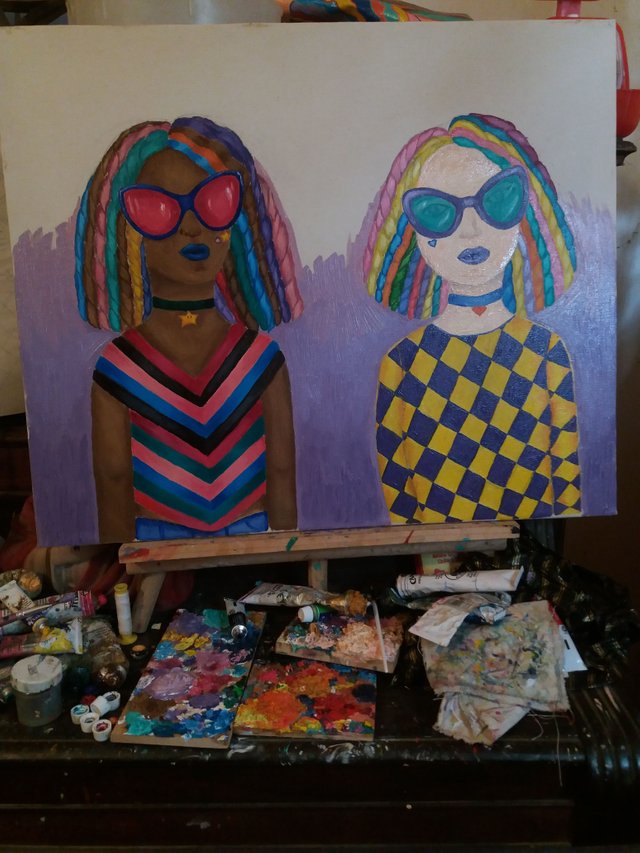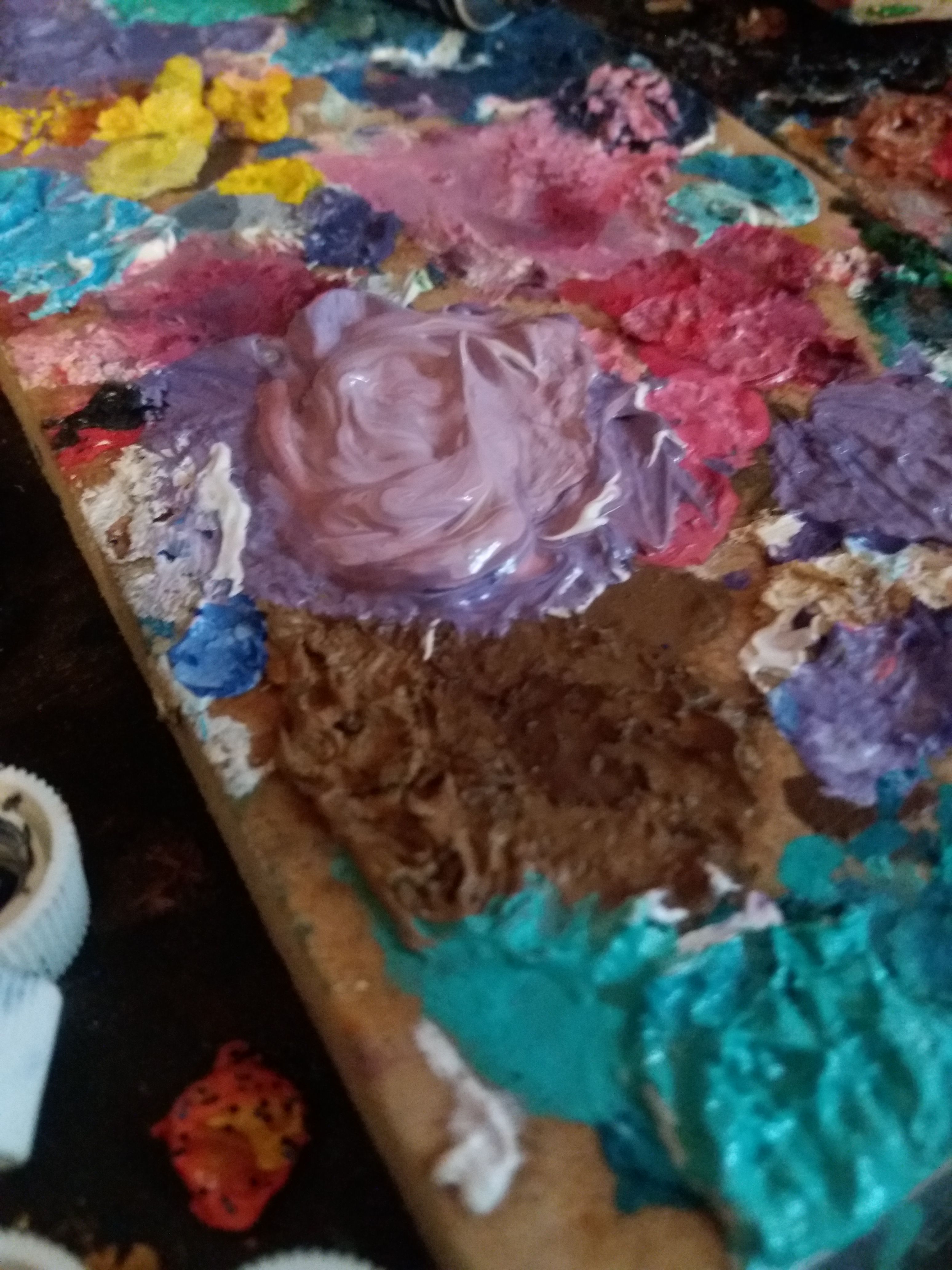 ---
☆ Details ☆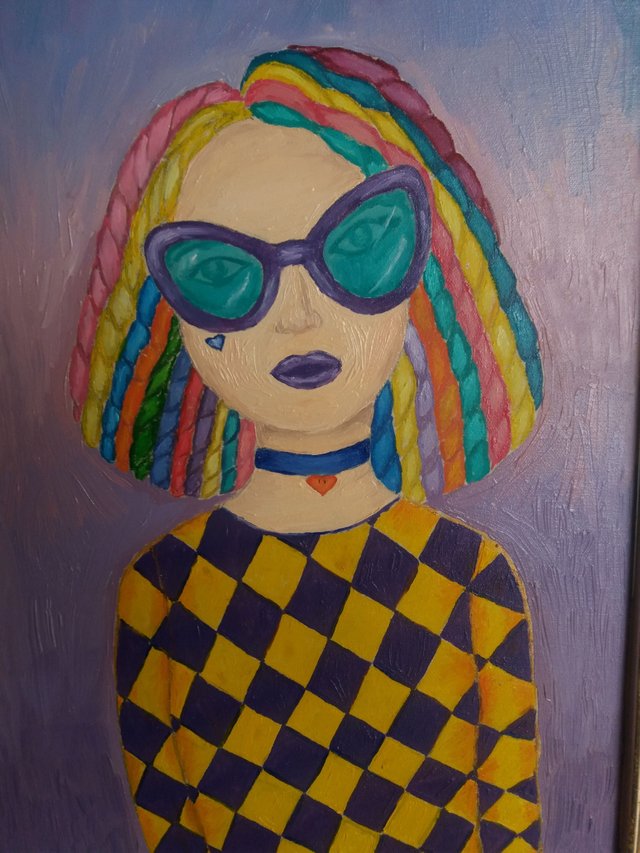 Lola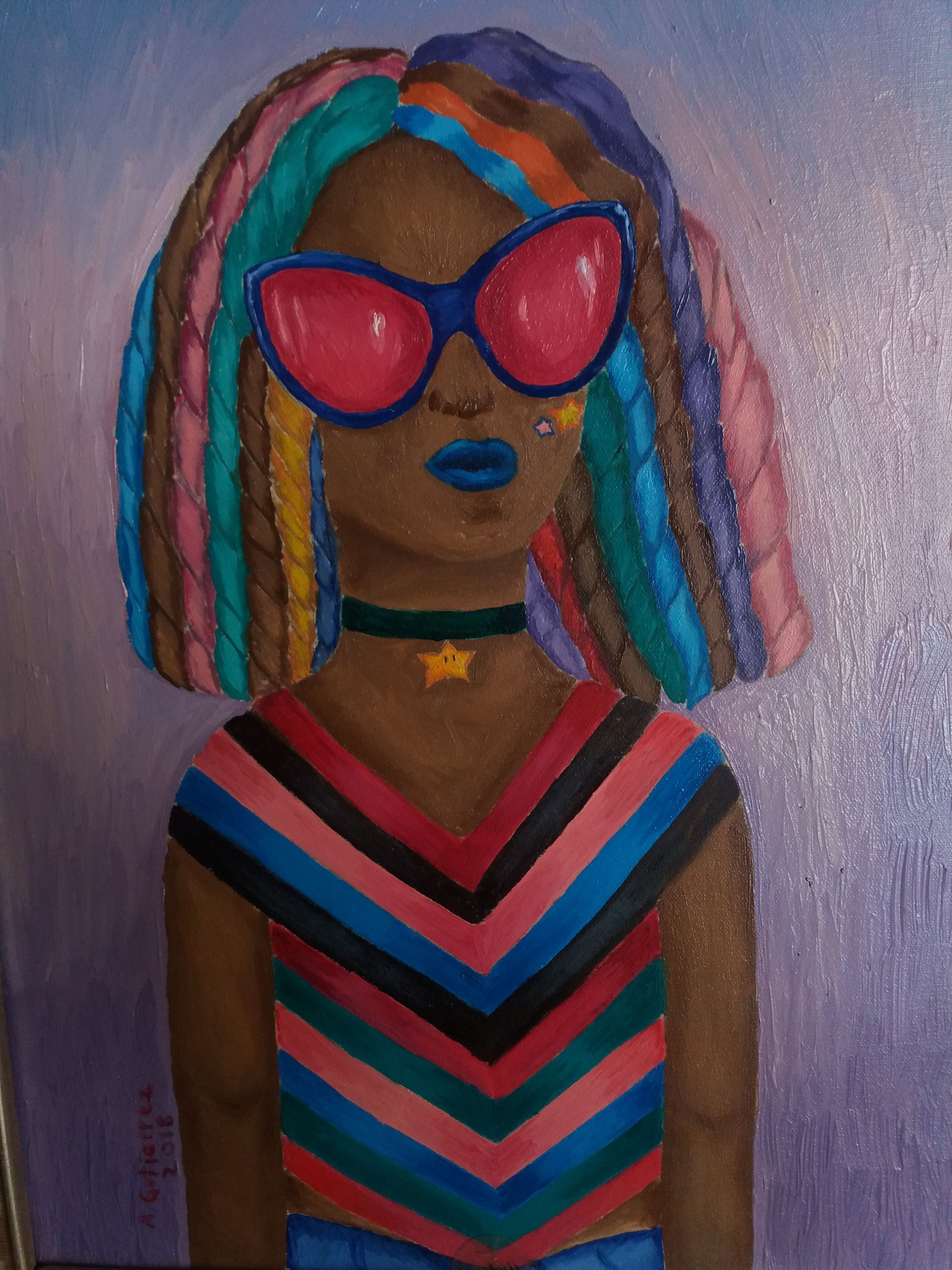 Stella
---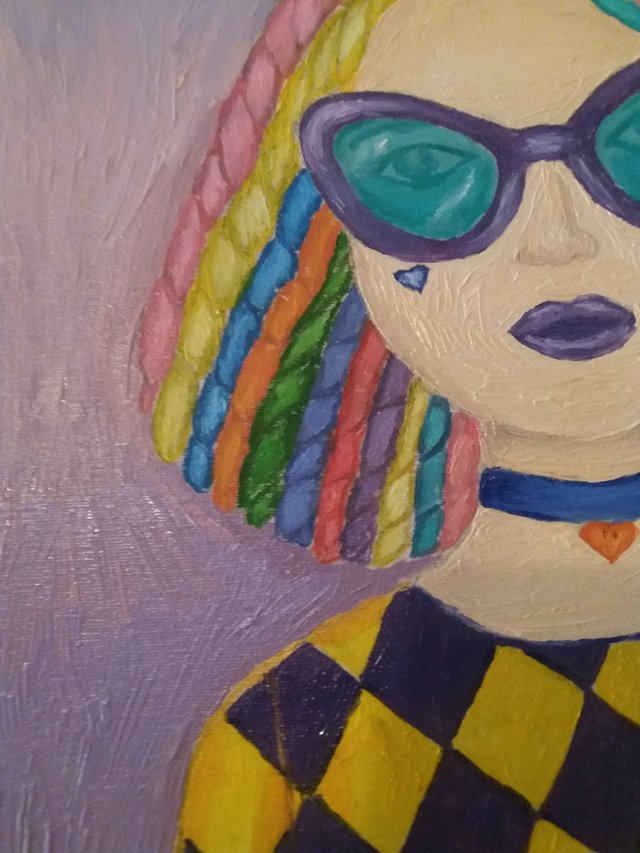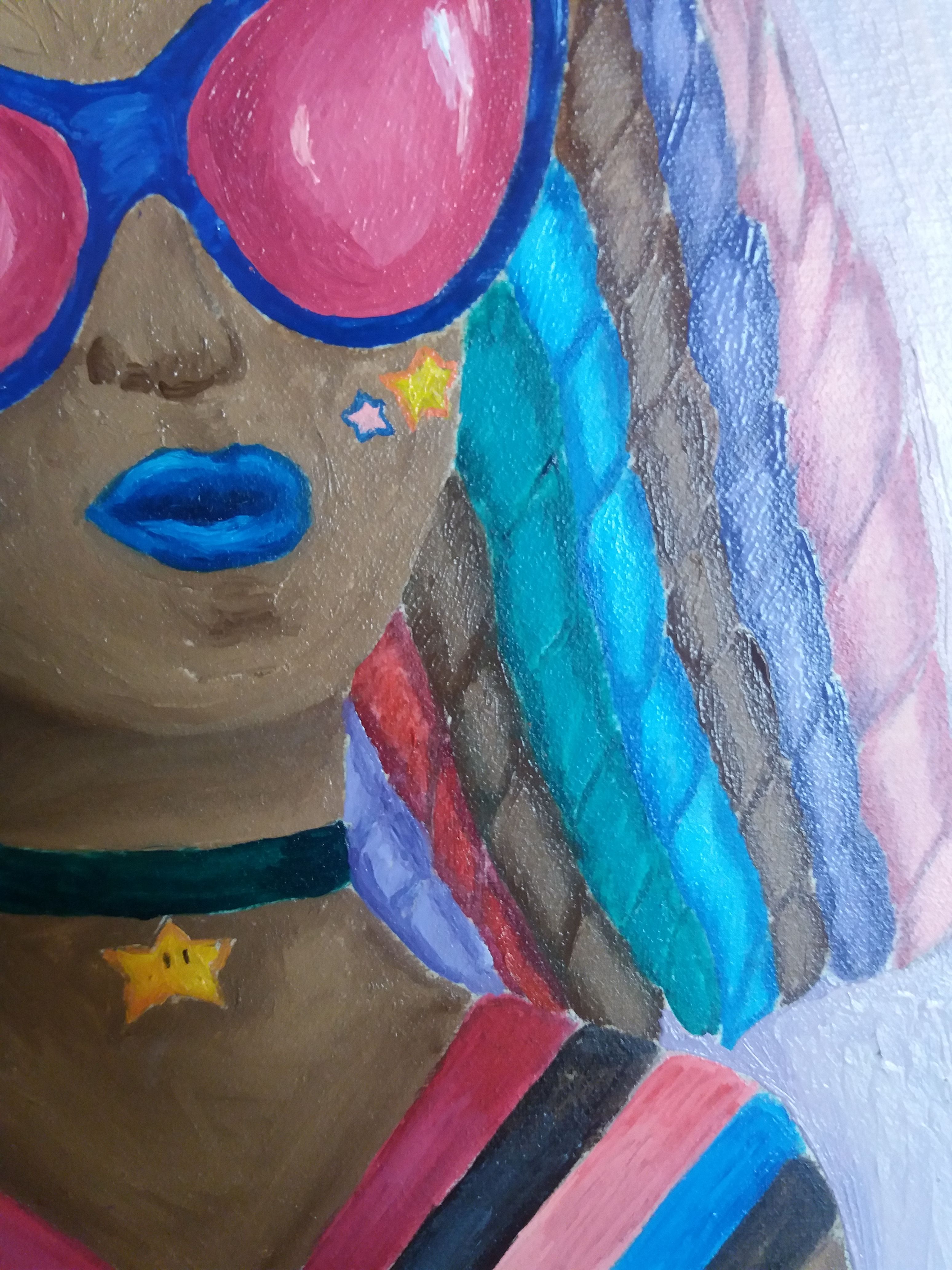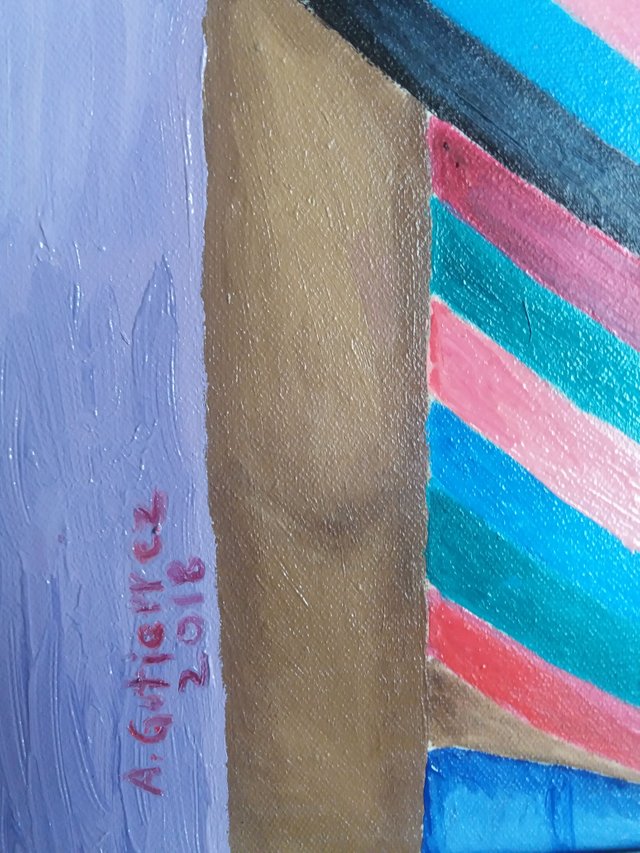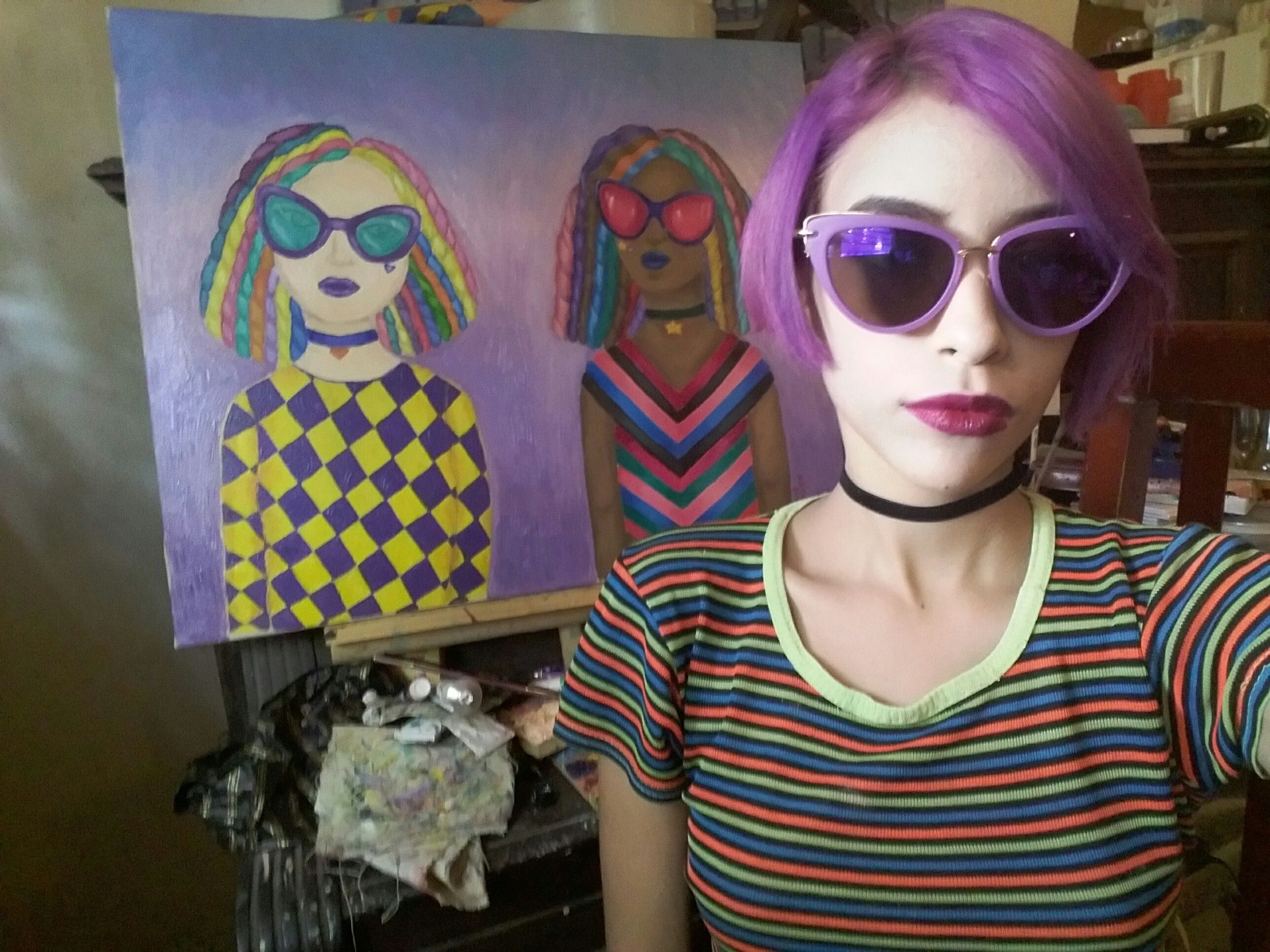 My sister who look like one of my paintings here. I think I'm gonna paint her soon, what do you say?
Mi hermana, que luce muy parecida a una de mis pinturas. En un futuro cercano la pintaré, ¿Qué les parece a ustedes?
---
This painting is a remake of this one I posted back in August 2017
As you see, there I made some slight changes but the scent is the same, Stella (right girl) and Lola (left albino girl) are bright and fresh.
I love both creations equal, and enjoyed a lot making them again. ♡
Esta pintura es un remake de este post que posteé el pasado Agosto 2017
Como pueden ver, hice algunos pequeños cambios, pero la esencia es la misma, Stella (chica en la izquierda) y Lola (chica albina en la derecha) son brillantes y frescas.
Amo ambas creaciones por igual, y disfruté mucho haciéndolas de nuevo.♡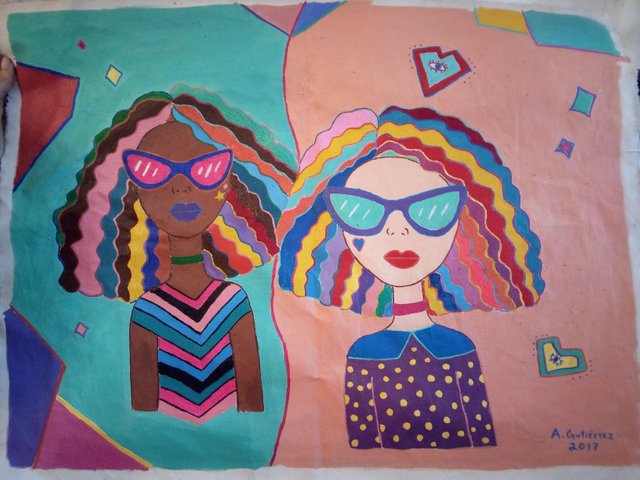 ---
♤
Thanks for watching! - ¡Gracias por leerme!