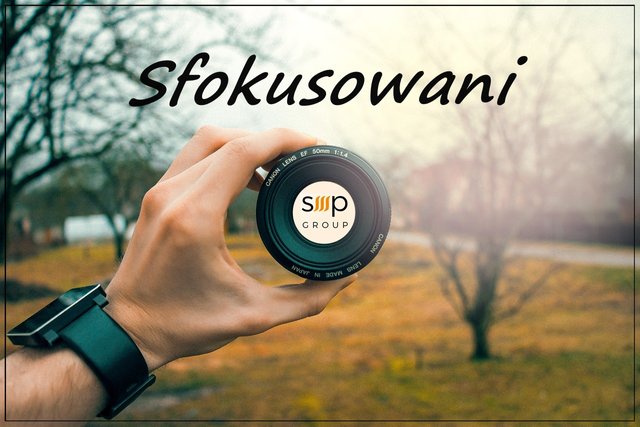 Witajcie!
Z tej strony
@julietlucy
Jak doskonale wiemy jest wśród nas wielu fotografów i fotografów amatorów. Sama jestem jedną z tych osób. Wiem, że szczególnie początkującym fotografom nie jest zbyt łatwo się tutaj odnaleźć. Nieznajomość tagów, brak interakcji z innymi użytkownikami, zarobek zerowy mimo włożonej pracy... Sama przez to przechodziłam.
Teraz gdy początki mam już za sobą, znam tagi, wiem co można a co nie, kto zarabia a kto nie chciałabym pójść krok dalej i utworzyć cykliczną zabawę fotograficzną dla polskich steemian. Dla starych wyjadaczy takich jak ja ale również i chyba przede wszystkim dla tych, którzy pojawili się ostatnio i ciężko nam do nich trafić, bo często najzwyczajniej w świecie źle tagują.
Post "Sfokusowani" będzie pojawiał się co poniedziałek. Będzie on zachęcał naszych fotografów i fotografów amatorów do skupienia się na danym temacie w tym tygodniu i opublikowaniu do soboty do północy postu zgłoszeniowego.
Post zgłoszeniowy powinien zawierać w tytule słowo "Sfokusowani". W poście macie za zadanie umieścić niepublikowane wcześniej zdjęcie inspirowane tematem. Zdjęcie powinno zawierać dopisek gdzie, kiedy i czym było zrobione oraz krótki opis. Jedno zdjęcie na jednego autora. Publikacja musi zawierać tagi: #polish oraz #pl-fotografia. Zdjęcie musi zostać podlinkowane pod postem aktualnej zabawy.
Najlepsze zdjęcie według mojej opinii będzie nagradzane 100% głosem @sp-group.
Jeżeli zgłoszą się do nas sponsorzy nagrodzone zostaną trzy pierwsze miejsca według podziału: 1miejsce 50%, 2miejsce 30%, 3miejsce 20%.
Miejsca zostaną wyłonione na podstawie głosowania wszystkich steemian.
W "Niedzielniku" pojawiającym się na naszym grupowym koncie co niedziele będziemy publikować listę zgłoszeń. Macie tydzień na głosowanie. Głosowanie oczywiście w komentarzach pod "Niedzielnikiem".
Głosować może każdy. Prawidłowo oddany głos:
1miejsce: @autor 3 pkt,
2miejsce: @autor 2 pkt,
3miejsce: @autor 1pkt.
Zastrzegamy sobie prawo do zmiany zasad zabawy.
Jeżeli macie propozycje tematów, sugestie co do samej zabawy, jeżeli chcecie zostać sponsorami- piszcie w komentarzach pod postami "Sfokusowanych" lub na naszym discordzie.
https://discord.gg/rcvWrAD
Zapomniała bym!
Temat na ten tydzień to wiosna!
Sponsor na ten tydzień to
Tylko od Was zależy czy pójdziecie na łatwiznę i sfotografujecie trawę czy będziecie głębiej myśleć nad tematem i wymyślicie coś niebanalnego. A może jest coś co wyjątkowo dla Was kojarzy się z wiosną? Na przykład pierwsze promienie słońca bezczelnie wpraszające się do Waszych sypialni przez szczelinke między zasłonami?
Wszystkie zdjęcia przyjmiemy z szeroko otwartymi ramionami, bylebyście umieli wyjaśnić dlaczego akurat TO wybraliście na zdjęcie przedstawiające temat.
Ja-@julietlucy będę publikowała zdjęcia w zabawie, ale nie można oddawać na mnie głosów.
Pstrykajcie i dołączajcie do zabawy!
---