I Made Colorful Soap with Honeysuckle Scent ~ I Will Share This With You First :-)
Good morning fellow Steemians. I thought I'd share these pictures with you first.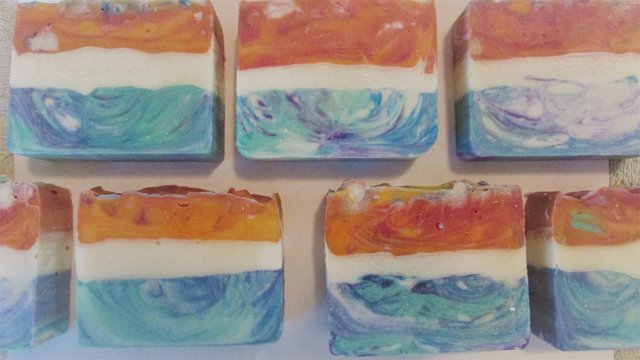 As one or two of you might know, I'm new to Steemit and am excited to be here. I have so much to share from travel experiences, to arts and crafts, to family matters that you might enjoy, and faith in God. These are all a part of me. But my agenda on Steemit is especially to share my soap and bath bomb making for a business I started over the last year. I've had a good first year online with my soap making business, but I hope to one day have a location or locations to present my soap -- you know, brick and mortar style. I look forward to sharing the journey with you! Up until now, Instagram followers and Facebook friends have been the first to see my latest projects, but this morning, I'm sharing the beautiful pictures of yesterday's soap cutting with YOU FIRST!
Aren't they beautiful? I love the way they turned out! Making soap is more than making a practical item that is good for your skin -- making soap is making art!