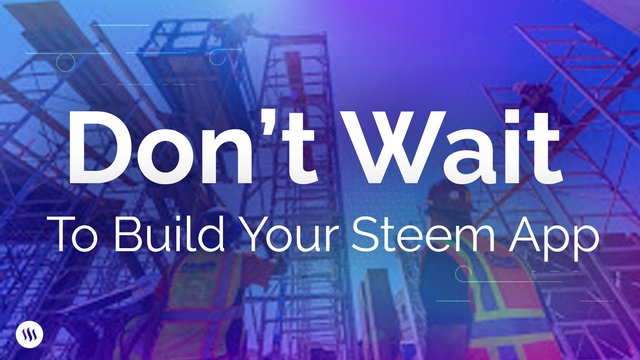 Last week we announced the dates for our release of the SMT TestNet andMainNet, and in yesterday's post we shared the open organization and tracking system for SMT development that will enable everyone to follow along as we progress toward those release dates.
Now we'd like to highlight why developers and entrepreneurs considering launching their own Smart Media Token (SMT) shouldn't wait until the release of SMTs to build and launch a Steem-powered app. You can derive incredible value from Steem integration today, using the tools and technology that are already available on the Steem blockchain. Implementing these strategies will not only allow you to begin generating revenue, gaining customer feedback, and building your brand recognition, but they will also set you up for success if/when you do decide to launch an SMT. The best part is, this will work whether you plan to launch an SMT or not.
When SMT?
Out of our many ongoing projects (AppBase, Hivemind, HF20, etc.), SMTs have generated the most interest and we understand why. Our experience building apps powered by the world's first Smart Media Token (STEEM) along with our experience dealing with entrepreneurs who are considering Steem integration is what informed our decision to build the protocol in the first place.
Don't Wait
While SMTs will have incredibly valuable properties, many of the benefits entrepreneurs and developers are looking for can already be achieved through Steem integration today, thanks to Steem's powerful application-specific features like Reward Sharing. Reward Sharing (or "beneficiaries") enables people behind an application to take a cut of the STEEM earned by all of their users.
In addition to being able to generate revenue via Reward Sharing, there are many additional benefits to Steem integration that have nothing to do with SMTs. If you wait to integrate with Steem, you'll be missing out on opportunities and revenue that you could start earning today. For example, SteemMonsters earned over $200,000 in just two months through Steem integration.
STEEM: The Turnkey SMT
Most importantly, Steem integration is a prerequisite for SMT integration. SMTs will be built on the Steem blockchain after all. Taking full advantage of Steem will give you invaluable knowledge about what you will need from your SMT. Those who launch their SMT without first learning the upsides and downsides of STEEM, will be putting themselves at a huge disadvantage.
Think of STEEM as a turnkey SMT that's ready for you right now. By integrating the Steem protocol into your application, you can immediately start incentivizing your users and generating revenue without having to first bootstrap your own token. Successful Steem integration will enable you to build your user base and generate revenue - both of which will make bootstrapping your own SMT far easier, thereby increasing your odds of success by orders of magnitude.
Be Ahead of the Curve
Existing applications like d.tube, dlive.io, and steempress.io are great examples of applications that have already accomplished so much by integrating Steem into the backend of their web applications. These applications are highly successful, and the expertise they have gained as Steem developers and entrepreneurs will be priceless if they choose to pursue their own SMT. They will have a massive competitive advantage against any developers who decide to wait for the release of SMTs to begin developing their application. In addition, they will have learned first-hand what they need in an SMT, beyond what they can already get from STEEM.
We Believe in Decentralized Distribution
We understand why people are so eager for the release of SMTs. We believe they're going to be a game-changer. No one else believes in decentralized token rewards (a/k/a Proof-of-Brain) like we do. But the most important reason we're developing them is that no one else is.
No one else is trying to solve these problems, and the only protocols that could even be used to create these functionalities are not application-specific. In future posts we plan to explore the advantages of being application-specific, but in short, general-purpose protocols are not laser-focused on a limited feature set—which means they will scale slower, have higher fees, and have fewer dedicated resources for ensuring that your app is successfully tokenized. Also, most importantly, they will lack Steem's most valuable resource: its massive community full of engaged, passionate, blockchain-familiar users and developers.
How to Start
We know the process of building an application is daunting, but we are confident that Steem is far-and-away the easiest blockchain protocol for powering web applications. It's designed from the ground-up to power applications built using the web development tools the industry has spent the last 20 years perfecting so that developers don't have to learn new or esoteric programming languages like solidity or C++. Instead, we offer simple APIs that enable any web developer with knowledge of JavaScript, Python, or Ruby to immediately pipe into Steem and use it to power their website. You can find all of that information and more at https://developers.steem.io. The Quick Start section has information on how to work with nodes and testnets. You will also find tutorials that will walk you through the basics of interacting with the Steem APIs in JavaScript, Python, and Ruby.
We also recommend you check out our Recipes section of the developer portal. Recipes are a series of instructions that enable you to efficiently accomplish common objectives such as how to calculate the approximate value of an upvote, interpret raw bandwidth data, optimize your local applications with Jussi, and maintain global state information.
If there are other resources that would make it easier for you to begin building on Steem, please let us know in the comments below.
Steem on,
Steemit Team