Steemit's Smart Media Tokens Will Be The Real Game Changer!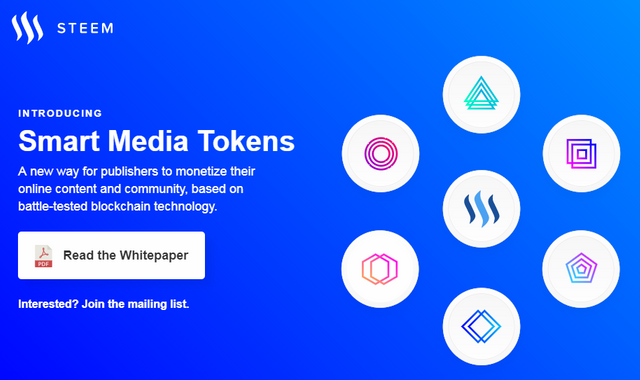 One of the things I learnt early on in business is that you have to keep evolving even if the pace is seemingly unhurried to the world and the other is to always under-promise and over deliver. But when the time is ripe, you go out all guns blazing.
Today, @ned announced the Smart Media Token whitepaper and as you can tell it holds some incredible possibilities for business owners across the world. Check: https://smt.steem.io
With SMTs you can launch your own tokens, run an ICO, generate income out of your websites or blogs by monetizing them unlike ever before. Traditionally most website owners were largely dependent on ad-revenue or affiliate sales. But now you can easily monetize your content and community with blockchain technology and crypto tokens.
You never change things by fighting the existing reality. To change something, build a new model that makes the existing model obsolete. ―R. Buckminster Fuller
About 2 years ago I started a motoring site where I had excellent traffic and over 100K page views within a month of launch and several hundred unique visitors a day. But it was very difficult to monetize it to generate substantial monthly income with Google ads alone in a highly competitive niche. Getting traffic was relatively easier but sustaining operating costs certainly wasnt.
Even as I had a business plan and mobile app in development, ultimately I decided to switch over to the cryptoworld and let that project rest as it was more lucrative to focus on cryptocurrencies and Steemit. I reckon there must be hundreds of web based business owners like myself who set up websites to sustain a livelihood, provide employment to a team etc. SMTs will monetize, generate income and potentially livelihood for various business owners and their employees in the years to come.
A friend and former roommate Harsh Agrawal is one of the top bloggers from India with over 900K followers and runs a popular network of blogs, notably ShoutMeLoud.com. He also runs a popular blog on cryptocurrencies as well. He has massive traffic and excellent engagement on his content at his top blog and with SMTs he could probably have ShoutMeLoud tokens and monetize his blog's comments and have an exciting new alternative to access his premium content as well. The possibilities for application of this technology are huge.
Recently I was approached by a publication in India which also runs a very large and popular forum in my country with a possibility of getting onboard on Steemit. Now they can simply use SMT to further monetize various aspects of their business and raise funds in addition to publishing content on Steemit if they should so desire.
Our favorite social platform is one amongst the top 2000 websites in the world today offering instant transactions with zero transaction fees.
Steemit has been gaining popularity from the day 1 for being the first blockchain based platform in the world which rewards users to post and curate content. It has a growing community of loyal users. If you are an online business owner, you already know the importance of building and sustaining a community and what it would mean to reward your users.
There are many development tools on top of Steemit which makes it easier to build websites on top of the Steem blockchain. In the year to come all of this will only get better and easier.
I think of my country and how this technology can improve businesses-there are endless possibilities. Hope to see some of my favorite publications adopting SMTs in the future.
If you were wondering about updates to Steemit.com, they are on their way as per the roadmap released earlier. But today, let's focus on SMT and mark this day, because it is when Steemit decided to change the game!
You can download the SMT whitepaper here!
Read @donkeypong's post on SMT: The Day the Paywalls Died: How Steem's Smart Media Token Saved My Family's Newspaper
---
@steemfest is just a month away. Visit the official ticket website for ticket purchases.
---
If you like my work kindly resteem it to your friends. You may also continue reading my recent posts which might interest you:
Successful #2 India Steemit Accelerator and Steem Cryptocurrency Meetup 2017 at Robert Bosch India HQ!
---