smartsteem - update and upvote guide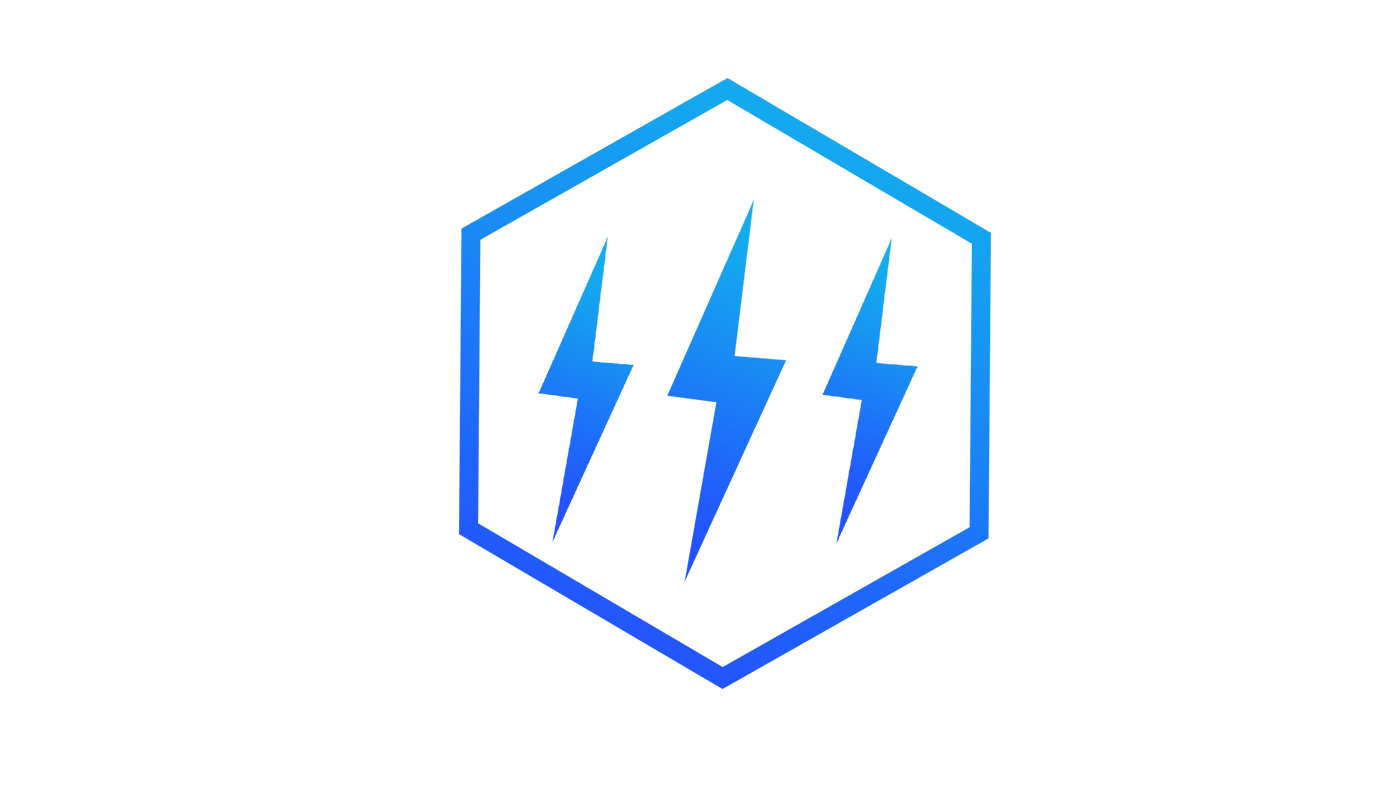 @therealwolf here on behalf of smartsteem and in this update I wanted to give a quick overview of what has happened in these last 24 hours.
Over 20K SP was delegated to smartsteem
The amazing @xeldal has delegated over 20K SP to smartsteem - which is amazing. In return xeldal will receive 56% of the whole profit shares that get paid out to sponsors (20%).
This means that smartsteem has now over 35k delegated SP and an upvote value of over 3$.
However, with great power comes also great responsibility. That's why we've been working extra hard over these last 24+ hours to improve smartsteem with the feedback we received.
Upvoting is now even easier
While auto-upvotes is an amazing feature - sometimes manual upvotes are needed as well. That's why we've implented this feature - which works perfectly with our balance system.
How does it work?
1.) Login:
Go to
https://smartsteem.com
and login. We won't get any permissions - only verify your account securely via steemconnect. If you are already whitelisted then go ahead and go to Step 3. If you haven't applied yet - then go to the next step.
2.) Apply:
Click on the blue 'Apply'-button in your profile and fill everything out. After the application one of the moderators will review your posts and if you are whitelisted then you can go to the next step.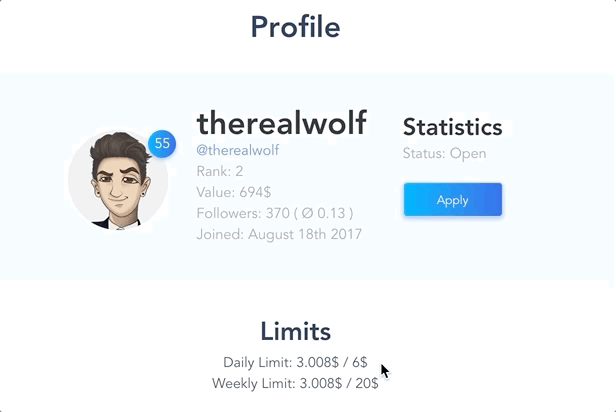 3.) Deposit SBD:
Using transfers was yesterday. Today you are able to upvote your posts easy and secure with our own balance system. To do that simply click on your profile picture and then on 'balance'. After that with a click on 'deposit' you can enter your desired amount you want to deposit and then transfer this to us via steemconnect. (which is very secure)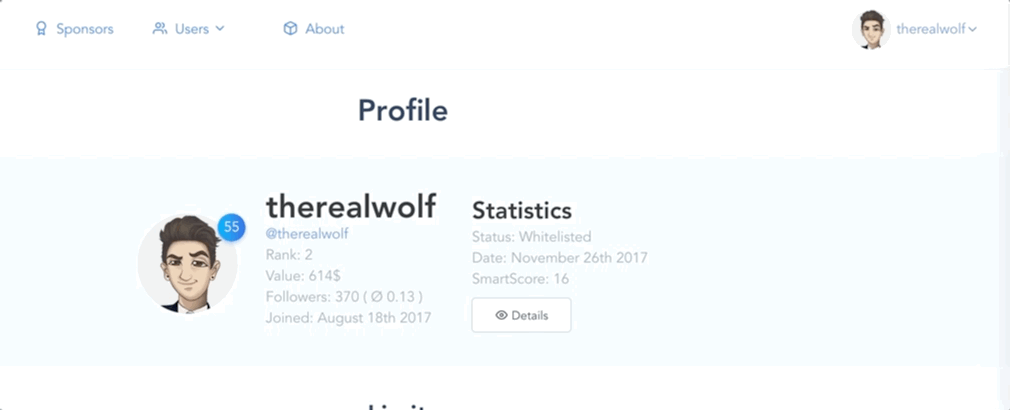 4.) Upvote:
Click on your top right profile picture and then on 'Features'. You will see a blue 'Manual-Upvote' button. Click on that and then fill out all the fields:
Post-Link: Your steemit/busy post-link.
max. Vote Value: Your desired upvote amount. On the right side you will see also how much this would cost.
min. Vote Value: If we can't fill your desired upvote amount then this value should be the value it would fall back.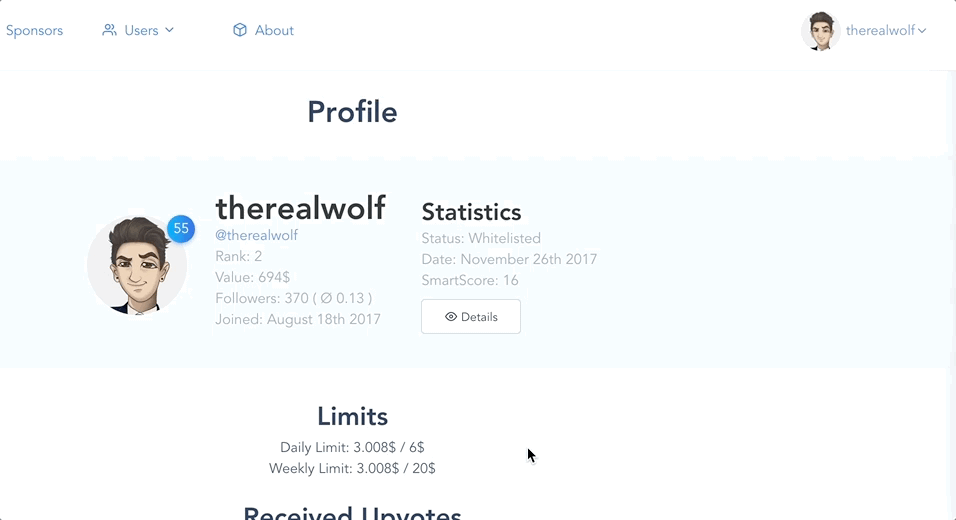 To make this short - for you to be able to buy upvotes, you have to:
1.) be under your daily & weekly $ limits
2.) have enough $ deposited on smartsteem
3.) are whitelisted and the post hasn't been voted on through smartsteem.
---
All in all, we are very happy and glad to have smartsteem finally public.
But ...
what is next?
@artbunny is working on a complete guide to explain exactly how everything on smartsteem works.

@therealwolf is working on the algorithm to calculate discounts for minnows and on the upvote-value calculation based on the smartscore - simply said: high smartscore, better posts, higher upvotes.

@threalwolf is also working on a better display of seller-data (yes - you can sell your votes to smartsteem and earn 80% of our profit with the knowledge that only great content gets upvoted. You can even specify on which steemians those votes will be sold to!)
---
What is smartsteem?
smartsteem (https://smartsteem.com) is the first votingbot on steem that is purely focused on content quality and wants to make steem a better place for all steemians. Additionally, smartsteem works as a frontend filter that displays posts only from whitelisted users - similar to steemit, busy or chainbb. But it is not an alternative - instead more of an extension.
More info in our introduction post: https://steemit.com/steem/@smartsteem/smartsteem
Our amazing Sponsors:
@xeldal - 20k SP
@therealwolf - 15k SP
@zikra - 6 SP
@here-could-be-your-name
Our Moderators:
Join us on discord
If you have any questions, feedback or something else you want to tell us - come and join our discord!

https://smartsteem.com