Chauburji : The ancient Monument of Pakistan
Chauburji (Chau meaning four, burji meaning tower) is one of the most famous monuments among the structures and buildings of the Mughal era in the city of Lahore, Punjab, Pakistan.
In the historic city of Lahore, on the road that led southwards to Multan, the Chauburji gateway remains of an extensive garden known to have existed in Mughal times. The establishment of this garden is attributed to Mughal Princess Zeb-un-Nisa, 1646 AD, which appears in one of the inscriptions on the gateway. The gateway consists of four towers and contains much of the brilliant tile work with which the entire entrance was once covered.
The Gateway of the Four Minarets or Chauburji was once the entrance to one of Lahore's many pleasure gardens. The garden, together with one of the gate's corner minarets (on the north-west) is now lost. An inscription on the gateway records that the garden was established here in 1646, in the reign of Shahjahan, by a lady described as Sahib-e-Zebinda Begum-e-Dauran, or 'the elegant lady of the age'. The lady referred to is probably Jahan Ara Begum, the eldest and favourite daughter of Shahjahan, who was known to have built gardens at Lahore. The gateway is beautifully decorated with rich mosaic-work.
Chauburji represents a strong blend of Mughal architecture with ancient Muslim style of building. Its distinguishing features are the minarets which expand from the top, not present anywhere in the sub-continent. Some, however, believe that there were cupolas upon these minarets which collapsed with the passage of time. Arches are of the so-called 'Tudor' style, adapted to Islamic architecture, particularly in Mughal mausoleums and mosques. The red brickwork is typical of the Muslim buildings of the sub-continent; the doorways and windows running through the interior corridors are examples of the living style that characterised the Mughal buildings. However, the main purpose of building Chauburji appears to be strictly monumental. The decrepit building, which has not lost its elegance, stands alone surrounded by hoardings and bustling traffic on the busy Multan Road.!
(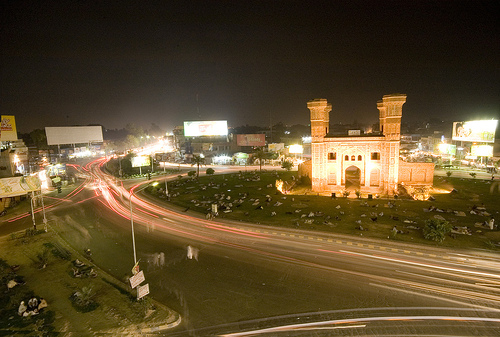 )