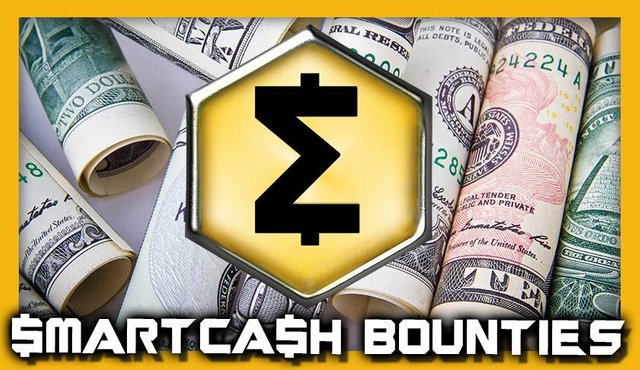 If you have not heard about the multi-functional cryptocurrency SmartCash yet than you better pay attention now: They are throwing money at you on Steemit and Discord when you join the SmartHive and promote this promising coin. Read more about the advantages in my SmartCash Overview.
Earn Smartcash with Steemit Posts
---
There are many ways how you can contribute to @smartcash on Steemit. Join the team by answering in their weekly announcement posts that you want to join. Easy as that. Then write reviews, tutorials, FAQ's, videos, life-streams, podcasts and share them on Steemit. Make sure to use the tag #smartcash as your first tag. Up to four times a week you can contribute and you will always get 15 Smartcash from the @smartbot assigned to your Steemit account.
Even better, you can comment on other peoples Smartcash posts and have a chance to get more Smartcash tips from other people and the official team members who support the community. These tips are usually very genereous and often bigger than the reward for the post itself. Awesome community work! You can also win extra bounties like the MVP (50 Smartcash) or Post of the Week (250 Smartcash). Check out @smartcash for the latest news.

Earn SmartCash on Discord
---
Discord is the second home of many Steemians. It is a free text and voice chat where many Steem projects host their public discussion channels. @smartcash has its own channel under https://discord.gg/VMwh3TR. You can ask questions and join the Smartcash-Steemit team. There is a 24/7 support to many topics and can learn all you need to earn SmartRewards, set up a SmartNode and so on.
The tipping bot works there as well and is probably being used to give random tips to some good ideas or discussions. I have not seen that in action myself but I am pretty new in the community and there is a lot going on. There is even a tipping bot for Twitter so when you Tweet your Steemit posts there you might get tipped another time.

What Fascinates Me about SmartCash
---
Besides the cool features like passive income through SmartRewards and the anonymous function that is coming soon, there is clearly a massive dynamic behind the SmartCash development. The fact that is is a decentralized team - unlike Dash which has a centralized team - people are all easily getting onboard and create a massiv organic growth.
The fact they they came to Anarchapulco as the sponsor and how many people I met are already in Smartcash I am getting a very good feeling about it. Besides, the price was already up to three Dollars for a moment and there is certainly a huge interest in Smartcash after BitCoin goes into the bull market again.