Smartcash.cc is really putting the Community Treasury funds to work for us this year. Staying true to their word, Smartcash has not veered from their original roadmap and even updated it to highlight some new projects getting attention from the SmartHive this year.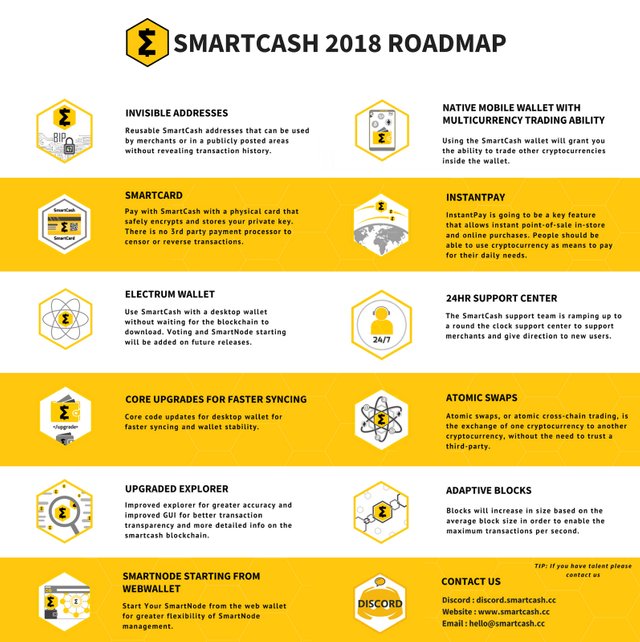 Smartcash is a unique coin in that it was built with growth and development of the coin in mind. Where coins like Bitcoin are designed to only benefit the Miners (the only ones to receive reward from Bitcoin blocks are the Miners) Smartcash is built around their community.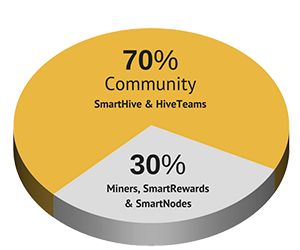 SmartCash is a community-centric cryptocurrency, where community and development comes first. 70% of the block reward has been allocated to fund SmartHive community proposals as well as the Hive Teams. 30% of the remaining block reward has been allocated to Mining (5%) and SmartRewards (15%) and SmartNodes (10%).
With that said, here are some of the areas the SmartHive is allocating that 70% Community Treasury fund that I find particularly exciting or unique:

InstantPay, if fully adopted by merchants and implemented correctly, will be the final step to freedom. No longer would you be reliant on banks or credit card companies for the holding and moving of your funds. You will be able to spend freely at any merchant set up with InstantPay using your ....
Smartcard is the card you would be using at any vendor accepting Smartcash via InstantPay. It works just like a credit card, you can swipe it, use the wallet numbers on the front of the card or scan the QR Code. Spending your SmartCash has never been easier.

Atomic Swaps will allow you to swap between different cryptocurrencies without the use of a 3rd party exchange. They will even have this feature integrated into the official Smartcash Mobile wallet.

The ability to trade between other cryptocurrencies with Smartcash on the go in a mobile wallet is just another example of Smartcash having ease of use and it's community of users in mind.

If you do happen to be the proud owner of one of the 9934 already existing SmartNodes (as of 2/16/18) or have dreams of running one of your own, you will be happy to know that the SmartHive has you in mind as well. You will now be able to start and operate your SmartNode from the webwallet.
---
These are just some of the many new features Smartcash and their SmartHive have in store for us this year. Once some of these features go into effect, it is anticipated that the coin value will increase. With this roadmap in place, I see no reason for the price to go down.
With currant coin prices sitting at just $0.23, now is the absolute perfect time to buy some.
If this doesn't get you excited about this coin and it's versatility in the world, I don't know what will.

If everything they promise plays out the way they designed it to, Smartcash will be successful at seamlessly bridging the decentralized world with that of the centralized without compromising itself or it's users.
---
If you enjoyed this post, don't forget to Upvote and Resteem. Follow me @doc-gonzo for more SmartCash news and information in the future.
---
-If you wish to tip a fellow contributor you can send coins here -
SMART = SXj6LWGxa9VLUbkFCajWV6jynaBeTLzrbK
BTC = 18Z7NmFS3QW8JqbousncdURaZs5rXP7DKT
LTC = LQEvg2ocXmPWcFzgSrVL9xrbu5XkvMAQfX
DASH = XumB3rWk6rPzEAFeEk6QiqGsXHB9o94D8R
---
-If you would like to learn more about SmartCash please visit -
Official Website:
https://smartcash.cc/
Official Wallet :
https://smartcash.cc/wallets/
Official Twitter:
https://twitter.com/scashofficial
Official Discord:
http://discord.smartcash.cc/?