Very good greetings to all my friends and followers of steemit!!
Today I participate in this contest called "Daily Drawing Challenge # 5" with the theme "Coffee" organized by @cookiespooky. Some time ago I participated in a contest organized by the same titled "Drawing Challenge # 2 - Serious / angry face", but now I have very good expectations for this new contest ;).
I left a bit of the usual (B&W) and decided to add color to life... and coffee xd.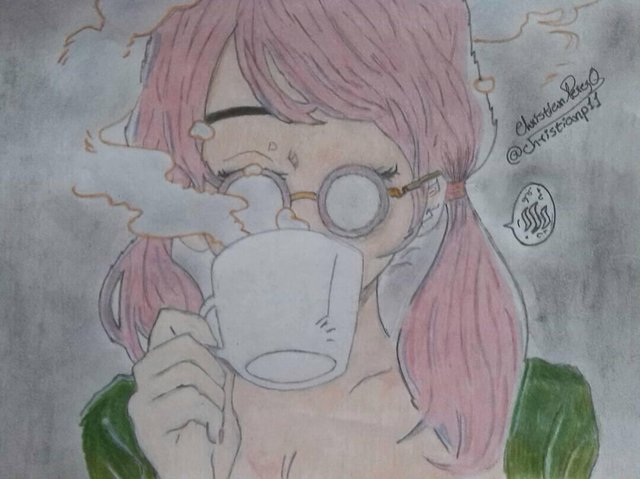 ---
Theme: Coffee | Materials used: Pencil 3B and 3H, colors pink, orange, skin color, light green, dark green, yellow and blue.
---
---
Step to step process:
---
---
I did the first part of the sketch with the pencil 3H.
I started making the cup, then the hand and the smoke coming out of the coffee, a lens and a tail.

---
Basic sketch finished (3H pencil).
Then I made the other lens, the rest of the hair, the eyebrow and the body.

---
In this step I took the pink color and began to paint the hair.

---
I finished painting the hair and highlighted the lines so that it could be appreciated a little more.

---
In this step with the skin color I proceeded to paint the body, and in the next step the hand.

---
Said earlier, in this step I finished painting the hand

---
You almost stepped on the finish... here I marked the eyebrows with the 3B pencil and the smoke with the orange color.

---
In this last step we colored the body working the two green ones (light and dark). With pencil 3B make a blurred background and with it make the final details that give life to the work.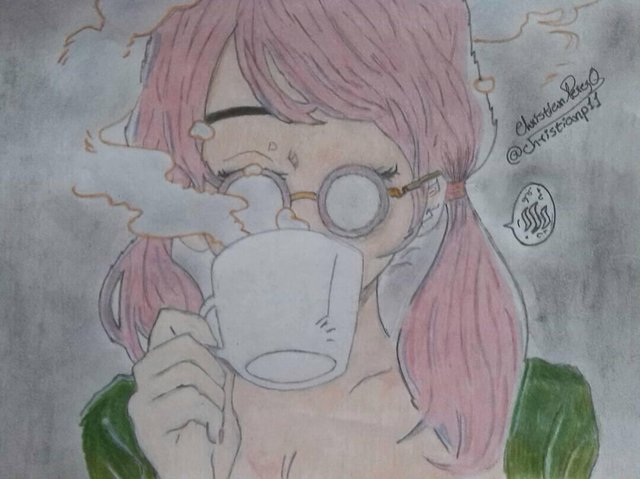 AND READY! Already done.
Thank you for giving me a little of your valuable time watching my publication. I hope you have enjoyed my artwork, it is one of the few that I do in color, soon more colorful content will be coming ;)! If you liked my post, your opinion, comment or valuable vote, I would be very grateful for my part ♥.