As a big fan of snowboarding, i was looking for a place for the best snowboarding adventure this season and on the way I made a compilation of great places to go to. If you're looking for a place to go skiing or snowboarding, this post is for you.
1. Val Thorens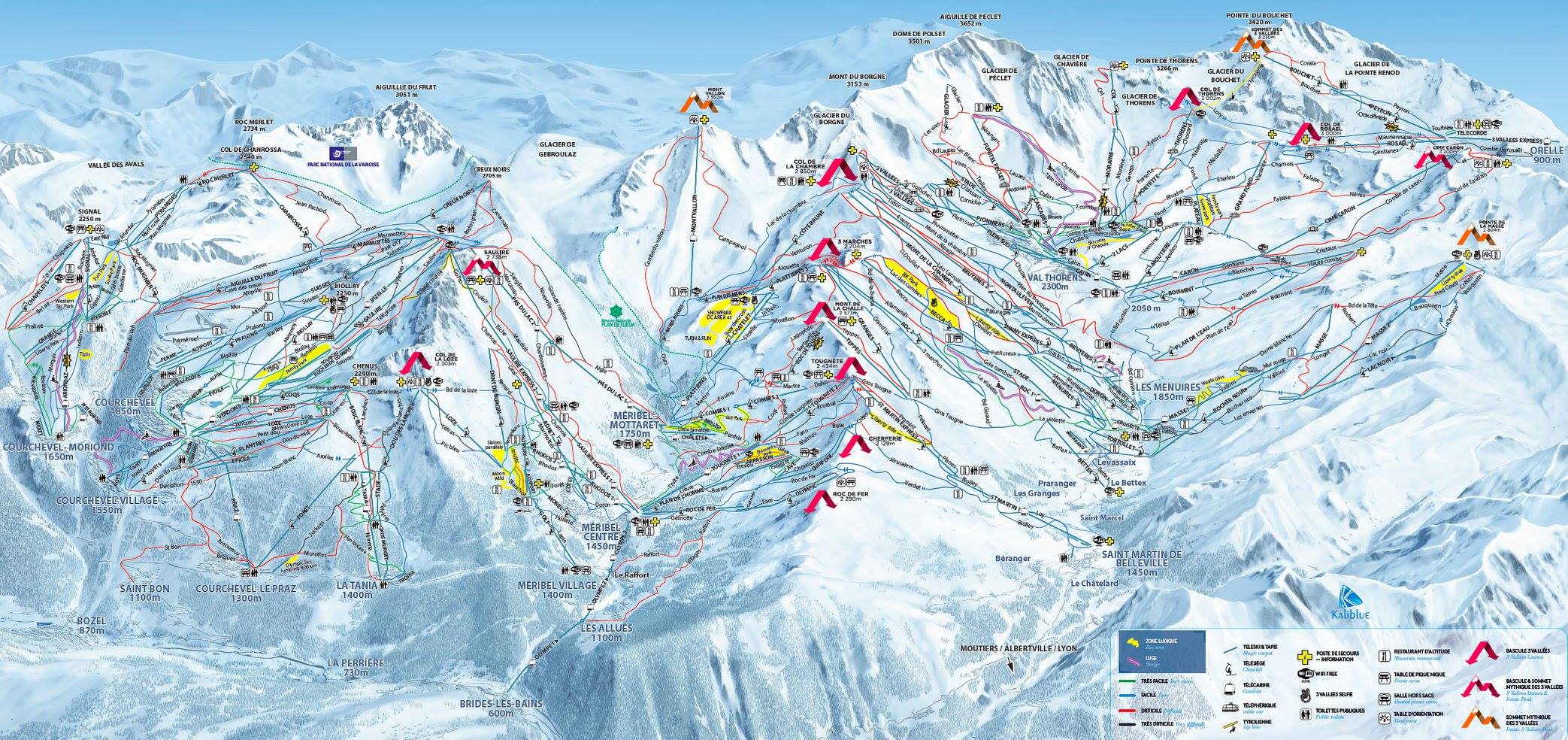 Val Thorens is situated at the head of the 3 Valleys and has the larges ski area in the world with 600km runs. The ski facilities are cutting-edge, with high-tech ski lifts that take you right up to the highest peaks with views over more than 1,000 mountaintops.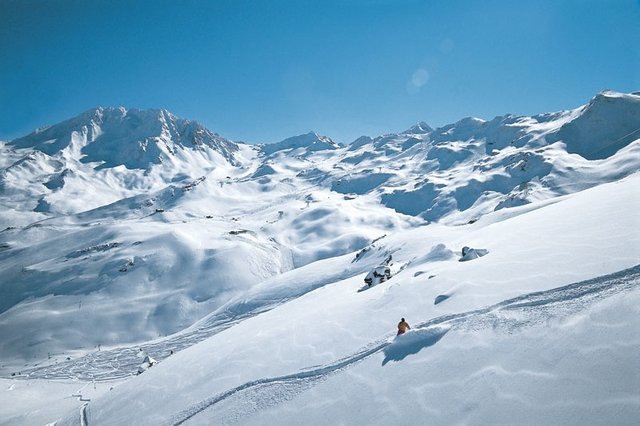 The village atmosphere is informal and friendly for après ski with a wide variety of restaurants, clubs and a stack of other activities and it is car-free.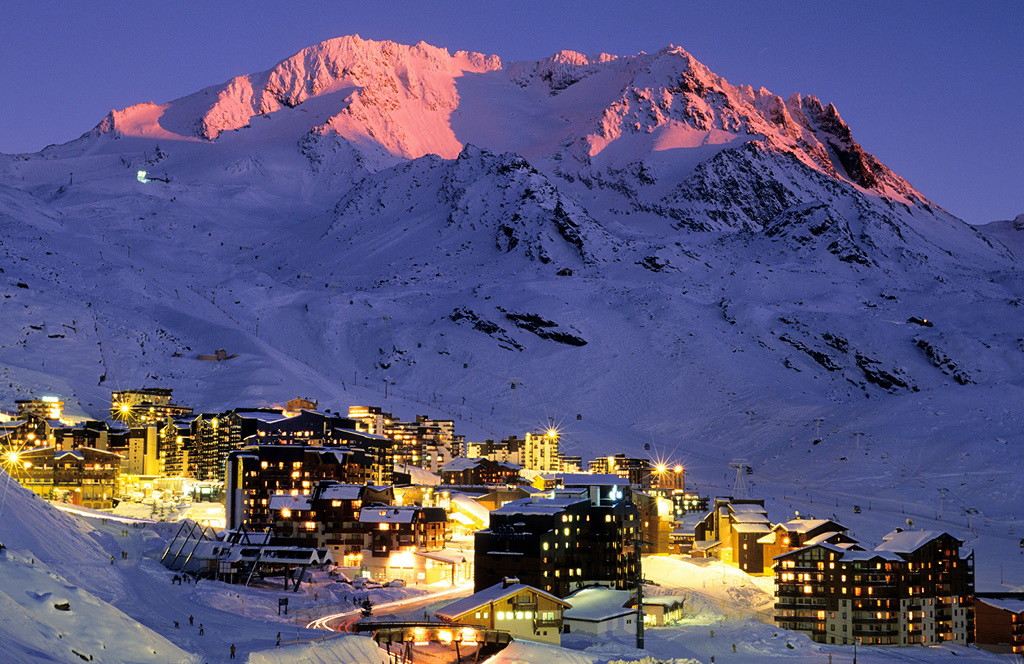 Val Thorens 3 Valleys 6 day adult ski pass - €300
2. Alpe d'Huez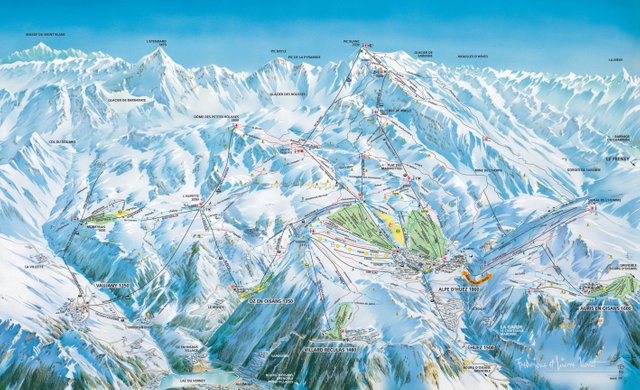 Alpe d'Huez (1,860-3330m) is a sizeable, modern resort known for its sunny, extensive terrain and spectacular views across the Southern Alps. The efficient lift system whisks skiers up to the vast, high-altitude area of the Alpe d'Huez Grand Domain Ski (250km) with its wide choice of varied runs, well-suited to all levels.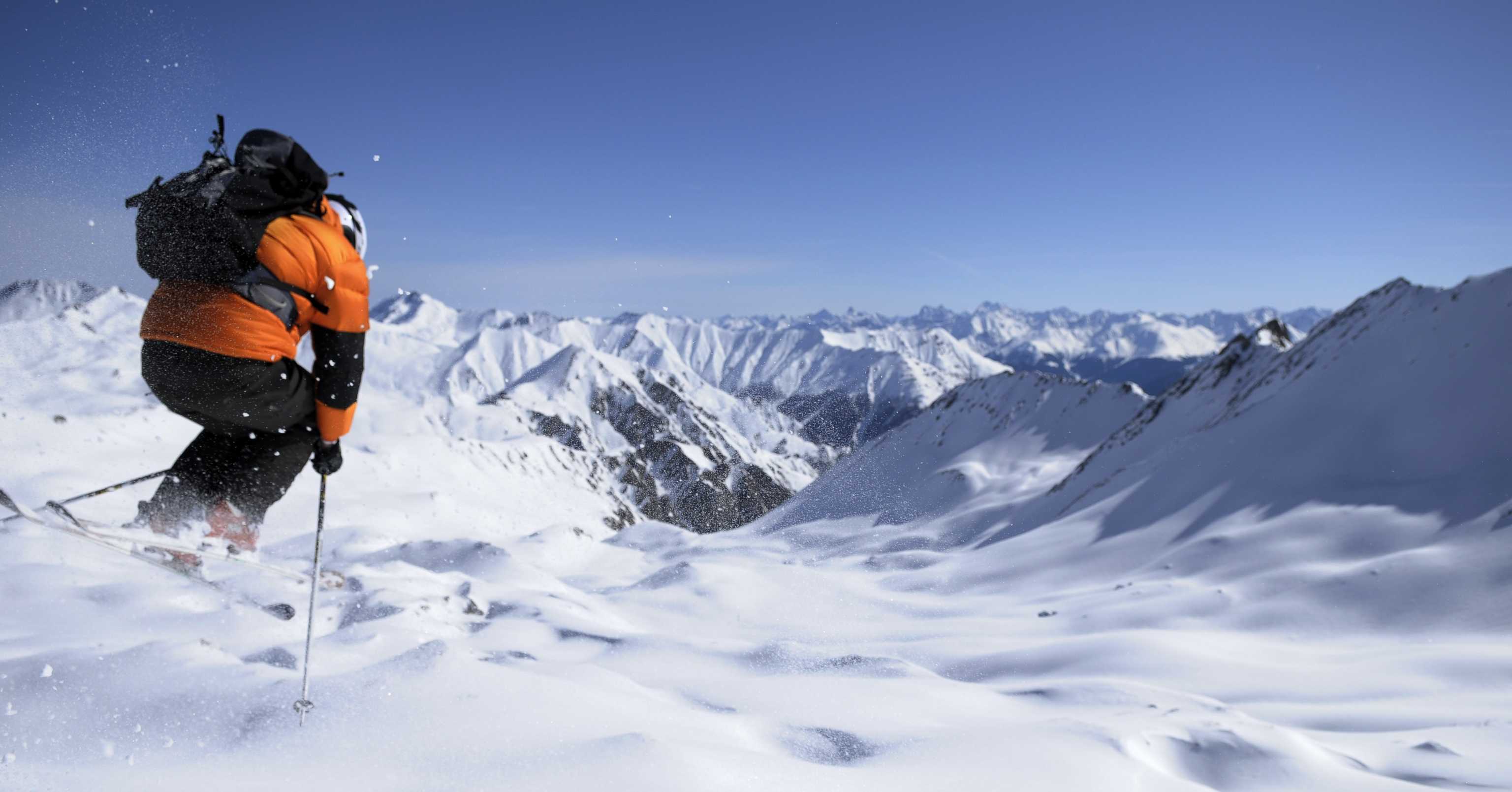 Alpe d'Huez is one of the liveliest resorts in the French Alps, but is divided into separate quarters, so you can often find yourself far away from the centre (Avenue des Jeux). A good tip is to stay in the prettier, more rustic village of Vaujany, which is linked to Alpe d'Huez by chairlift.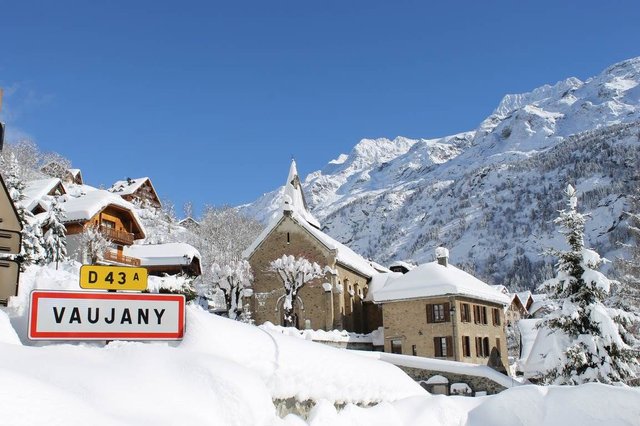 Alpe d'Huez Grande Domaine 6 day Adult Ski Pass - €259.50
3. Livigno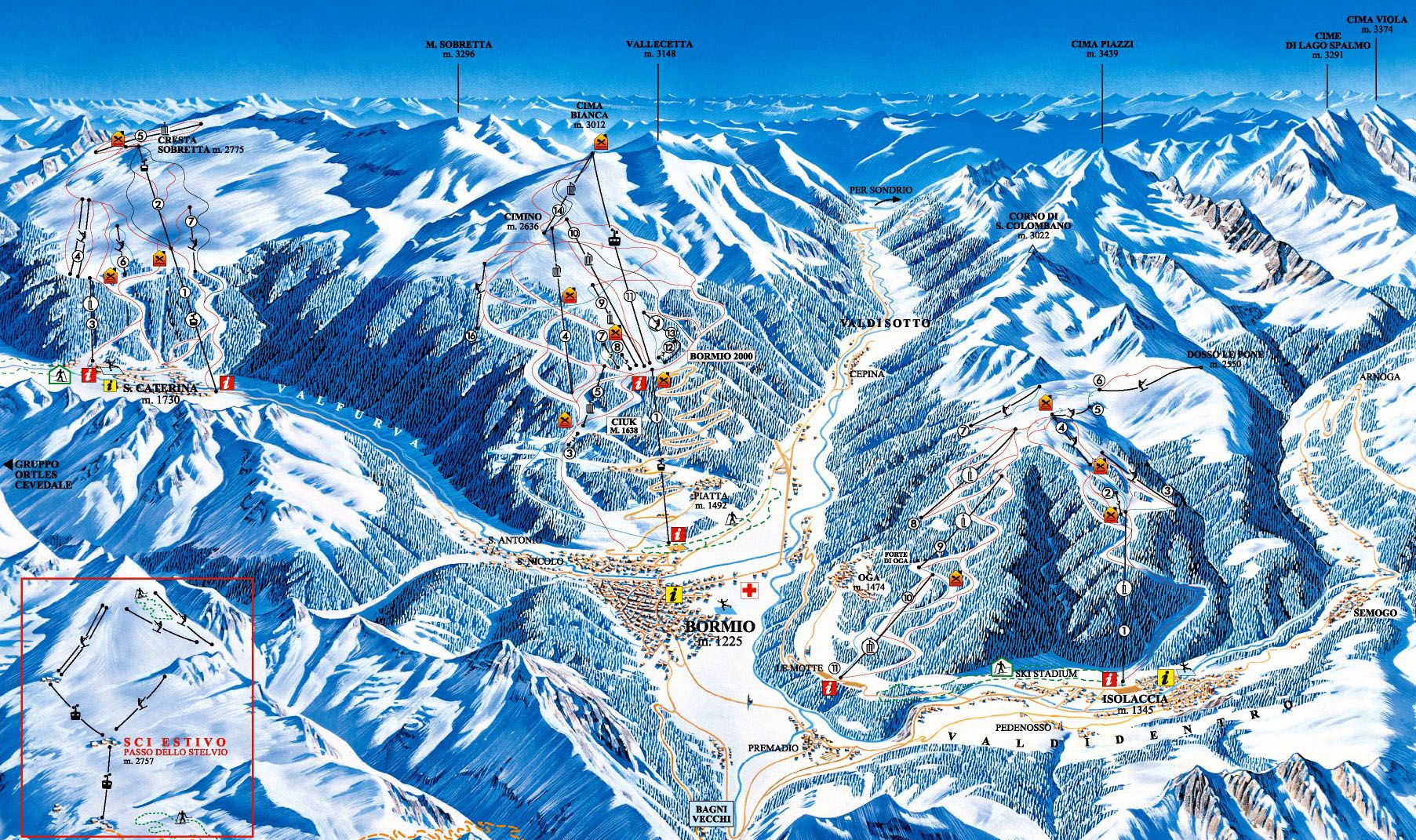 At Livigno there's something for everyone: 12 black slopes, 37 red slopes and 29 blue slopes. Expert skiers can satisfy their thirst for speed on long and technical runs like the Giorgio Rocca trail. Families and beginners can enjoy gentle slopes and fun areas suited for learning basic techiques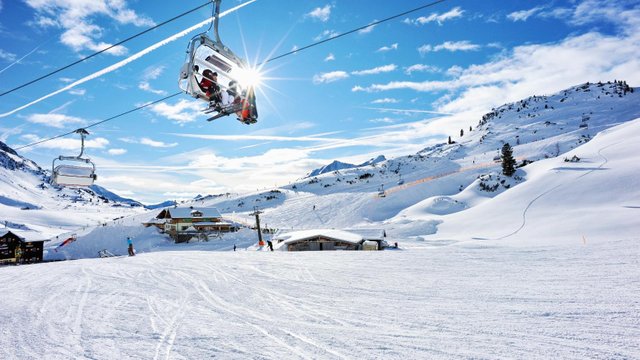 Livigno is one of the most important and well-equipped ski resorts in the Alps. Located between Stelvio National Park and the Swiss National Park, it's very accessible from northern Europe. Over the years Livigno has gained the nickname Little Tibet thanks to it's peaceful mountain location tucked between the Bernina Mountain Range to the south and the Ortles – Cevedale Mountain Range to the east.
Livigno 6 day Adult Ski Pass - €240
4. Montgenèvre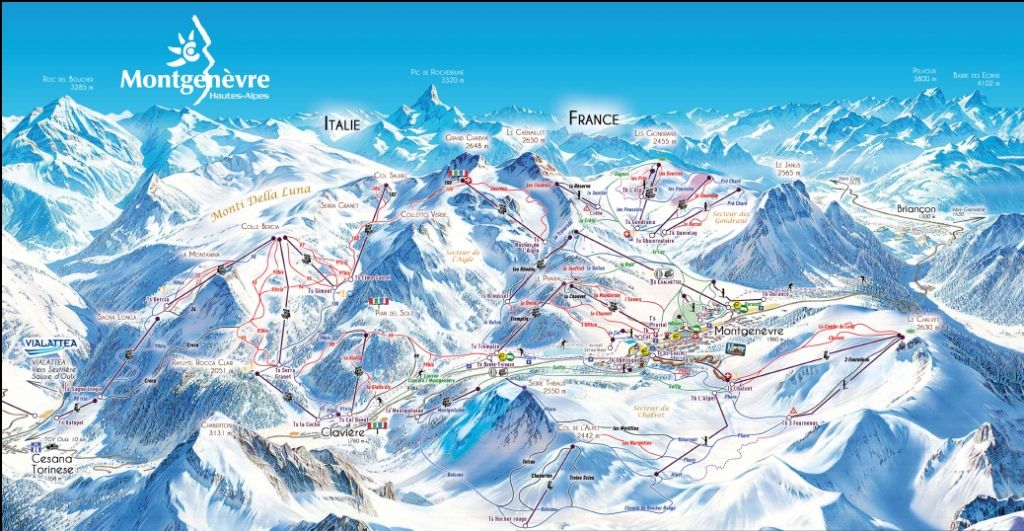 Montgenèvre has a total of 59 slopes, covering 100km of pistes and served by 38 lifts. Of the pistes, 25 are beginner runs, 23 are intermediate runs and 11 are advanced runs. The ski resort has several runs of decent length, the longest being 7km.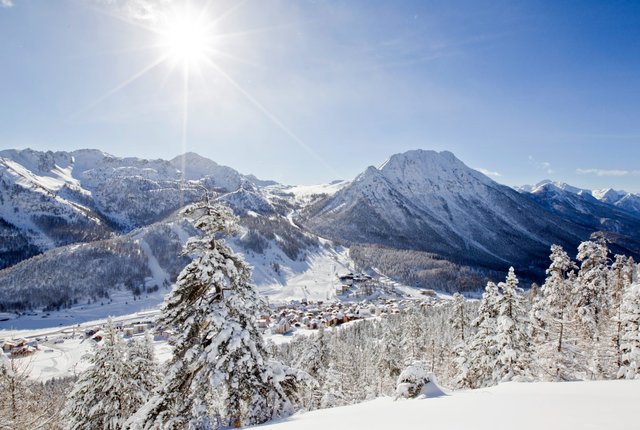 Montgenèvre is family friendly, budget friendly, and with a decent range of mixed ability terrain, little Montgenèvre forms part of the extensive Milky Way circuit. It's one of the oldest resorts in France. It's the only French resort out of six resorts that are linked together via the ViaLattea circuit and is connected to the villages of Sestriere, Sansicario and Sauze D'Oulx in Italy.
Montgenèvre High 6 day Adult Ski Pass - €181
Six day pass includes one day on Milky Way.
5. Avoriaz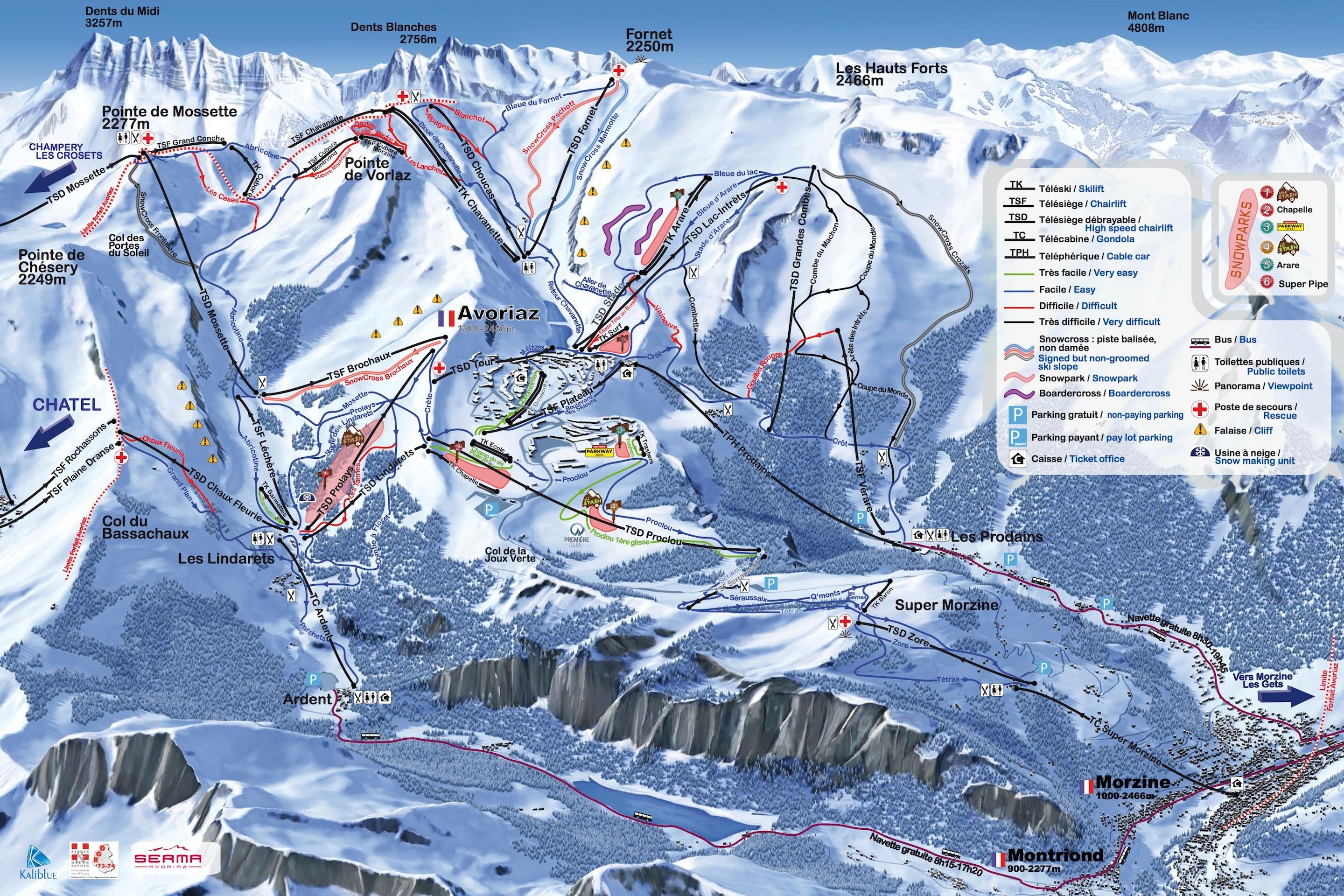 The Portes du Soleil is one of the largest ski areas in the world, comprising 650km of slopes and 12 resorts. With a vast and varied choice of ski runs, the area offers endless possibilities, allowing you to cross the border into Switzerland.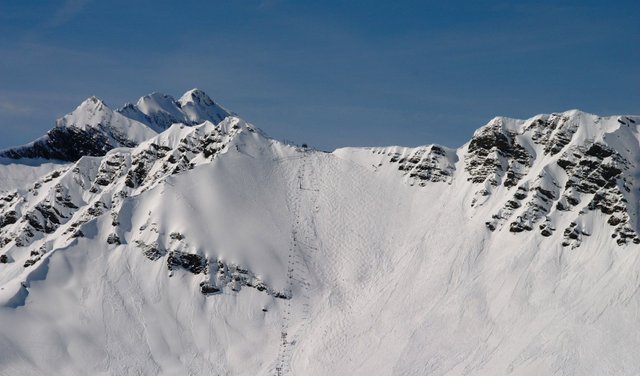 Slap bang in the centre of the Portes du Soleil ski area, Avoriaz (1,800m) has access to some serious terrain – 650km to be exact. The local ski area ain't too shabby either with fast, modern lifts and high, snow-sure slopes receiving around eight metres of powder each winter. Avoriaz is also one of the French greats for freestylers – there are now five snowparks and a super-pipe.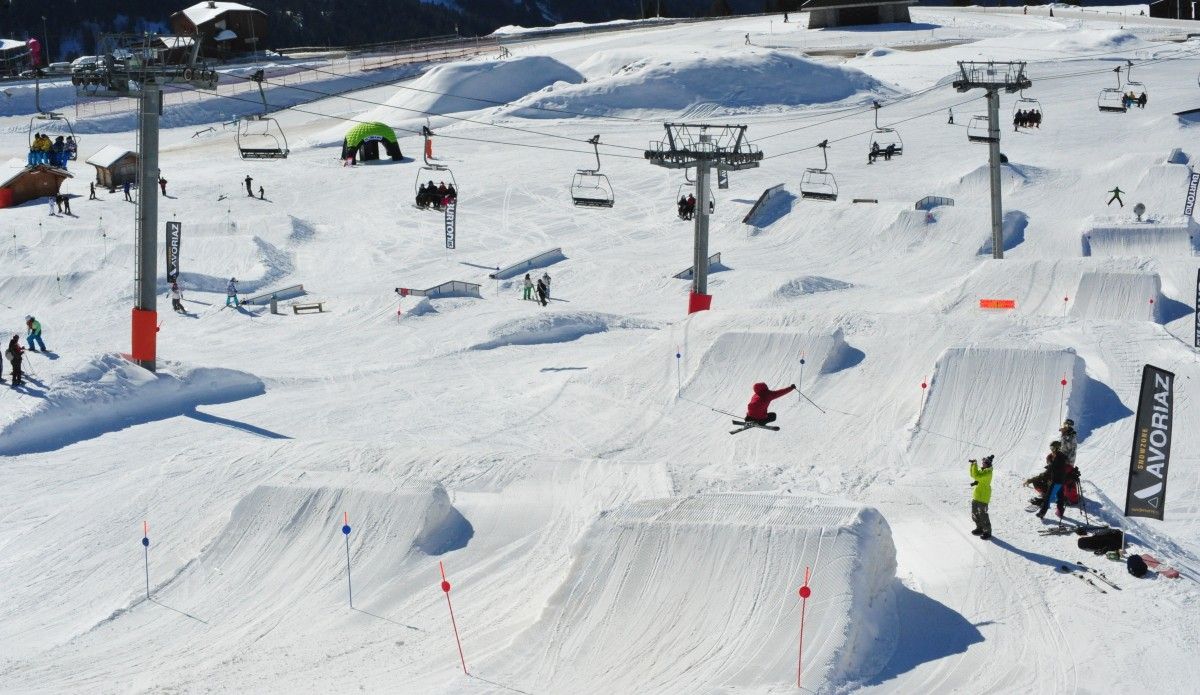 Avoriaz 6 day Adult Ski Pass - €260
6. Saalbach Hinterglemm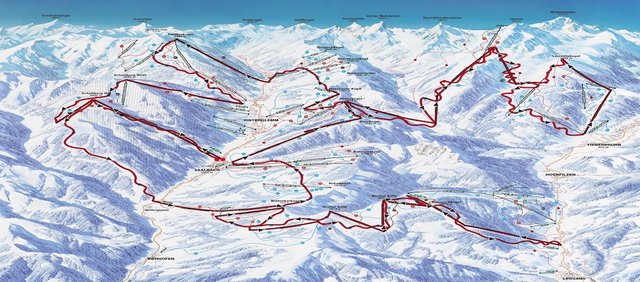 The ski area Skicircus Saalbach Hinterglemm Leogang offers nearly endless slopes for all levels of difficulty. The ski area does also posses modern lifts and skyrides and almost all of the pistes can be prepared with snow-making equipment. If you prefer snowboarding you can exercise in one of the very well equipped and groomed fun parks. There are also carving areas and mogul slopes. Away from the pistes, you can choose between a huge variety of indoor activities and of course the ski area is famous for it's après-ski and numerous events that take place throughout the season.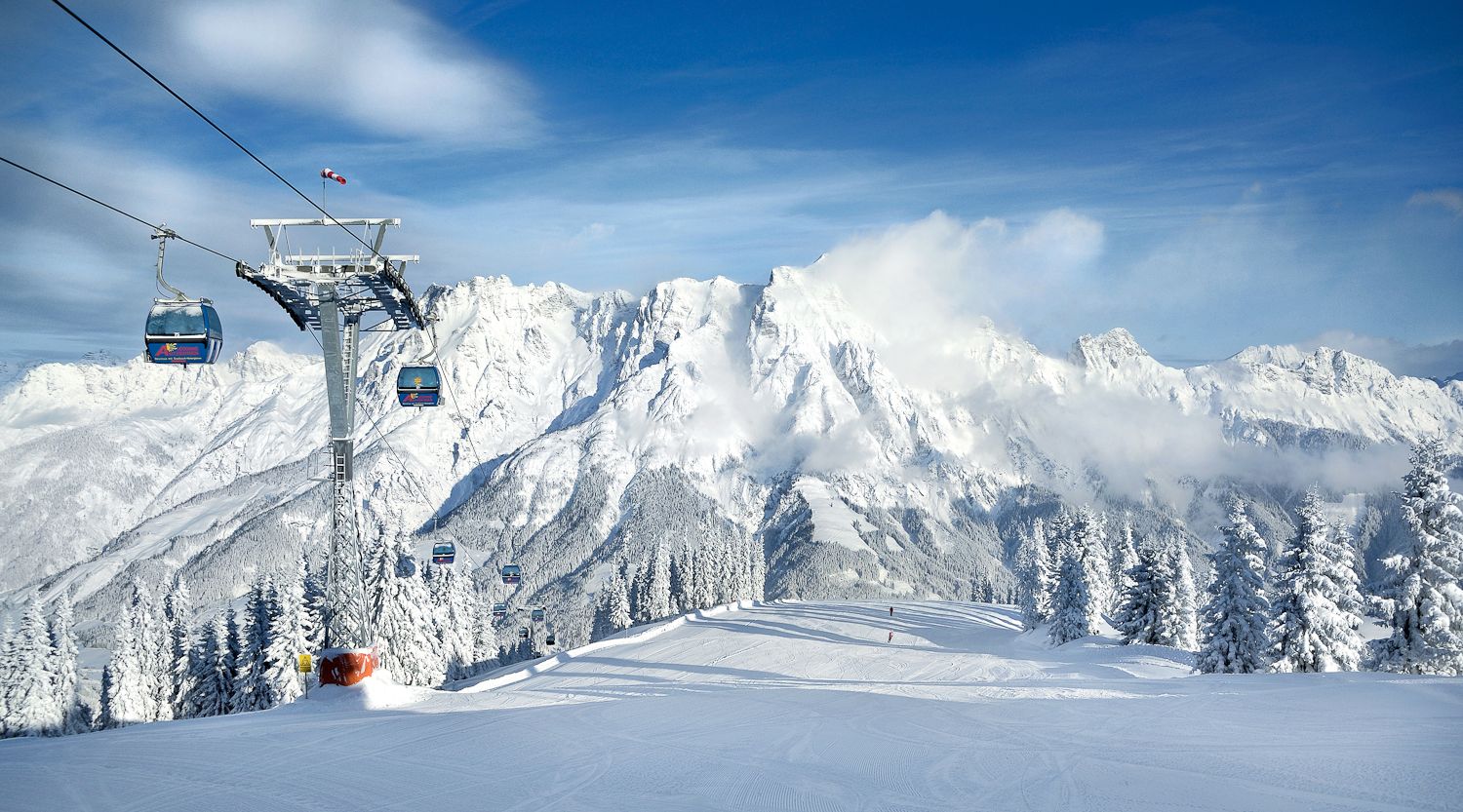 Saalbach Hinterglemm 6 day Adult Ski Pass - €255
7. La Plagne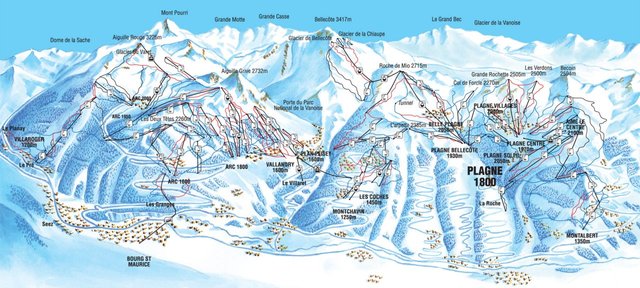 The basic fact about La Plagne (1,800-2,100m) is that 80 percent of ski runs are above 2,000 metres, between the Glacier de Belle Côte (3,250m) and the apple orchards in the valleys. The 130 ski runs are split into 18 black, 33 red, 69 blue and 10 green, a total of 180 kilometres of runs. If that is not enough there is the Vanoise Express, which links Les Coches with Les Arcs Peise in just under four minutes, offering access to another 235 kilometres of runs. Some say the resort is a bit flat for boarders. Anybody who has tried all the black runs and the many backcountry trails will smile at that.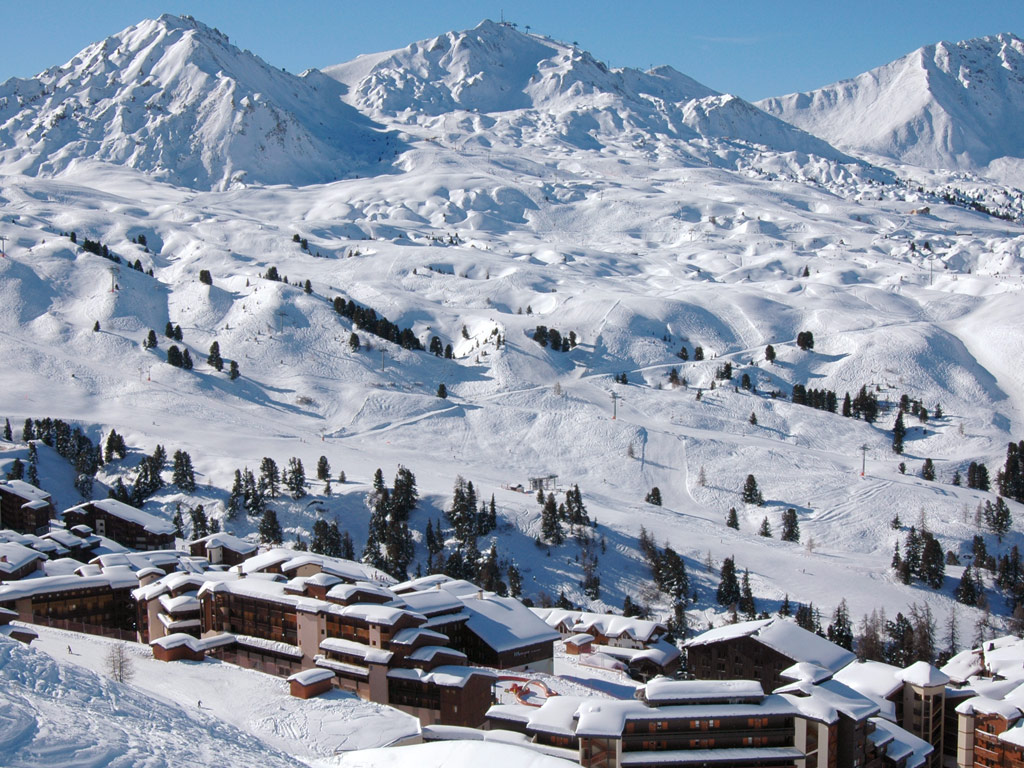 La Plagne is a beautiful place – a plateau surrounded by the great snow covered alpine peaks. You have to say this first because it has a reputation for ugly buildings. True the earlier buildings are what you might call architecturally challenged, if you are not a fan of Le Corbusier and his disciples. But the scenery is wonderful - on the edge of and even in the glorious Parc régionale de la Vanoise where you may see ibex, chamois, golden eagles bearded vultures.
La Plagne 6 day Adult Ski Pass - €265
8. Valloire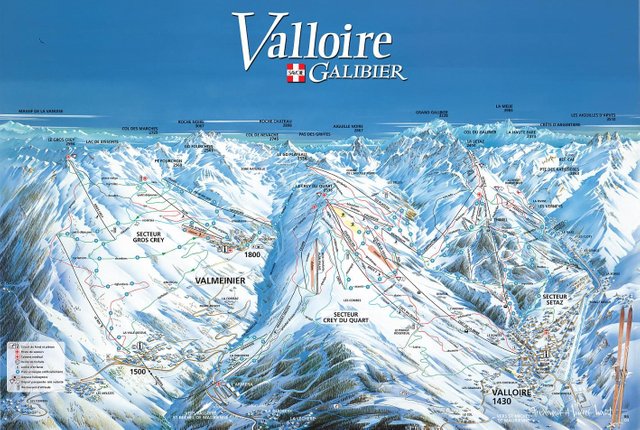 At the foot of the famous Col du Galibier and Col du Télégraphe, the Valloire ski resort. The warm welcoming village is full of character and has 150km of marked ski runs waiting to be discovered. Hotels, apartments, chalets, bed and breakfasts, are all at the bottom of the ski slopes and create a pleasantly calm and charming environment. Valloire has a variety of quality accommodation; there are rental solutions for every taste and budget. The ski area Galibier - Thabor, with its 150 km of marked ski runs, sits under the two iconic peaks in the region which rise up to over 3000m. The ski area groups together the resorts of Valloire and Valmeinier.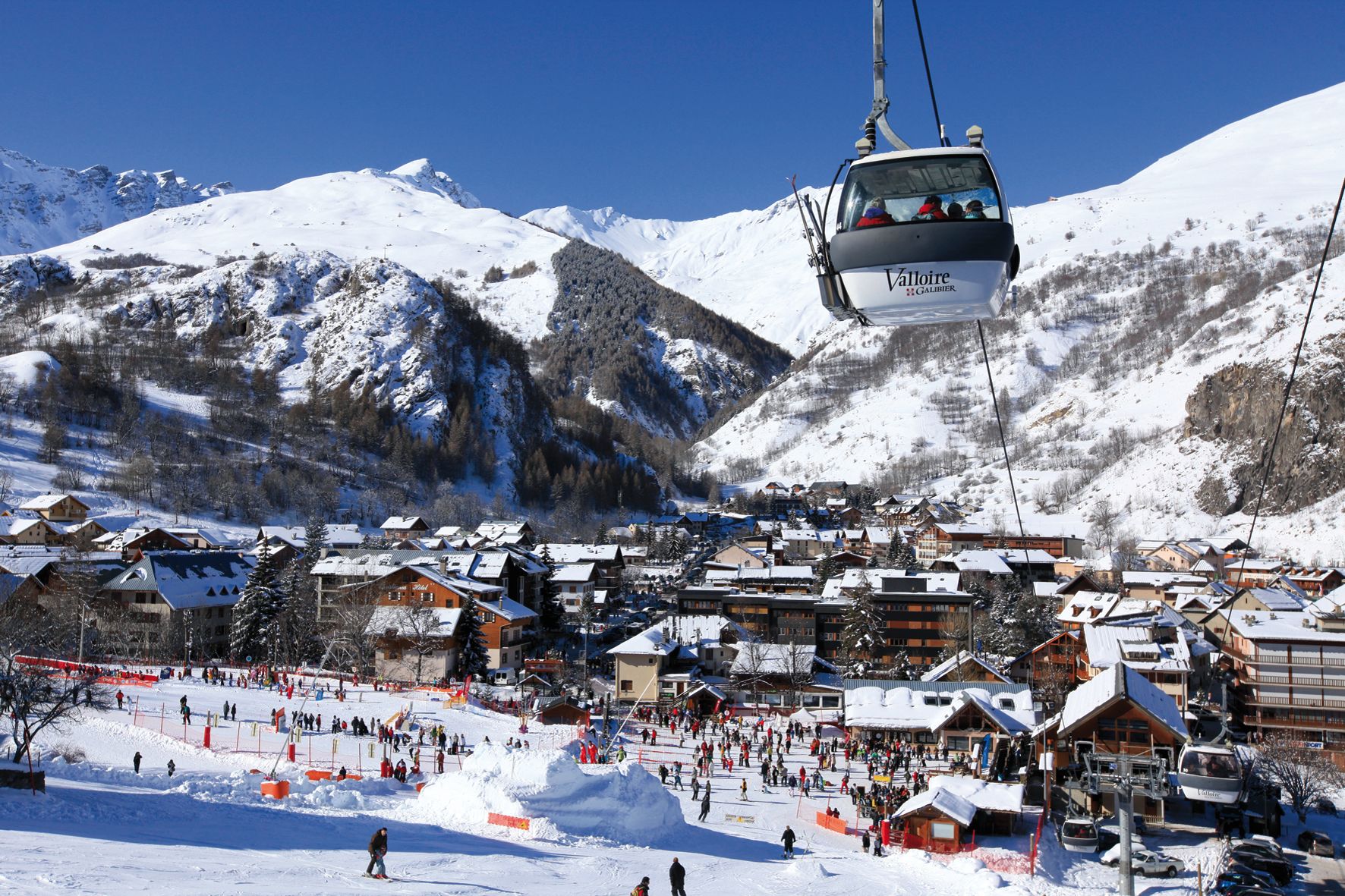 Valloire 6 day Adult Ski Pass - €200
9. Crans Montana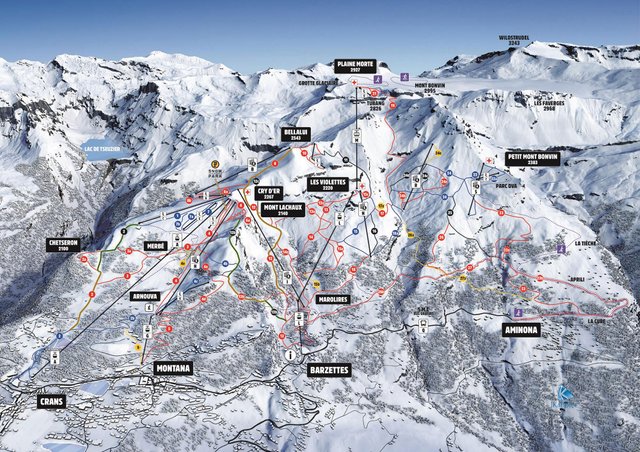 While skiing in Crans Montana Aminona you have an impressive view on the Matterhorn and the Mont Blanc. The Swiss ski resort is situated at 1,500 to 3,000 m above sea level and provides a variety of slopes of all difficulty levels. In addition to the slopes, snowboarders in Crans Montana Aminona might like to try out the snow park. Moreover, a ski holiday in Aminona offers a wide network of winter hiking trails. There are also many kilometres of cross-country ski runs in the region under which the high altitude cross-country course at the Plaine-Morte glacier that even allows skiing in summer.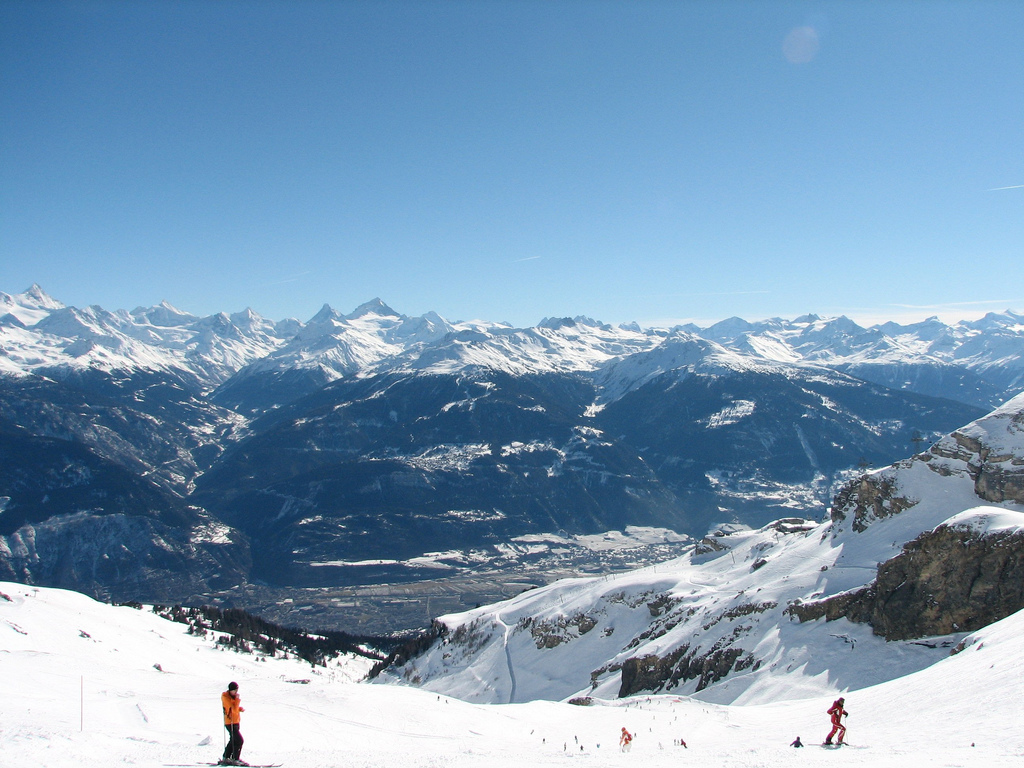 Crans Montana 6 day Adult Ski Pass - CHF349.00
10. Les Contamines-Montjoie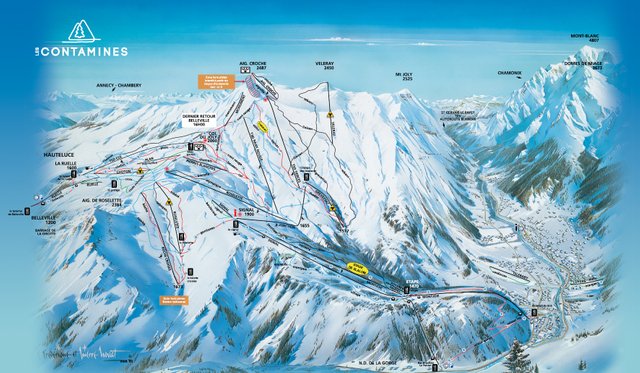 Les Contamines-Montjoie is a traditional mountain village nestled right at the base of Mont Blanc. The Les Contamines ski resort has been developed in a way that it lunges almost 5km along the valley, interlinked by footpaths criss-crossing the village and allowing relatively easy access to each of the little hamlets. To reduce car travel, Contamines Montjoie set up a shuttle bus service to get around the village and to also get to the bottom of the ski lifts. If bus travel isn't for you, there are also horse drawn carriages which can take visitors to bottom of the slopes, stopping off for a snack on the way! The ski resort of Les Contamines / Hauteluce enjoys an exceptional amount of sunny weather and natural snow on both sides of its two major valleys, the Val Montjoie and the Beaufortain. The ski slopes meander down through each of the valleys, wide ski runs, surrounded by ancient forests, high altitude cabins and mountain farms. To make sure that the season lasts, there are 175 snow canons in place, toping up the natural snow through the early and late season. The Les Contamines ski area has 120 km of varied ski slopes for all abilities. In the upper part of the resort there are excellent panoramic views, accessible on skis, overlooking the biggest mountain in Western Europe, Mont Blanc. In the lower parts of this ski paradise, find yourself skiing amongst the forests, great on the rare cloudy days. Note that the Evasion Mont-Blanc ski pass that you can purchase in Les Contamines also allows access to Saint-Gervais, Megeve, St Nicolas de Véroce, Combloux and La Giettaz. Six ski resorts that total more than 445 km of marked ski runs. To show that the resort is committed to the development of the new disciplines in skiing and snowboarding, Les Contimines has introduced their X-Zone. There are multiple zones set aside for the new freestyler generation, whether on skis or on a snowboard: - The 'X-Zone des Loyers', situated in the heart of the village is an area set aside for the lovers of aerial acrobatics. The super-pipe, which hosts rounds of the world cup, is the pride of the Les Contamines ski resort. - The 'X-Zone de Tierces', built on the Tierces ski run right at the top of the resort is made up of a series of obstacles, jumps, rails and a boarder cross course, accessible to skiers and snowboarders of all abilities. The cross country ski area has 23.5 km of well maintained, specially built ski trails. There is a beginner cross country ski area close to the welcome centre. If you want to give cross country skiing a go, access is free. The area is open from the first snowfall, propelling visitor's right into the heart of a real wintery alpine mountain environment. Les Contamines caters for all age groups, offering a mix of activities for everyone! The nursery 'La Galipette' welcomes kids from 1 to 7 years old. It has several different play rooms, encouraging active learning, and a secure outside play area which has an array of snow related games and activities to keep the little ones amused. For sleepy ones the nursery also has a room set aside for naps and a little rest after a long day playing in the mountains! After a hard day on the slopes visitors can enjoy Les Contamines terrace bars and cafés. A range of evening entertainment is organised throughout the winter season, or if that's not for you, you can always make the most of the calm in the village's library.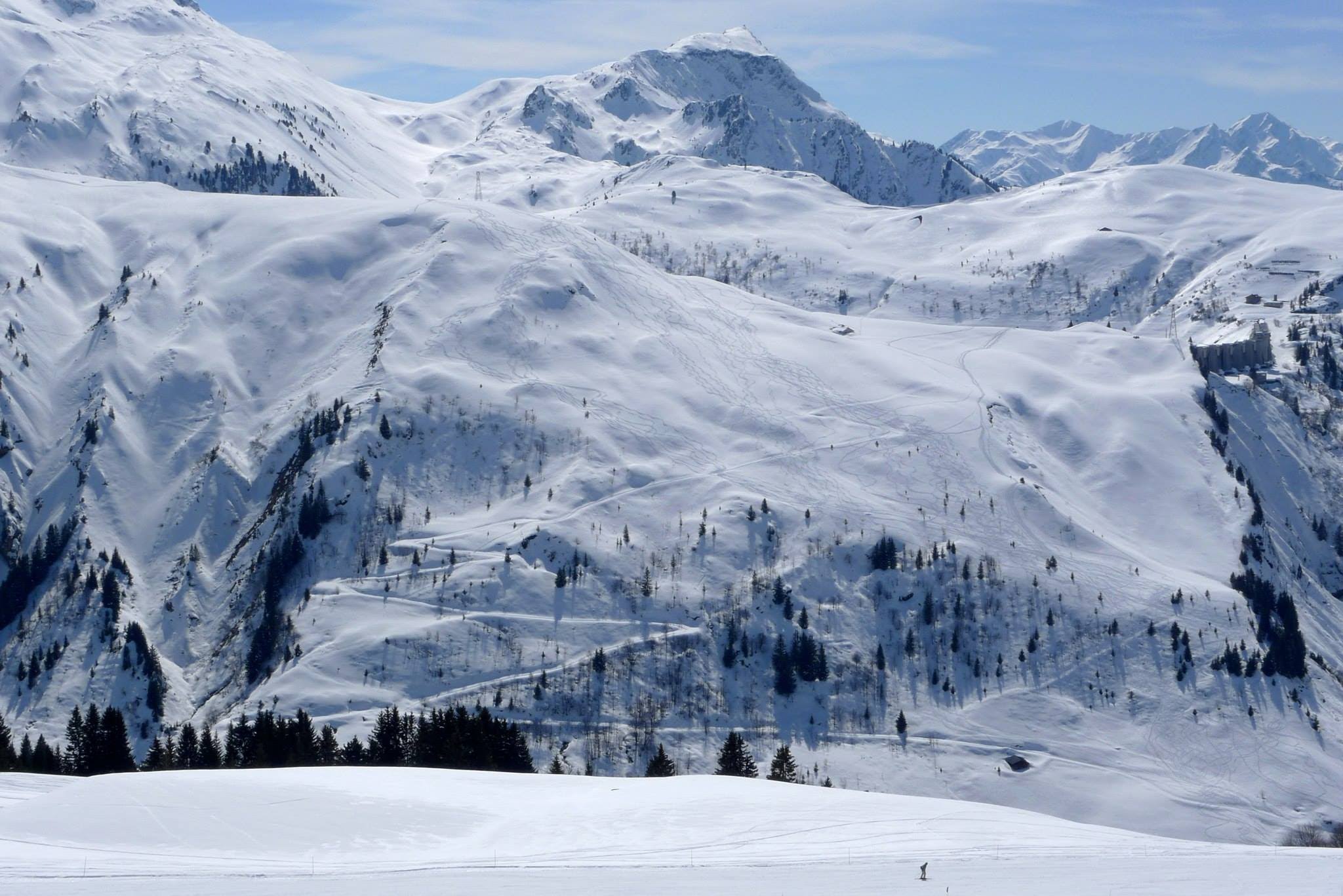 Les Contamines-Montjoie 6 day Adult Ski Pass - €196.50
I hope this gave you a small overview on European top Ski Resorts.
Sources: Google.com , www.europeanbestdestinations.com/ski/ and www.onthesnow.co.uk
Good luck to everyone, stay safe and try not to brake any bones.
See you on slopes.