The Sixweekhealth challenge continues and this week we are making desserts. Once again, thank you @sweetsssj and @healthsquared for this.
I will be walking everyone through the preparation of Beans pudding, popularly called moi moi in Nigeria.
It is a complicated process but I'll try to be quite detailed.
INGREDIENTS
1.1 kg of Mackerel
7 Cooked Eggs (optional)
Half cup of vegetable oil
Seasoning
Salt to taste.
1 cup of sliced onions
Chilli Pepper (Nigerians call it Tatashe or shobo) use about 5 to 10, it add the reddish color.
Crayfish (1 cup)
3 cups of beans

PROCEDURE
A) Washing the beans.
Add the beans into a bowl. Sprinkle a handful of water and start squeezing with your hands, the aim is to remove the outer coat, continue squeezing until it starts shading off the outer coat, you'd probably be doing this for about 3 minutes.
When it seems like a good amount of the beans have shaded off their outer-coat, add enough water to fill the bowl, the outer coat would rise to the top, sieve and continue squeezing until all the coat is out.
B) Split the chilli into two halves to remove the seeds at the center, this practice is necessary because the seeds add a bitter unpleasant taste to moi moi. Wash and also pluck off the green stem at the top.
C) Add the beans, onions, crayfish and chilli in a small clean bucket and take to the commercial grinding mill (that's what we do here, blenders won't do the job).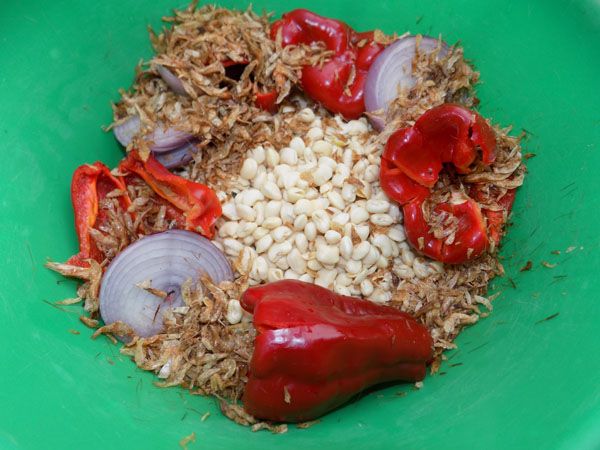 The ground beans should look like this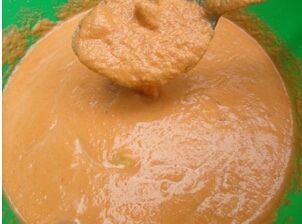 D) Parboil the fresh/frozen fish, pick out from the water then pieces the fish with your fingers and add this to the ground beans.
E) Add the oil, 2 cubes of seasoning, the fish water (fish stock) (which must not be over half cup or so), add salt to taste and taste the entire mixture.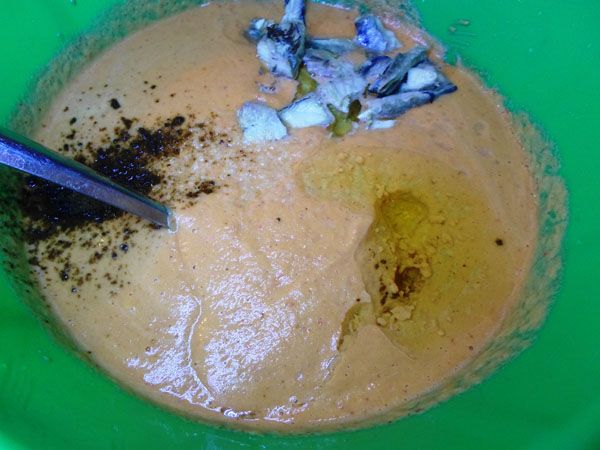 F) Distribute in as many plastic plates as possible, some people use moi-moi wrappers or foil for this purpose.
G) The egg can be dropped on top after the moi-moi has been distributed in cooking plates, if you want to use eggs.
H) Drop the plates in the pot and add water simultaneously making sure it doesn't top the first plate. Then cover tightly and cook for about 40 to 60 minutes adding water at interval to avoid burning or too much water that would run into the plates.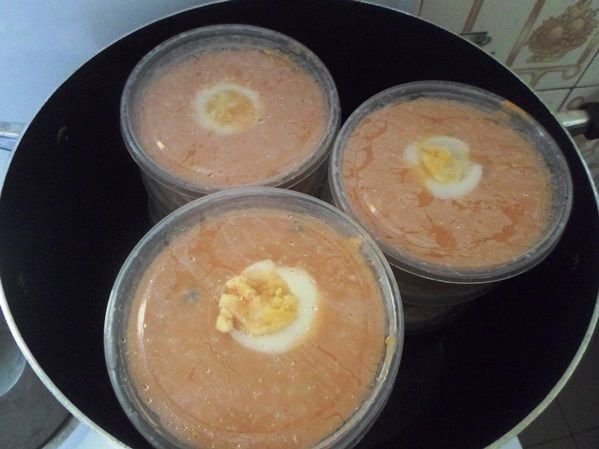 I) You can bring out one of the plates after cooking for 40 minutes to check if it is done, check again after ten minutes, once it is done, allow to cool off for 30-60 minutes.
J) Your delicious moi moi is ready to be eaten.