Signature reference Post Only - Might work for you too ?
Super Happy Your Here !

Woot ! Woot !
Follow
to join me on the....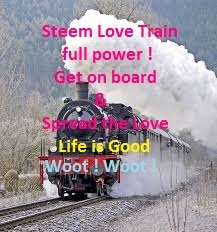 And don't be afraid to
Follow closely
---->
@codypanama
I took the
Brakes
off LOL
Lyrics ....
Start a love train, love train (don't need no ticket, come on)
People all over the world (Join in, ride this train)
Cause if you miss it, I feel sorry, sorry for you....
Sound Track with all Lyrics....
Yes I am that Old, But it's Timeless Music - Inspirational & Relevant :-)
Go ahead and Sing along
Life is Good
I'm here for You ---> @codypanama See You there :-)