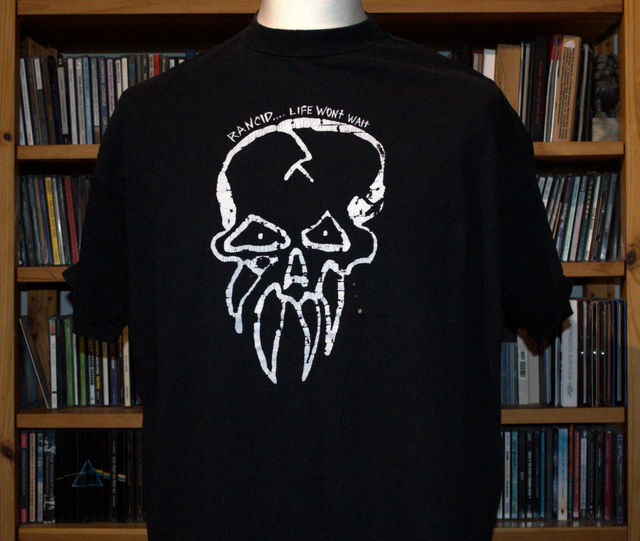 This is Susan's fault. While we were growing up, my sister was the punk and I was the metal head. Admittedly, this hasn't changed much. Apart from some of the Top of The Pops-friendly stuff like Boomtown Rats, I really didn't like punk music until 1995.
That was the year Sue came to visit us for a holiday in Sydney, bringing with her a bunch of cassette tapes for her Walkman, as she knew I had a lousy taste in music. One day we were driving from A to B, without Janet and Sue put on a tape. It was Rancid's 'Out Come The Wolves', and sounded weird.
The tapes had been recorded on our parents' hi-fi. It was I think a Philips system; one of the flat ones where the tape deck was next to the turntable. We'd had it since the late 70s, and it was on its last legs, especially the tape deck, which had given up on high and mid-range frequencies on one channel, so one side of the stereo was just the bass player.
Rancid's bass player is Matt Freeman and he's incredible. While Tim Armstrong and Lars Frederiksen are screaming and strumming, Matt is seemingly in his own universe playing bass lines that go off in their own direction, sometimes simple scales, but other times complex patterns, and I swear there's a couple of nursery rhymes in their somewhere and other tunes that I recognised but couldn't place at that moment. After a few songs of this lop-sided aural experience, I was hooked!
Rancid emerged from California in the early 90s; part of the post-Green Day surge in American punk bands. There's a lot of The Clash in their sound and a fair bit of ska music, and a good chunk of Oi! Courtesy of Frederiksen, who was once in the UK Subs (thank-you Wikipedia, which list 75 people as having now, or at one time, been a member of the UK Subs!). The lyrics are socio-political and often character sketches of doomed acquaintances. The choruses are sing-alongs and for all the doom in the lyrics they're cheerful songs.
Back in the UK, Rancid announced a tour where they'd be in London shortly after Sue's birthday so I bought some tickets and off we went.
This was my first visit to the Astoria. It was a great venue - small and dark. We were upstairs and by the time we'd got there the tables at the front of the balcony were all occupied by persons of a London punk persuasion, lit by little flickering lightbulb candles.
The band came on and downstairs the crowd kicked off. They started with the deeply wonderful 'Roots Radical' and straight into the hit single: 'Radio' (chorus: Radio, radio, radio, radio, radio, radio, radio…). Armstrong played a right-handed Gibson hollow-body upside-down and wore a woolly hat in June, while Frederiksen had an England away shirt on. Disappointingly I couldn't hear Freeman's bass very well, but it was there.
Having played my four favourite songs at the start of the set, they moved on to the new album. 'Life Won't Wait' was a bit ska-heavy for me (they'd recorded part of it in Jamaica), but in amongst the new material the rest of the set was just straight out punk.
Sitting upstairs meant we were a little disconnected from the visceral experience, but it was a great night out.
Videos
The whole gig!
A memory-jogger for a couple of details, but this is the view we had - I vaguely remember seeing the guy with the video camera.

Junkie Man
A favourite from Out Come The Wolves that they didn't play on the night

Missing MIA
Another from Out Come The Wolves that they didn't play on the night