A Shirt on Sunday: Hard Rock Hell 2019 - Great Yarmouth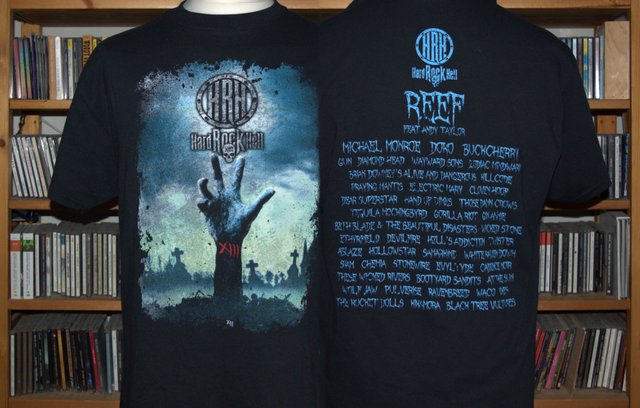 Two weeks after HRH Prog I was off to my next HRH event, this time in their new holiday camp location on the edge of Great Yarmouth. When I did a holiday camp festival, this at the start of this year, I vowed never again, so this time I found a nice B&B -the Silverstone Guest House - 20 minutes' walk from the venue in as close to a straight line as was possible. This had the advantage of a very quiet night's sleep and a huge fry-up every morning!
The new location has obvious logistical improvements on North Wales - more accommodation including 2-person caravans, more and better dining options and it's convenient to ports to get to Europe. However, the main venue itself is not very good. The ceiling's too low. Think of your average concert venue - a big room roughly the shape of a shoe box with a stage at one end. Quite high ceilings, so there's plenty of space for speakers, screens, what-have-you. Here the room was square with ceilings no higher than in an office. In Prestatyn, Overkill had had a line of Marshall stacks with room for a drum kit (and drummer) sat on top of them. All on a stage about waist height. In Yarmouth, the stage was about knee height and while there was room for a Marshall stack, you'd be lucky to put a drum on top of it before scraping the ceiling. When Michael Monroe stood on the crowd barrier at the front of the stage, he could use the ceiling to balance himself. Fine for a pub gig, but not a "festival". So this is the story of how over three days I gave up on the main stage and moved to the second stage where I'm sure the ceiling was a teeny bit higher, and certainly the music was.
The trip up on Thursday was fast and easy. No complaints there and I found the B&B, found a couple of pubs and eventually found the site in time for the first band.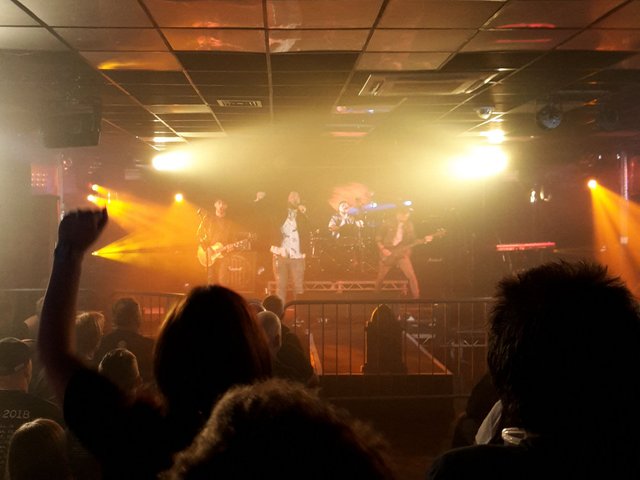 Liberty Lies play stadium rock from the Black Country. The singer was engaging and gave it his all, while my notes say: "Great square guitar riffs". Their songs are good and they finished with a cracking version of 'Highway to Hell'.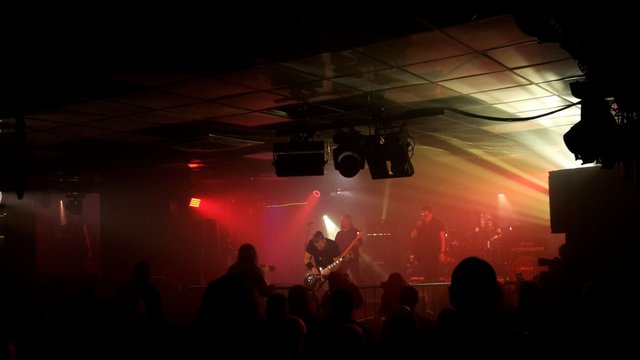 Killcode are American and their singer has a very Mike Patton vibe. I'd not been impressed when I previewed them on Spotify, but they were better than their records. Not only that but the new songs are better than their old stuff. The other thing I noted was that they were the only band selling photos of themselves!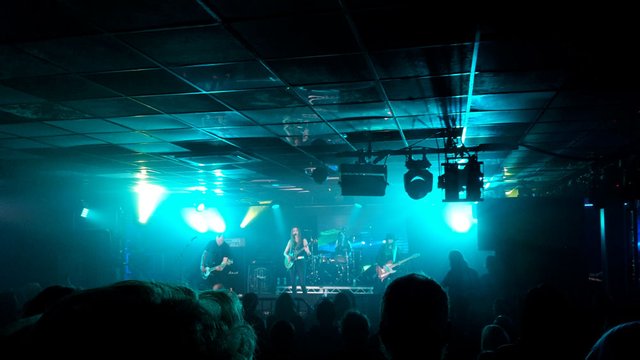 Tequila Mockingbyrd, on the other hand, weren't as good as their records, but they did have some sound and guitar amp problems, so maybe I should give 'em another chance. The songs were good but the best was a bit of southern boogie featuring some really interesting guitar work. The lead guitarist and the singer were the only women performing that day, apart from a really tacky dance routine that had opened the event in a way I thought had been relegated to 'men's clubs' on the sides of major A roads. I know heavy metal isn't particularly diverse but HRH don't go out of their way to help address this.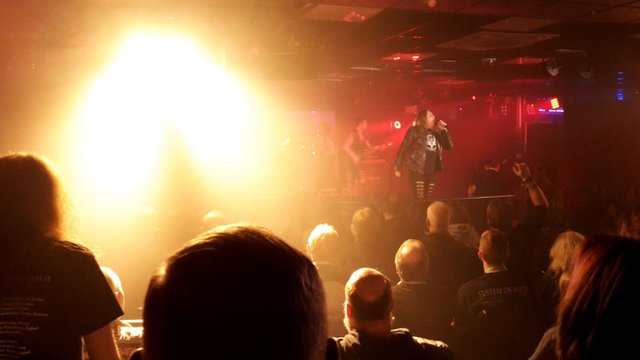 Cloven Hoof were the best band of the evening. They've been struggling along since the NWOBHM in the early 80s but I'd never heard them before. What we got was AC/DC meets Iron Maiden, but without the songwriting skills. The singer sounds a lot like Bruce Dickinson and the lead guitarist, who can't have been born when the band was formed, plays like Angus Young (albeit while grinning through Alfred E Newman's teeth). You can place the songs on a continuum where the early stuff is very AC/DC and the latter very Maiden. Bloody good stuff and I left with a signed LP (although the beer may have helped).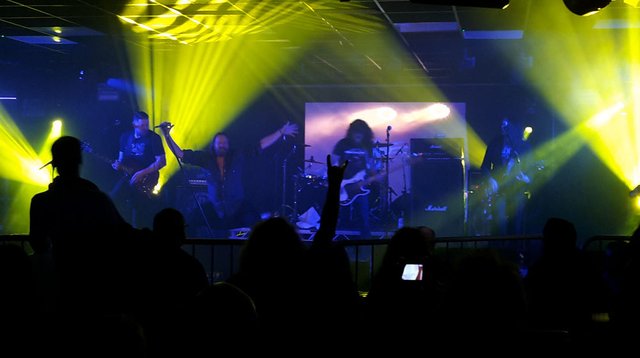 Electric Mary were a good slab of generic rock, with a great front-man, but after Cloven Hoof were a bit too generic. I wandered out for some fresh air.
Dee Snider was supposed to be playing the festival (where it says Reef on the shirt, it should say Dee Snider), and that was why I'd bought a ticket. The second HRH festival of the year where the one band that I really wanted to see fell off the line-up without explanation. Killcode had tried to make it up to us, but their attempt at 'You Can't Stop Rock 'n' Roll' was shambolic. We sang along anyway, and muttered darkly into our beers.
The booking of Reef as a replacement is inexplicable to me. They were an indie-rock band when at their best, and are now just a vehicle for the guitar player. I tried to have an open mind but after three songs I'd had enough and decided an early night was sensible…
Friday morning I went looking for some local colour in the town centre, but there wasn't much on offer, although I did find a pub half way to the venue that sold a great pint of Woodforde Wherry.
At the festival, the second stage was now open, but I'll talk about those bands on another shirt.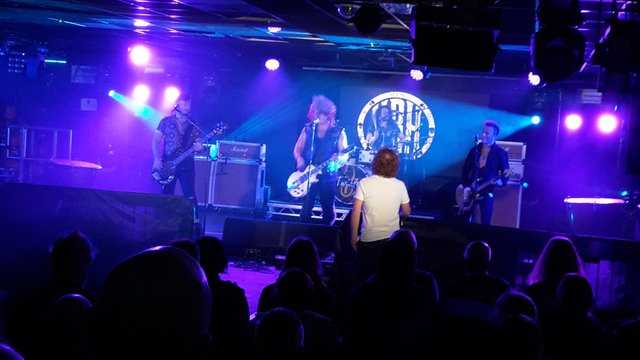 Twister opened the main stage. They'd won an HRH competition to play there and were an enjoyable bit of 90's style pub rock fronted by a damn fine hair style.

Beth Blade & The Beautiful Disaster were the main stage's female-fronted band of the day. More pub metal, albeit more contemporary and some good songs.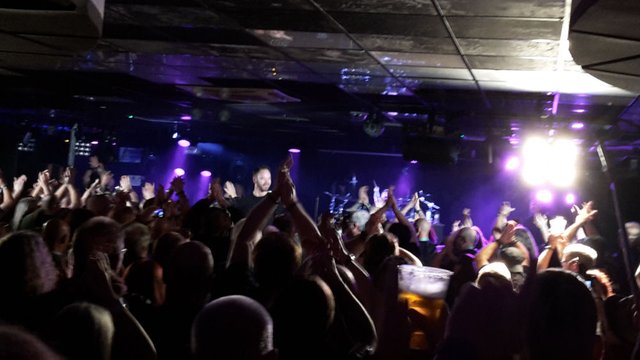 Those Damn Crows are future megastars. I'd seen a lot of t-shirts sporting their name during the day and the crowd clearly knew them and their songs. Their lead singer is bursting with charisma and the band delivered a stadium experience that was head and shoulders above anything else I saw all weekend. They're a bit Powderfinger, a smidgen Foo Fighters, a touch Queens of The Stone Age and a bit not like anyone else. There was the big shout-along anthem: 'Rock 'n' Roll Ain't Dead!' and they even got away with a piano ballad. I would have bought a t-shirt, but they sold out.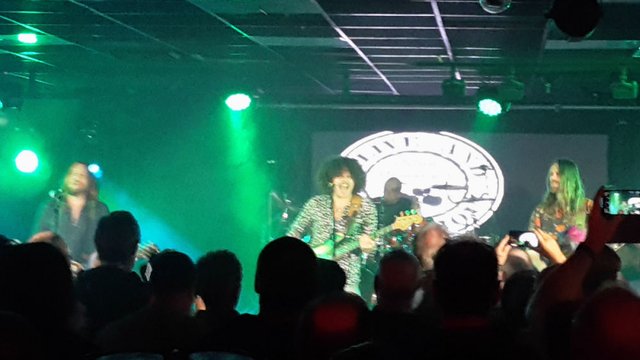 I skipped Praying Mantis, but was there for Brian Downey's Alive and Dangerous. Downey was the drummer of Thin Lizzy and was probably Phil Lynott's oldest friend, so if anyone can play Thin Lizzy songs, it's this guy. My notes say: 'Should have got a bassist who played more like Lynott. Strings too loose and not enough attack. Otherwise fantastic.' The bassist certainly looks and sings like Lynott, and the guitarists did the twin-lead thing with aplomb. Never having seen Lizzy back in the day, this was a treat, especially when they whipped out the folk-metal epic that is 'Black Rose'. Maybe I was watching through rose-coloured glasses but I had a big grin on my face at the end of the set.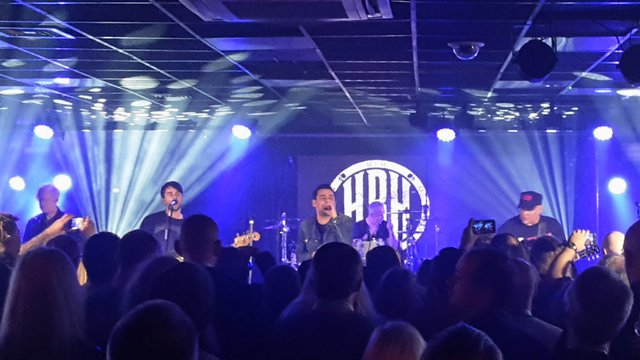 After that I had to go have a sit down in a quiet room, but was back for Gun. I'd seen them once before and been impressed, at the quality of their catalogue when I'd only known them for their cover of Cameo's 'Word Up'. They impressed again. The singer was basking in the reception from the crowd and the whole band had lots of energy for a band celebrating 30 years.
After that it was downhill. I don't get Buckcherry. It's very average glam metal with a front man who just seems angry and agro. I spent three songs wondering why I was there, and then I wasn't.
Saturday started with a walk along the beach, marvelling at some lovely seaside architecture interspersed with tat.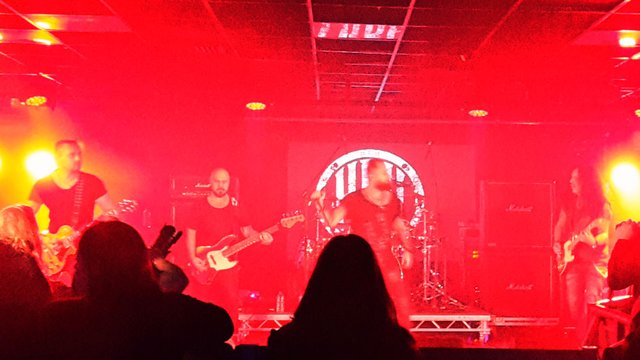 The first band on the main stage was Chemia, from Poland. One thing HRH does do well is find bands like this and bring them across the channel. Chemia are a great bit of modern metal with an exceptional lead singer. For me the highlight of their set was the lone blues number but all of it was great.
And that was pretty much it for the main stage. The room was so crowded it was hard to see the stage and the atmosphere was more one of endurance than of fun. I spent most of the day at the second stage, where the fun was, and only popped back to see if a band was worth the effort. My notes are somewhat damning…
Ablaze: "Forgettable"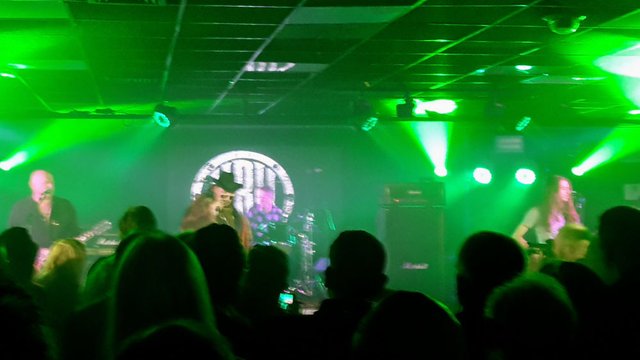 Zodiac Mindwarp: "Phoning it in. Brain fried Alice Cooper." I'd missed Zodiac in his hay-days and now he was just going through the motions. It says something that a bloke near me exclaimed at one point: 'Oh my god, he's TAKEN OFF HIS SUNGLASSES!'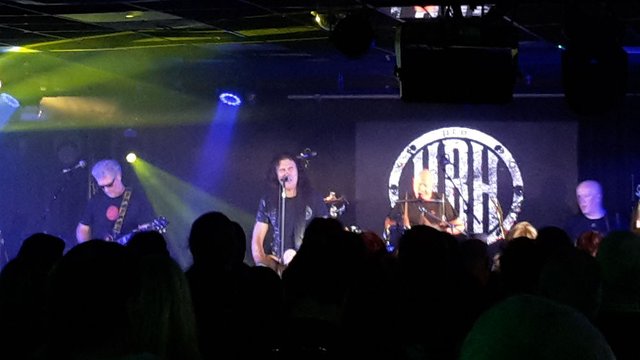 Hand of Dimes: Blues rock. "High quality but nothing out of the box." The audience loved them - apparently the singer was in a band called 'Skin' and obviously I missed out back in the day.
Diamondhead: "Walked in; went off for dinner." In my defence was never a fan back in the day - I preferred Budgie.
Doro: "'Breaking the Law' is NOT a ballad." Okay, so I walked in at the wrong moment, but even so. I'd been looking forward to seeing her at last; instead I was out of the room by the first chorus.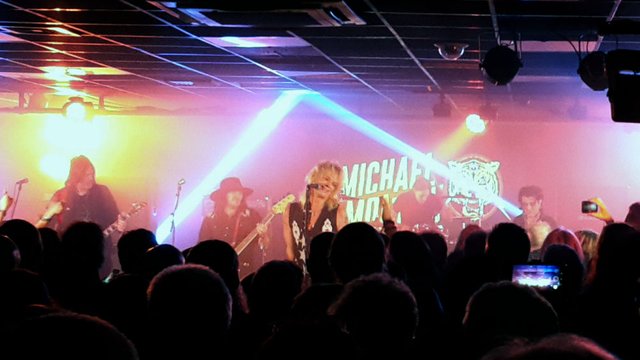 Michael Monroe was actually not bad. I walked in as he was delivering a fantastic version of Nazareth's 'Not Faking It', followed by a great song of his own about how he WAS faking it. It was good enough rock 'n' roll, but after a few songs standing at the back I was done.
Bad bunch of photos this weekend. No-one to blame but me. Sorry.