We're adding a whole new section to the contest!
That's right there is more than the Judges top 5 selections, starting from week 2 we will have another component to this contest called the Communities Choice.
We felt that although we have selected an amazing group of judges, people don't always agree with our selections. I mean we all have different preferences, so why not open things up a little bit and allow the SGL community get their voice as well.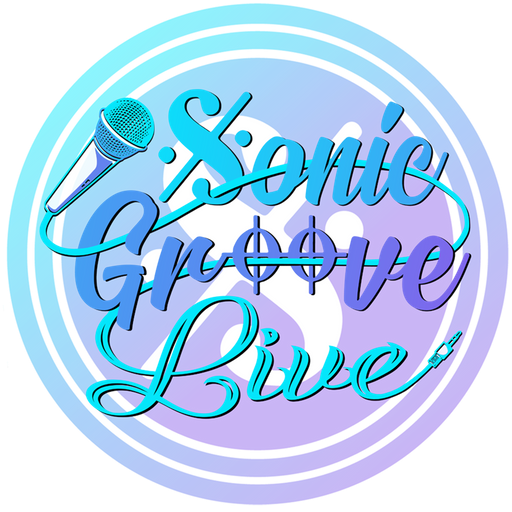 Now this opened up many questions, about how we could run a community selection that wouldn't be corrupted or blatantly abused. This took a little longer to come up with than I like to admit, but we think we may have a decent solution in mind.
We thought about using comments, but they can be farmed and botted fairly easily. So I considered votes and much the same issue arose, it was only when thinking about what other functions could be used to be able to decide how to evaluate the Communities Choice.
So we landed on the promoted feature, since starting the Sonic Groove Tribe we could now use our own Sonic coin. We would now be able to see by the promotion value of the post alone who was the winner of the Communities Choice.
Communities Choice
We want our amazing music community to realise the true value in their support, so were adding this unique additional layer to the SGL contest.
So how is this part going to work? Well the judging will be simple, the valid entry post with the highest promotion value wins!
Let me explain this in a little more detail, so you can all understand why this is the way you get your say in SGL. Say you're either an entrant or a music lover, you discover an amazing entry in SGL but the window is closing soon and it hasn't gotten a lot of interaction or attention.
You can now choose a winner all on your own, all you have to do is use your own sonic coin to pay and promote the post you want to win. This not only increases visibility on the post ensuring more eyes see the content, but if you put enough funds behind your vote you can sway the Communities Choice and ensure the post you think deserves to win does!
The Communities Choice is awarded weekly as a completely separate prize from those selected in the judges top 5's, this also means someone can win both contests and prizes the same week!
Given you're putting your money where your mouth is, it's only fair you get to share your reasoning behind supporting a specific post. For this reason we request when you do promote a post, you leave a comment including a review and the reasons why you wanted this entry to win the Communities Choice.
You might be thinking that people can still game this system and yes in a way they can, they can pay to promote their own entry. The big issue with doing this is the chance of having a great comment or review included in the comment section of your post, if there is no legitimate comments left none will be included in the winners post.
However if you want to use your Sonic to promote your post into winning, you could always leave a comment on your own post be it a review, breakdown, meaning behind the entry, or even a personal bio. That would be included in the winners post, as would any legitimate comment from someone else who had promoted your entry post.
We will include the Communities Choice winning post in the main SGL winners announcement post under its own heading, this will also include the review written by the person who paid to promote the post sourced from the comment they left on your post.
If there is more than one person that helped to promote all the verified promoters will be included in the review, if there is a huge number of supporters the person who created the post can choose which reviews they want by upvoting the comments left in their post.
This way the winner gets to chose their own winner from those who supported them to win!
Communities Choice:
200 Sonic Groove
Winning post will be featured in SGL's weekly winner's announcement post.
Winning post will also feature sponsor promoted comments/review left on the original post in SGL's winner's announcement post.
Winning post is already promoted on sonicgroove.net
Winning post is resteemed by SGL to sit at fourth place for at least 3 days
Winning post will be tweeted by the SGL twitter account.
How to promote a post:
If you use the sonicgroove.net site you can browse the entries by using the #sgl, this should limit the posts you see to entries (at least for the most part). When you find an entry you want to promote simply go to the bottom of that post, on the right and side you will see a button called promote.

That will then open a new box, simply enter the amount of Sonic you wish to spend on promoting that post.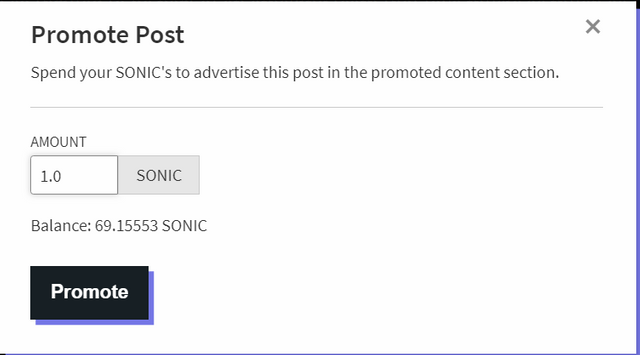 Then just click the promote button to send the funds and don't forget to leave your comment, to be included in the winners selection post!
So there you have it guys, a new contest within a contest! We think this offers up a lot of value and functionality to not only Sonic the coin, but the contest itself. Opening up a sponsored prize that the community itself decides the winner, is a whole new way of looking at our musicians.
We want to encourage our musicians and those that just come to listen, to truly support and interact with the musicians making the music they enjoy most. We want comments and votes, but being able to promote and choose who wins is a massive power to hand out to people.
We want to build an amazing community around a general love of music, we want to support the creativity of individuals and ensure we do all we can to foster a spirit of giving.
Because all musicians have already given over a part of themselves by participating in SGL in the first place, shouldn't we try to give back what we can by supporting them?
This contest was created for the music community at large in mind, we want to ensure we make it the best experience possible. So adding the Communities Choice just seemed like the logical conclusion, this way people are incentivised and encouraged to get involved on every level.
We hope you like this new component to our existing contest on SGL, we are very excited at the possibility of seeing people go out of their way to support one and other. If you have any questions please feel free to ask below.