In my entry last week (https://steempeak.com/sgl/@partitura/sonic-groove-live-week-2-johann-ludwig-krebs-prelude-f-minor-kwv-407-original) I played a prelude by Johann Ludwig Krebs, that Krebs modelled closely on a prelude composed by Johann Sebastian Bach. See for the comparison between the two composition last week's post. In the comments @contrabourdon suggested I play Bach's composition, the original so to say, for this week's contest.
Now, that is quite a challenge. Bach's music is sort of the Holy Grail for organists. And I have always shied away from seriously trying to play one of Bach's great Preludes or Toccatas. Those works are played in concerts, by professional organists, the level of performance of these works is enormously high. And since they are so well known (well, among organists at least) every little mistake is immediately clear. So, my first reaction was "No way!".
On second thought however, I decided to try it anyway. Four years ago I started to seriously practising again, to be able to play the compositions I publish on my website (http://partitura.org). And six months ago I started to participate in @organduo's contest. That raised the level of practising again consideradebly. And by now I might just be able to play one of the great Bach works.
After a week of hard practising is this the result. In this week I've learned two things:
Surprisingly, Bach's prelude is not as difficult as Kreb's prelude. To give an idea of how that feels, imagine Bach's compositions as the high pinnacles of a soaring mountain reach; great to look at and admire from afar, knowing you'll never be able to reach the summit. And suddenly, I discover I can climb them and stand on top of one of those soaring heights. Wow!
One week is really too short to learn to play a composition like this really well. I initially spend four months practising the Krebs prelude, and again two weeks to polish it up for last week's contest. A performance is more then just hitting the right keys in the right order. After mastering the notes of the Krebs prelude, I spend a lot of time practising articulation and phrasing. Trying out different options to discover what works well and what doesn't. I did not have the time for all that preparing for this weeks contest. So, my performance is not really well thought out.
Nevertheless, I'm quite happy with the result. I mastered one of the great Bach preludes, even though not yet completely errorless. And I know I can play it better, than I did today, if I spend more time on working on all the litlle details.
As a bonus, I filmed my feet as well. That way, you don't only hear the mistakes, you can actually see my feet hitting the wrong notes... :-)
The recording was done with the Hauptwerk software and the sampleset, made by Voxus, of the Müller organ in the Sint Bavokerk, Haarlem (http://www.voxusorgans.com/en/product/haarlem).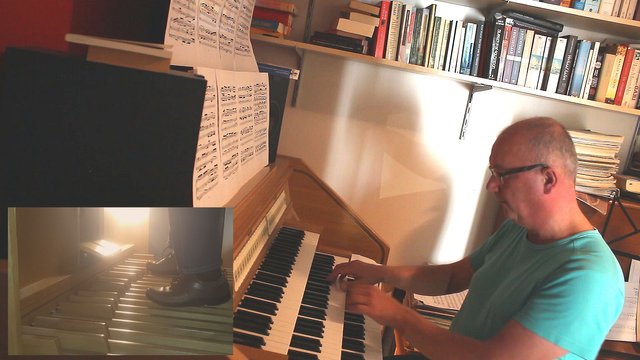 ---
You can support me using Steem Basic Income

---