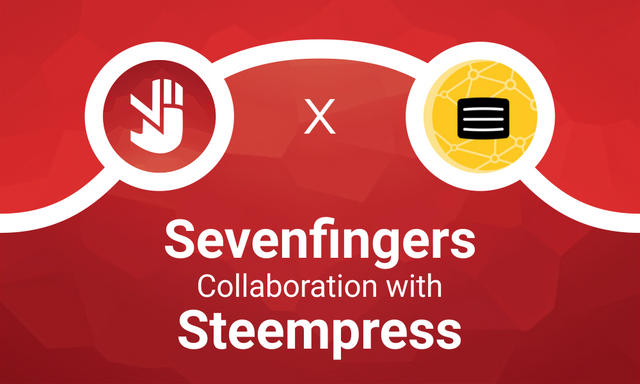 Indonesian Language
Ketika team sevenfingers membuat postingan ini , wajah kami tersenyum dan gembira karena kami akan memberikan pengumuman yang hebat untuk semua anggota komunitas sevenfingers. ini adalah sebuah informasi tentang kolaborasi sevenfingers dengan @steempress
Seperti yang sudah kita tahu bahwa steempress adalah sebuah project yang hebat dan sangat antusias membawa penulis dapat lebih mengenal steemit dan juga membangun sebuah plugin yang memudahkan para penulis di website agar dapat juga terpublish ke steemit platform. Fantastic
Kabar Gembira
Jika kalian sudah pernah membaca post dari steempress tentang Update On Collaborations. kalian dapat melihat kerja sama yang di bangun oleh steempress dengan komunitas yang sudah ada. agar pengguna steempress juga dapat mempunyai kesempatan untuk mendapat insentif yang lebih tinggi. dan ini akan berjalan karena steempress mengikuti trail beberapa komunitas tersebut. dan kabar baik untuk kita semua adalah steempress sudah mengikuti trail sevenfingers.
Dan secara pasti setiap vote sevenfingers kepada user yang membuat post menggunakan plugin steempress. secara otomatis steempress juga akan dapat untuk memberikan tip kepada post tersebut.

Kepada siapa kami memberikan vote
Vote diberikan kepada anggota komunitas sevenfingers yang dapat menghasilkan konten yang bagus dan bukan plagiat. saat ini ada 400+ member di discord.
Menggunakan tag Sevenfingers & Steempress
Konten bahasa indonesia ataupun inggris
Question & Answer
Q = Apakah aku akan selalu mendapatkan vote dari sevenfingers dan steempress ? A = Tidak. tapi itu bisa terjadi jika anda menjadi konten kreator yang selalu konsisten dalam membuat konten yang hebat.
Q = Kenapa aku harus menggunakan tag sevenfingers & steempress ? A = Menggunakan tag tertentu akan memudahkan kami menemukan konten anda
Q = Berapa banyak post yang akan di pilih setiap hari ? A = Tidak banyak. mungkin kurang dari sepuluh post atau lebih
Jika kalian punya pertanyaan lagi , kalian dapat bergabung ke discord sevenfingers dan mengikuti acara SevenFingers Radio Show setiap malam rabu jam 9 malam.
Kami juga memanggil semua anggota sevenfingers untuk dapat mendukung kolaborasi dan juga kita dapat membantu steempress dengan vote steempress witnesses di sini https://steemit.com/~witnesses

If you like sevenfingers in giving a curate you can also follow sevenfingers CURATION TRAIL
Here
THANK YOU

English Language
Hello Everyone
When the sevenfingers team made this post, our faces smiled and happy because we will give a great announcement to all members of the sevenfingers community. this is an information about sevenfingers collaboration with @steempress.
As we already know that steempress is a great project and very enthusiastic to bring writers to be more familiar with steemit and also build a plugin that allows writers on the website to also be published to steemit platform. Fantastic
Good News
If you've read the post from steempress about
Update On Collaborations
. you can see the cooperation built by steempress with existing community. so that steempress users can also have a chance to get higher incentives. and this will work because steempress follows the trail of some of these communities.
and the good news for all of us is that steempress is already trailing the sevenfingers trail
.
And definitely every sevenfingers vote to the user who made the post using the steempress plugin. automatically steempress will also be able to give tip to the post.

To whom we give vote
Vote is given to sevenfingers community members who can produce good content and not plagiarism. there are currently 400+ members on the discord.
Using the Sevenfingers & Steempress tag
Indonesian or English language content
Question & Answer
Q = Will I always get a vote from sevenfingers and steempress? A = No. but that can happen if you become content creators who are always consistent in creating great content.
Q = Why should I use sevenfingers & steempress tags? A = Using certain tags will make it easier for us to find your content
Q = How many posts will be selected each day? A = Not much. maybe less than ten post or so
If you have more questions, you can join the sevenfingers discord and attend the SevenFingers Radio Show every Wednesday night at 9pm.
We also call all sevenfingers members to be able to support the collaboration and also we can help steempress with vote steempress witnesses here https://steemit.com/~witnesses

If you like sevenfingers in giving a curate you can also follow sevenfingers CURATION TRAIL
Here
THANK YOU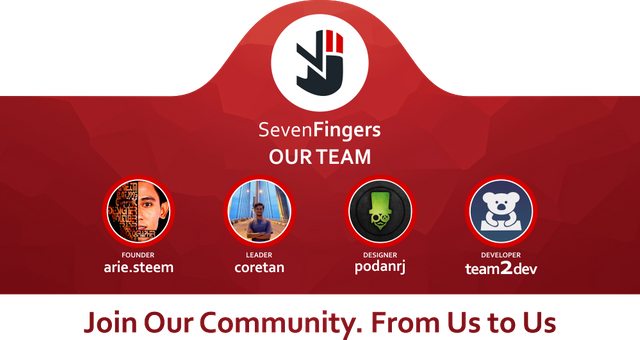 ---
Posted from my blog with SteemPress : https://blog.sevenfingers.io/2018/07/24/sevenfingers-collaboration-with-steempress/
---