streetlamp sunday — the lamp in the sky


We had an amazing sky the other day. The golden hour. Sunset. I may have missed the glory by a few minutes as it only takes a few for color and light to change.
With camera in hand, I quickly made it to the corner of my street to try to catch the beautiful sunset without having the barrier of houses. I had a fairly clear shot from the corner to the west where the local high school is located.
I don't recall ever seeing a sunset with such striking dark rays.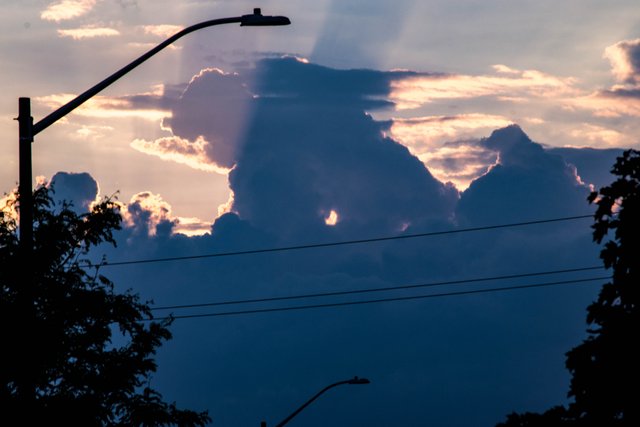 moments later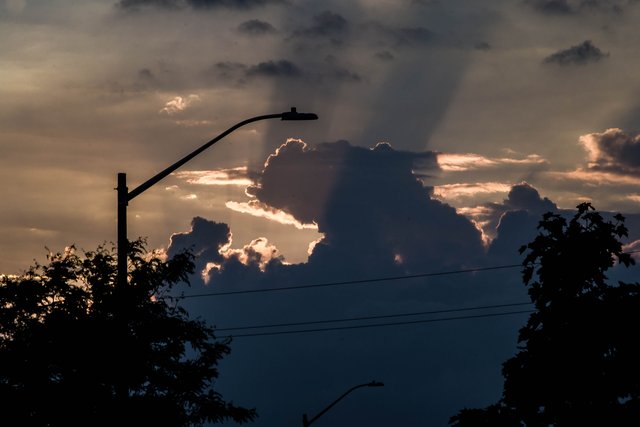 Can you see animal shapes in the clouds?
photos by

Nikon D3100
Nikkor Lens 55mm-200mm
Adobe Lightroom
©All rights reserved, 2018
#WindowMonday – Windows
#DoorTuesday – Doors
#RustArtWednesday – Rust
#GateThursday – Gates
#StatueFriday – Statues
#BrickSaturday – Bricks
#StreetlampSunday – Street Lamps
Use the #sevendaysoutside tag along with the daily tag.
Rules/Guidelines
Use your own photos - no paintings, no drawings, no digital art please!
Share a few details — where was it taken (a park, a museum, etc), maybe what it represents, a little background, history is good.
Make it enjoyable.
There is no prize — this is just for fun.
Thanks to @erikah for initiating #sevendaysoutside photography challenge.