Everybody loves to have different fruits every day. No need to say fruits are one of the healthiest food on this planet contains lots of essential nutrients. All fruits are not available over the year. It comes according to the season and it is always healthy to eat local seasonal fruits.
Fruits are always colorful and attractive and in the era of "selfie craze" a thought came to my mind - let's have a selfie with fruit(s).
Now it is your turn to take your mobile and capture a creative selfie and win exciting prizes of-

🍒🍇🥝 🍒🍇🥝🍒🍇🥝
💰50 Whaleshares and 2 SBD💰
🍒🍇🥝 🍒🍇🥝🍒🍇🥝
---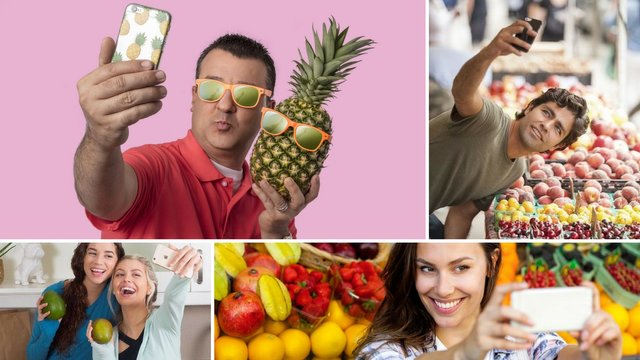 These images are just for representation, use your own imagination to take a selfie
How To Participate
Just you have to take a unique and creative selfie with fruit(s), make a post and post a link in the comment section.
Eligibility Rule
Just Upvote & Resteem this contest post. It is completely optional, but it will help to popularize this contest.
You can post 1 selfie in a post but if you Upvote & Resteem this post, you are eligible to include up to 3 selfies, which will increase your chances to win.
Tripod should not be used to take photograph, it should be taken self, i.e. selfie!
It could be a individual or group selfie.
It is advised to take a selfie with whole fresh, locally grown and seasonal fruits. But it is not compulsory.
Fruits should be real. Selfie with artificial or photographic fruits will be disqualified.
One of the tags should be #selfiewithfruits, while #vegan tag is optional.
DEADLINE TO SUBMIT YOUR ENTRY - 24 Hours before post-payout.
Winner Selection Criteria
Winner will be selected on the basis of
Uniqueness and how creative is the selfie.
Quality of the photograph
So use your imagination while taking selfie(s)
Winner will be selected by myself @chetanpadliya
Decision will be final once result is announced
Prize sponsor
Sincere thanks to @krazykrista and @officialfuzzy for the prize of 50 Whaleshares. To know more bout Whaleshares you are welcome to join the Whaleshares Project's Discord Community.
---
So what are you thinking now? Just take a part and win exciting prizes with your selfie!