These Sears and Kmart stores will start liquidation sales on August 30th
The onslaught of retail continues.
This sector saw the likes of Amazon enter the marketplace and take control. It was a move that went unnoticed for years until everyone woke up one day and realized they were "Amazoned". Since that time, traditional retailers have been doing all they can to hang on. Some, like Wal-Mart are investing billions to turn their operation into a more digital friendly system. Others, who do not have as big a wallet, are falling by the wayside.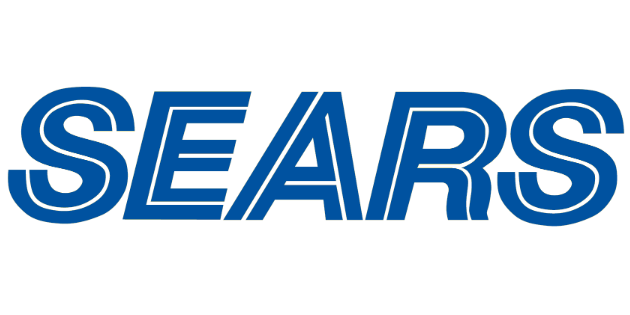 wikipedia.com
None is suffering more than Sears Holding, the owner of both Sears and KMart.
This week, 46 stores will start liquidation sales to move inventory as they move towards closure in November. The stores are in 28 states and 33 come from the Sears side while the other 13 are under the KMart brand.
The company identified 100 non-profitable stores that are slated to close. 72 of these will begin closing in coming months.
So far this month, the stock price fell 40%.
The retailer is likely headed towards bankruptcy. This process started years ago and only was masked by the financial maneuverings of the CEO, Eddie Lampert. He is not only CEO of Sears Holding, he is also hedge fund manager, and real estate owner of some of Sears' properties. This convoluted layering has led some to believe a lot of what took place over the past half decade was nothing more than a smokescreen to cover the fact that the company is going under.
There is also speculation that Lampert switched his retailer CEO hat for his hedge fund manager hat a few years ago. He is looking to possible coming out of this making money. The proposition for his hedge fund to buy some of Sears more popular brands like Kenmore show where his interest lies.
Lampert was the one who spent a decade at the helm and missed the entire shift in the retail industry. The fact that Sears did not focus on their online retailing nor update their dwindling store inventories show how out of touch he became.
The end result of this most likely will be the loss of another American retailing institution.
Here is a list of the store closings as released by the company back in May.
Store Address City State
Sears 10001 N. Metro Parkway West Phoenix Arizona
Sears 100 S. Puente Hills Mall City of Industry California
Kmart 910 North China Lake Blvd. Ridgecrest California
Kmart 9881 W. 58th Ave. Arvada Colorado
Sears 320 Towne Center Circle Sanford Florida
Kmart 5400 E. Busch Blvd. Tampa Florida
Sears 7902 Citrus Park Town Center Tampa Florida
Sears 2201 Henderson Mill Rd. N.E. Atlanta Georgia
Sears 2100 Pleasant Hill Rd. Duluth Georgia
Sears 1300 Southlake Mall Morrow Georgia
Kmart 4303 Nawiliwili Rd. Lihue Hawaii
Sears 320 W. Kimberly Rd. Davenport Iowa
Kmart 2535 Hubbell Ave. Des Moines Iowa
Sears #2 Fox Valley Center Aurora Illinois
Sears 6136 W. Grand Ave. Gurnee Illinois
Kmart 5909 E. State St. Rockford Illinois
Sears 104 West White Oaks Mall Springfield Illinois
Sears #2 Hawthorn Center Vernon Hills Illinois
Sears 6020 E. 82nd St. Indianapolis Indiana
Sears 2415 Sagamore Pkwy. S. Lafayette Indiana
Sears 40 Muncie Mall Muncie Indiana
Sears 1781 SW Wanamaker Rd. Topeka Kansas
Sears Alexandria Mall Alexandria Louisiana
Kmart 4070 Ryan St. Lake Charles Louisiana
Sears Hwys 114 & 128 Peabody Massachusetts
Sears Eastfield Mall Springfield Massachusetts
Sears 18900 Michigan Ave. Dearborn Michigan
Sears 3191 S. Linden Rd. Flint Michigan
Sears 14100 Lakeside Circle Sterling Heights Michigan
Sears 1212 S. Airport Rd. W. Traverse City Michigan
Sears Shingle Creek Crossing Brooklyn Ctr Minnesota
Sears Miller Hill Mall Duluth Minnesota
Kmart 215 North Central Ave. Duluth Minnesota
Sears #1 Chesterfield Mall Chesterfield Missouri
Sears 250 S. Country Center Way St. Louis Missouri
Sears 1000 Turtle Creek Drive Hattiesburg Mississippi
Sears 1515 Grand Ave. Billings Montana
Sears 2800 S. Columbia Rd. Grand Forks North Dakota
Sears 2501 Mt. Holly Rd. Burlington New Jersey
Sears 300 Quaker Bridge Mall Lawrenceville New Jersey
Sears 2341 Rt. 66 Ocean New Jersey
Kmart 24 34 Barbour Ave. Passaic/Clifton New Jersey
Kmart 2100 Carlisle Ave. Albuquerque New Mexico
Sears 10000 Coors Bypass NW Albuquerque New Mexico
Sears 3649 Erie Blvd. E De Witt/Syracuse New York
Kmart 25301 Rockaway Blvd. Rosedale New York
Kmart 1000 Montauk Hwy. West Babylon New York
Sears 2400 Elida Rd. Lima Ohio
Sears 17271 Southpark Center Strongsville Ohio
Kmart 12350 N. E. Sandy Blvd. Portland Oregon
Kmart 1072 Mountain Laurel Plaza Latrobe Pennsylvania
Sears 1000 Robinson Center Dr. Pittsburgh Pennsylvania
Sears 300 S. Hills Village Pittsburgh/South Hills Pennsylvania
Sears 3101 N. Main St. Anderson South Carolina
Sears 205 W. Blackstock Rd. Spartanburg South Carolina
Sears 3400 Empire Mall Sioux Falls South Dakota
Sears 2931 Knoxville Center Dr. Knoxville Tennessee
Sears 11200 Lakeline Mall Dr. Cedar Park Texas
Sears Golden Triangle Mall Denton Texas
Sears 1800 Green Oaks Rd. Fort Worth Texas
Kmart 5000 San Dario Laredo Texas
Sears 2401 S. Stemmons Fwy. Lewisville Texas
Sears 4502 S. Steele St. Tacoma Washington
Some of the information from this post were taken from : https://www.zerohedge.com/news/2018-01-04/these-are-103-stores-sears-announced-it-will-be-closing