Recently, I discovered a new feature on SteemCoinPan, the Promote function. This was first introduced on Steemit more than 2 years ago. However, as very few people visited the Promoted Page on Steemit, this function gradually became very rarely used. And when bidbots came along, the use of the Promote function became almost extinct.
How the SCT Promote function is different
As far as I can tell, the current ROI on Promoted posts is generally positive. The main reason for this is that SCT power is held mostly by founders and early investors who believe in the project. As a result, as long as these large stakeholders are frequently visiting the Promoted Page and rewarding Promoted Posts, then there will be more people choosing to use this function. This could lead to an upward spiral for the price of SCT, as there will likely be less SCT dumped on to the markets.
Another thing I noticed was that when you see a post in your own feed or under trending, it shows the post as Promoted if indeed it has been. I don't recall that having been the case with Steemit Promoted posts. I think this is a good feature as we can easily identify the posts that have been promoted.
So how do we promote a post?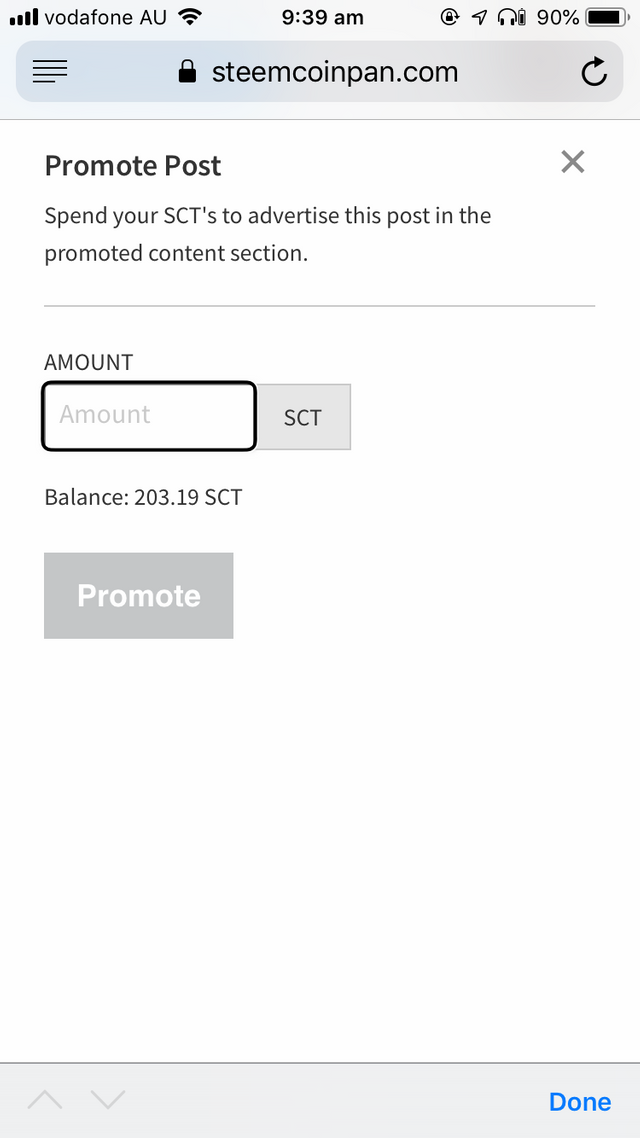 It's quite simple to promote a post, exactly the same steps as it was on Steemit.
When you go to a post, click on the Promote button at the bottom of the post
Specify how much SCT you want to use to promote the post
You will see your post in the Promoted Feed, depending on how much you've used
Alternatively, you can also do it manually by sending SCT to the @null account with the URL of the post you want to promote in the memo field.
So there you have it, another new feature on SteemCoinPan. In my opinion, this is much better than bidbots, as it is easier to use and the SCT is burned. Let me know what you think about this Promote function, and if you've tried using it or not.
---
In case you haven't yet checked out Steem Monsters, it's not too late to get started and join in the fun. You can go here to get started.
---
Download Vite wallet for Android or IOS, and enter my referral code 1WIvc2wX to receive 10 free Vite, then claim Vite airdrop worth between $0.36-$36 each day.
---
Binance, the best exchange to buy and sell Steem and other cryptocurrencies
---