How to tell the difference between crocodiles and alligators!
I'm sure a lot of you have wondered what exactly the difference between an alligator and a crocodile is. When I was younger I thought it had to do with whether they lived in freshwater or saltwater, but this is just a vague and quick way to separate them most of the time, and not really a good way to tell them apart. If you're unsure how to tell the difference, then you're in for a treat, because we're going to be looking closer at some of the biological differences between the crocodiles and alligators!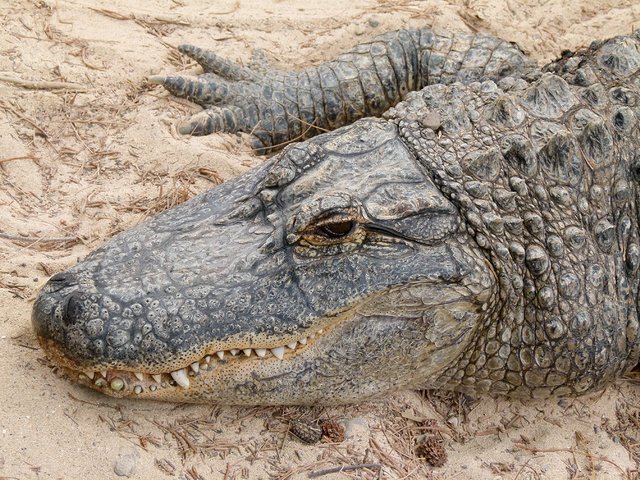 Is this an alligator or a crocodile? Keep reading and you will definitely be able to tell! (Or click on the image credit if you want to cheat!) Image by Norbert Nagel, posted with the Creative Commons Attribution-Share Alike 3.0 Unported license
.
The taxonomic differences
For starters, crocodiles belong to the family Crocodylidae, while alligators belong to the family Alligatoridae, meaning that they are actually pretty loosely related, and are not as close as many would think. They do however belong to the same order Crocodilia, which is on the same taxonomic level as Primates for us humans. In other words, we are as closely related to all other primates as crocodiles are related to alligators.
Also as a digression, a "third type" of Crocodilia is called a caiman. These belong to the same family as crocodiles, but have their own subfamily called Caimaninae. The species gharial (Gavialis gangeticus) is also a Crocodilia member, but this single species has its own family Gavialis. However, this gharial is so different from both alligators and crocodiles, so it ended up there alone as the only extant member of its family.
Taxonomy can be a bit difficult to keep up with if you are not familiar with it, so don't worry if it was confusing to you, because it is to most people. And to make matters worse, a lot of scientists are actually debating exactly how to classify the different subfamilies and groups, so they have been changed a few times in the past.
The different shape of their snout/jaw; the easy way to tell them apart
If you are attacked by a member of the Crocodilia order and wants to quickly identify it, then just look at their snout. Crocodiles generally have a long, V-shaped snout, while alligators have short, U-shaped snouts.
Now return to the picture at the top, and you can easily tell that it is in fact an alligator. Below is an image of a crocodile to compare it to.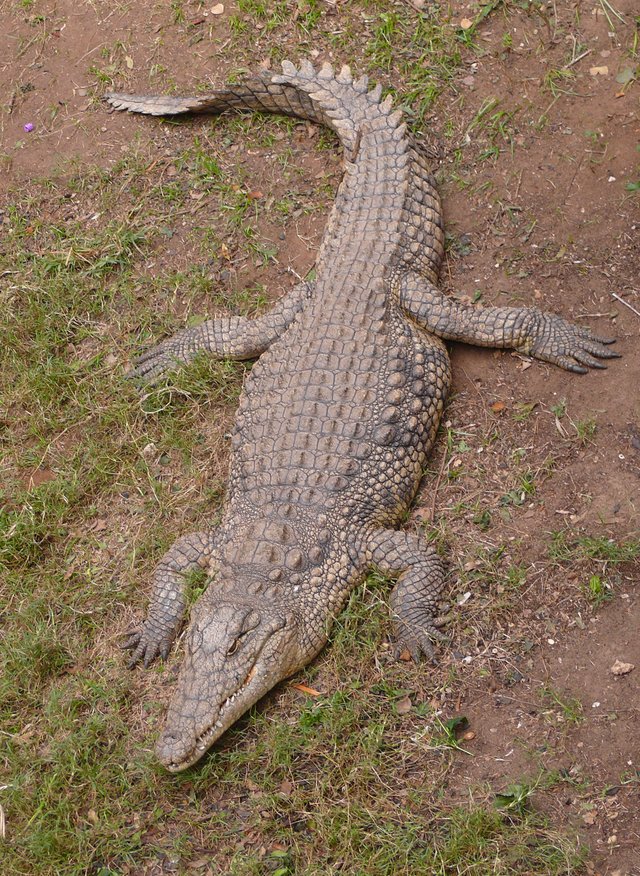 Image by Zachi Evenor, posted with the Creative Commons Attribution 3.0 Unported license
.
The reason why it is like this is because alligators are designed for insane strength, because they need to be able to crack turtles and other shelled animals, while crocodiles also eat much softer prey, so they don't need the huge strength alligators have. The long snout/jaw is a lot better for catching fish, which can be seen very well by looking at the very long gharial snout.
Despite this being the best way to tell them apart quickly, it does not always work, since some crocodile's snouts are stouter than others, so this is not an exact way to tell them apart. This leads us to the next sign you should look at:
The placement of the teeth
Perhaps the best way to tell the difference between a crocodile and an alligator is the placement of the teeth when their mouths are closed. The alligator have an upper jaw that is wider than the lower jaw, meaning that the teeth in the lower jaw are hidden when the mouth is closed. The best way to spot the difference for sure is by looking at the 4th teeth in the lower jaw; this will always be visible with crocodiles, but never with alligators.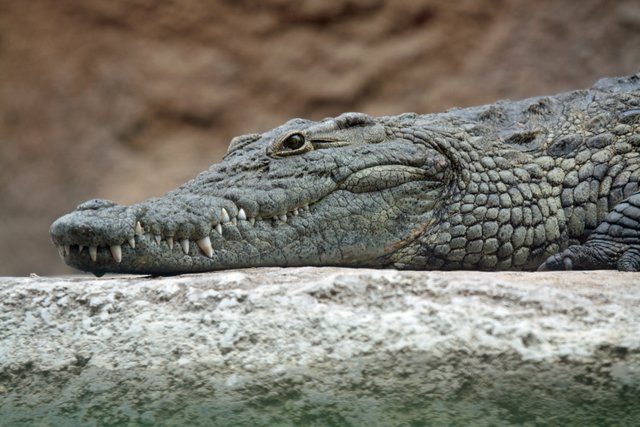 You can clearly see the lower teeth, which means that this is a crocodile. Image by Leigh Bedford, posted with the CC BY 2.0
.
The reason why their jaws are different once again has to do with the prey they eat, where the alligator needs more strength than the crocodiles.
Water sources
As I stated in the intro, they do have some differences in the preferred type of water. Both of the alligator species are only found in freshwater, while crocodiles do prefer to live in brackish or saltwater. However, this does not always hold true due to the fact that some crocodile species prefer to live in freshwater, so this is not a good way to tell them apart.
Other differences
There are of course many other differences between these two families of animals, since they are both genetic and evolutionary different. Both behavior, minor morphological structures and habitat can differ a lot, but the points I listed above are the major differences between them - at least the ones you can spot for yourself.
Sources
A good source that I used a lot when I wrote this article is this post over at crocodilian.com. This is a good resource to check out if you want to learn even more about the differences, so give it a click!
For the taxonomy, I just used the Wikipedia article about Crocodilia, as well as Encyclopedia of Life to verify the relationships.
Thanks for reading, and make sure to leave a comment below if you found it interesting!