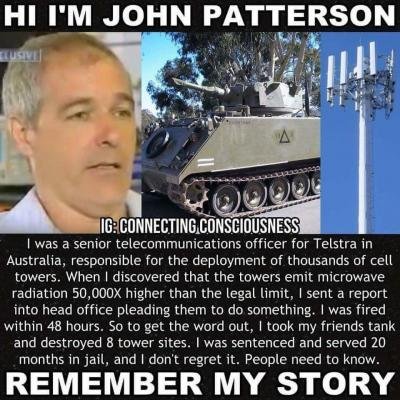 Despite claims to the contrary from people who aren't paying attention - many, many scientific studies (spanning decades) have demonstrated repeatedly that microwave technology and other tech that produces EMF fields can cause a wide variety of health problems - some extremely serious.
In fact, there are apparently over 20,000 studies that confirm this in their own way. I have shared plenty of them before, but this one I was sent today, from the Journal of chemical neuroanatomy is particularly detailed and lays out a specific biological mechanism by which such technology can cause a wide variety of psychological and neurological problems including:
sleep disturbance/insomnia
headache
depression/depressive symptoms
fatigue/tiredness
dysesthesia
concentration/attention dysfunction
memory changes
dizziness
irritability
loss of appetite/body weight
restlessness/anxiety
nausea
skin burning/tingling/dermographism
EEG changes
The study is titled:
Microwave frequency electromagnetic fields (EMFs) produce widespread neuropsychiatric effects including depression
and is by Martin L. Pall (Professor Emeritus of Biochemistry and Basic Medical Sciences, Washington State University,).
The study has a large list of references and covers numerous other studies to draw a clear causal connection between various illnesses and EMF tech - including wifi, cellphones, smart meters and their related transmission towers.
The reality is that we have been using technology for years that has been making is subtly sick and the introduction of UNTESTED 5G technology is, frankly, an insane proposition.
I highly recommend taking your time to read through the whole study. You may not understand all the language, but it should become clear that this is not 'bunk science'.
I recommend not using WIFI and minimising cell phone exposure. Ethernet cables are faster than wifi and do not pose these problems. You can disable Wifi in most routers in their admin control panel.
Wishing you well,
Ura Soul
---
This post was originally published at Ureka.org: Earth Heart Community.