Wildfires are often accompanied by mass evacuations, loss of nature, destruction of properties/infrastructure and air pollution. It is no wonder that these incidents are commonly and rightfully broadcasted as natural disasters. But besides all the negative news, positive aspects should be highlighted as well since many ecosystems evolved to get accustomed and even dependent of such fires. I am not saying we should let every fire raze uncontrolled, but more about that later in this article.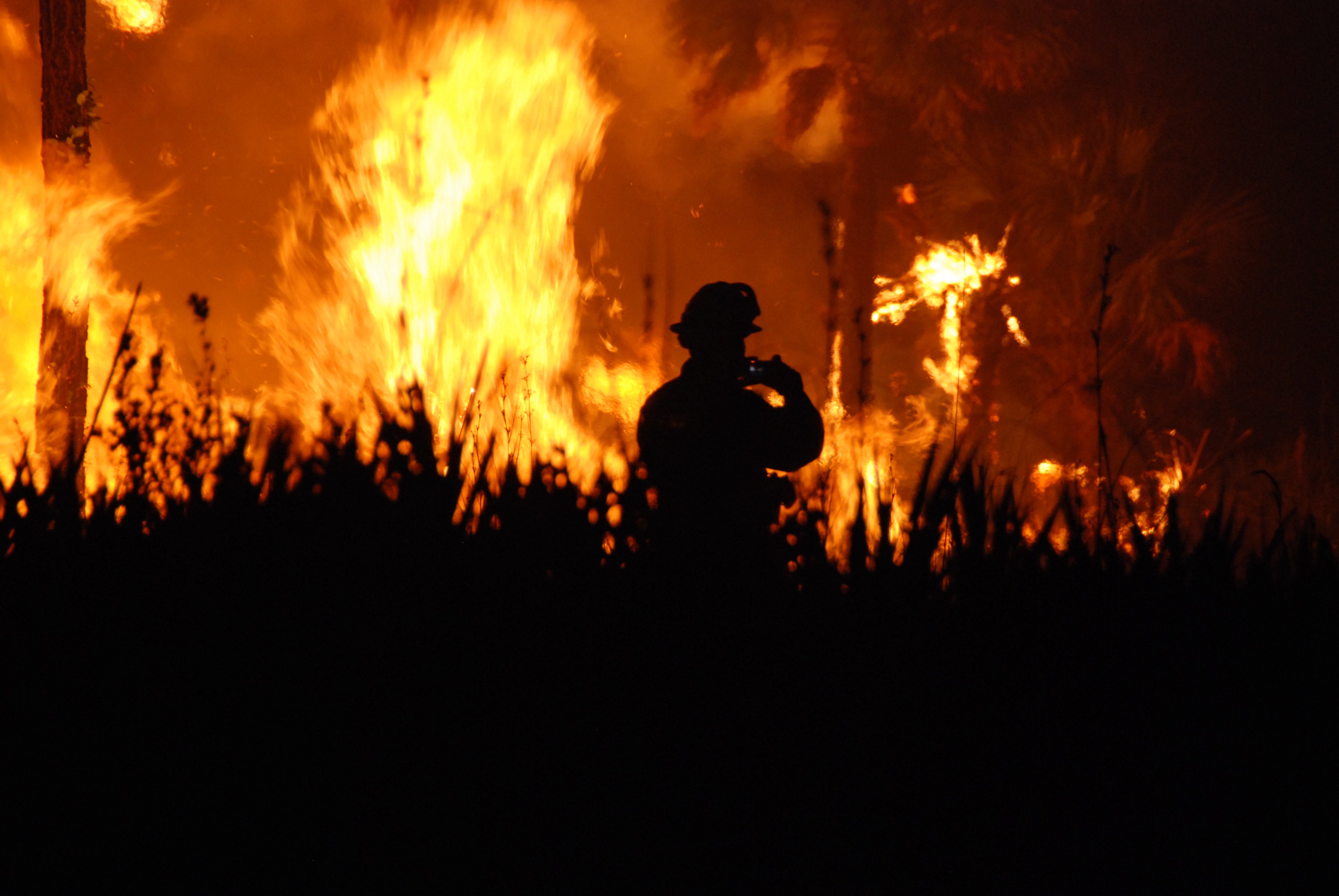 A wildfire at Florida Panther NWR.  Photo by Josh O'Connor, licensed under the Creative Commons Attribution 2.0 Generic license.
Environments that are prone to fires are most often regions with wet winters and long, dry summers. The precipitation in winter allows plant to grow in short bursts that then has the potential to dry out and become flammable during the long, dry summer. The vegetation that corresponds with such conditions are commonly grasslands or shrubs. This vegetation often has rather thin stems which causes them to catch fire more easily. These ecosystems have existed for millions of years, so the impacts of such fires has been present as soon as plants colonized such areas.
Are grasslands threatened by wildfires?
The thin stems of grasses and other plants might seem as illogical at first, since it greatly increases the flammability. Why would a plant evolve to be flammable? Because of these thin stems, fires raze quickly over the surface without significantly heating the soil. This allows the root systems or potential seeds to survive and sprout quickly in burned areas. The seed of some plants in these habitats are even triggered by fire and require a heat source to start germination. This requirement of fire for germination is called serotiny. Furthermore do the ashes quickly bring new nutrients into the soil that the rising vegetation can use again.
When nature gets left undisturbed, most habitats will slowly convert to forests. This is a natural, ecological succession and would be the case for most grasslands under stable conditions since trees could outcompete grasses in the long run. The fires however, limit the growth of young trees since they grow much slower and their roots do not allow fast regrowth after damage, Thus further maintaining the grassland ecosystem.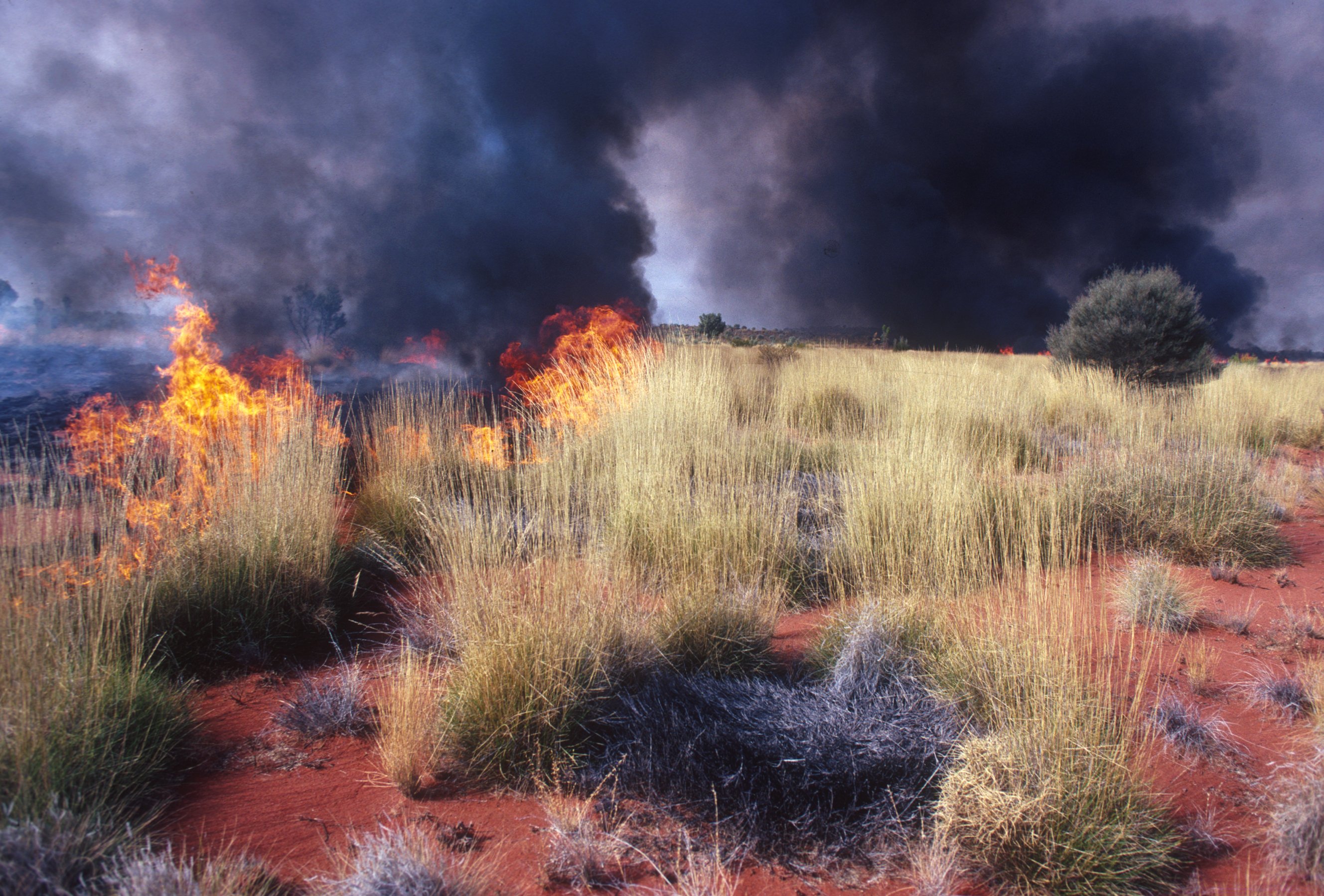 A grass fire burning. Photo by Malcolm Paterson, licensed under the Creative Commons Attribution 3.0 Unported license.
The plants in these ecosystems are surely adapted to wildfires and live in symbiosis with the phenomenon, but what about the wildlife? Most of the fauna manages to survive wildfires as well. Some run or fly away while others burrow themselves under the ground for protection. As soon as the vegetation returns, the animals do as well. The young new growth is very nutritiousness and attracts the herbivores, which again attract the predators, restoring the ecosystem.
Are forests threatened by wildfires?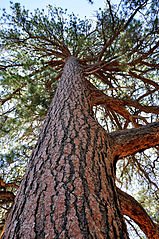 A large Ponderosa pine tree. Photo from the U.S. Forest Service, licensed under the Creative Commons Attribution-Share Alike 2.0 Generic license.
Forests are also known to be prone to fires when they experience long and dry summers. But since these also got the chance to adapt throughout evolution, many features allow the ecosystem to survive.
Many trees, such as the ponderosa pine, developed a thick and heat-resistant bark. Although burned out forests might appear dead and black, most of the trees under the grime are still alive, ready to make new leaves. the ponderosa pine even drops their lower branches to protect the upper canopy from the flames.
The fire also causes undergrowth and weaker plants to die off, reducing the competition for nutrients for those who survived. Should a fire arrive with an intensity that even kills the most resistant trees, succession has been guaranteed nonetheless. Trees in such prone forests developed resin-sealed cones that can survive these extreme temperatures. The seeds can survive and are even triggered to open by the temperatures.
The Eucalyptus tree chose for an entirely different strategy and even produces oils in their leaves that feed the fire, causing it to burn hotter and killing almost all trees. This leaves the environment completely open and gives the chance for new saplings to start a new race for survival.
About controlling wildfires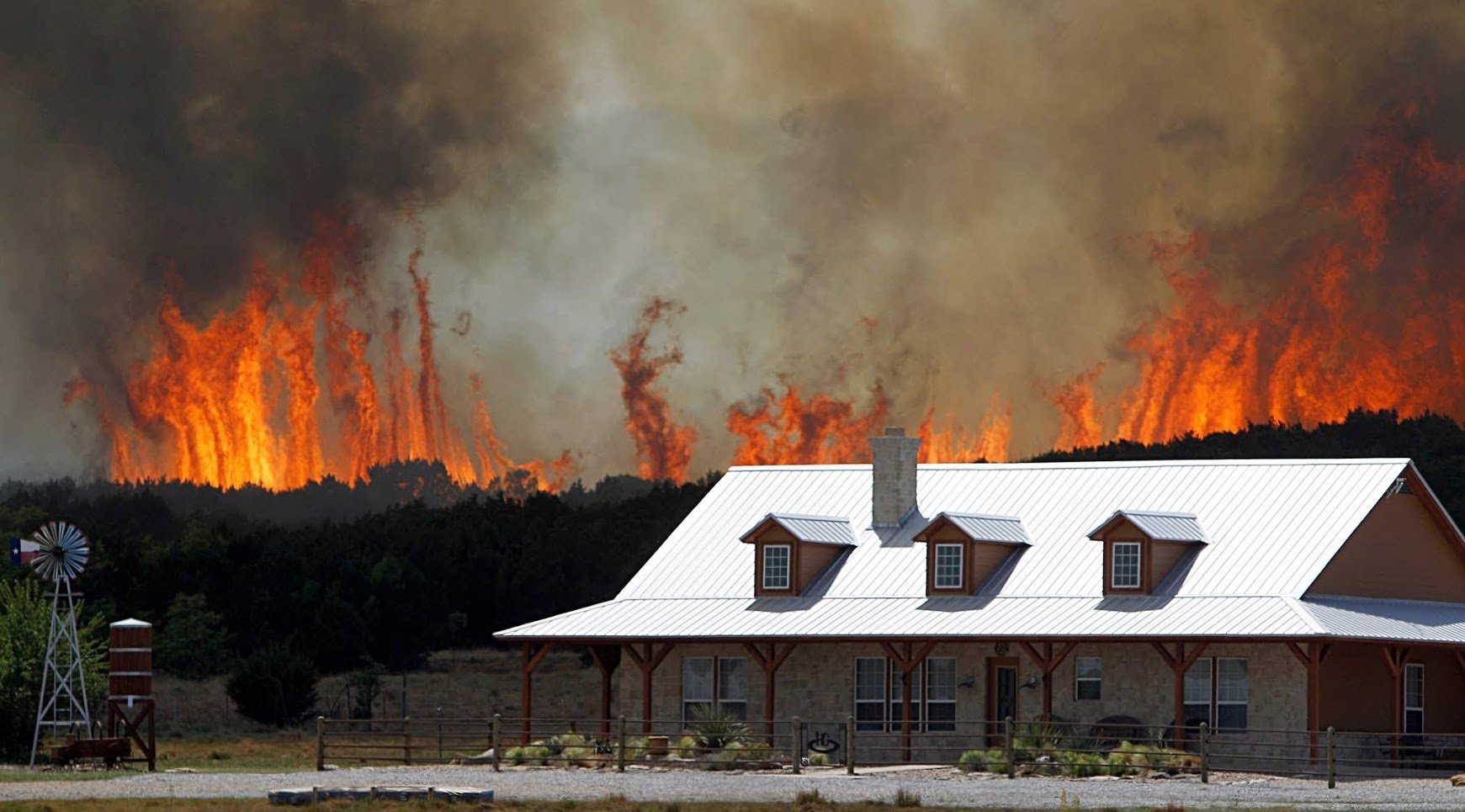 A fire threatening a farm in the US. Photo taken by State Farm, licensed under the Creative Commons Attribution-Share Alike 2.0 Generic license.
We might think that we are required to fight these fires to protect nature and our property. This is indeed true for protecting our infrastructure and houses, but for protecting nature we could potentially do more harm.
In the United States, 98% of all fires are successfully extinguished, but when flames do not get the chance to consume undergrowth and smaller trees, these plants get the opportunity to grow even bigger. When a fire should occur, it could burn more intense and hotter, potentially doing more damage and killing even more resistant trees than it would when there was not that much undergrowth.
Controlling wildfires also increases the need for pest control, since fires naturally kill diseases present in the plant. Nowadays more trees die each year from insect infestations and disease than from fires.
Conclusion
Year after year wildfires have been observed to increase in size and intensity. This can be explained by both bad management due to lack of knowledge, and climate change that causes longer and more intense summers. Both of these factors push on the fact that a different way of land management should be applied regarding wildfires. especially when we can expect more intense seasons due to climate change.
I hope you enjoyed reading this article as much as I did researching it. If you have any questions about the matter, or comments on my writing, feel free to leave it in the comments.
Regards!

Sources
 Schwilk, D., & Ackerly, D. (2001). Flammability and Serotiny as Strategies: Correlated Evolution in Pines. Oikos, 94(2), 326-336. Retrieved from http://www.jstor.org/stable/3547577 
 Jolly, W. M. et al. Climate-induced variations in global wildfire danger from 1979 to 2013. Nat. Commun. 6:7537 doi: 10.1038/ncomms8537 (2015). 
 Calkin, David E.; Gebert, Krista M.; Jones, J. Greg; Neilson, Ronald P. 2005. Forest service large fire area burned and suppression expenditure trends, 1970-2002. Journal of Forestry. 103(4): 179-183 
http://www.fire.ca.gov/communications/downloads/fact_sheets/TheBenefitsofFire.pdf
http://www.bbc.com/earth/story/20160722-why-we-should-let-raging-wildfires-burn