After a long break... Analogue Mars Garden
Its been 8 months since my last post , but i cant say i am back, but i think i'll be more active from now on. Here is a sneak peak of what i have been doing..
---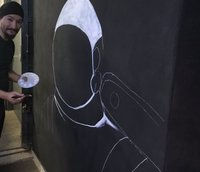 I've been working with a startup as a designer. I build analogue mars garden for education purposes in Istanbul / Turkey. In the mars are, children aged 4~14 is learning about mars, hydroponic farming, space in general, robotics, stem and other cool stuffs. We have 3 mini mars rovers that we designed. I decided to paint our walls to make the place more fun for children.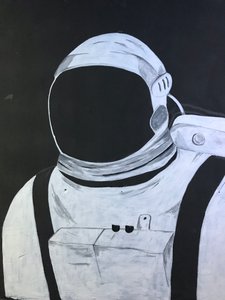 Children can use rovers to do land quests on the area and learn about real rover missions of mars like Opportunity and Insight ( recently sent ). In our Hub area, they learn how to grow plants without sand and soil. The area is 5 meters by 5 meters and quarter circle shaped. We did not have much space to build larger analogue mars garden, but this is big enough 3 children to use three different rovers at the same time. The falcon rocket you are seeing on the site is 3D printed by us in 2 weeks time. 1 ton of sand is used in this area but later we had to take some of the sand back because our rovers had hard time operating. I build the land-forms with foam and plaster.
---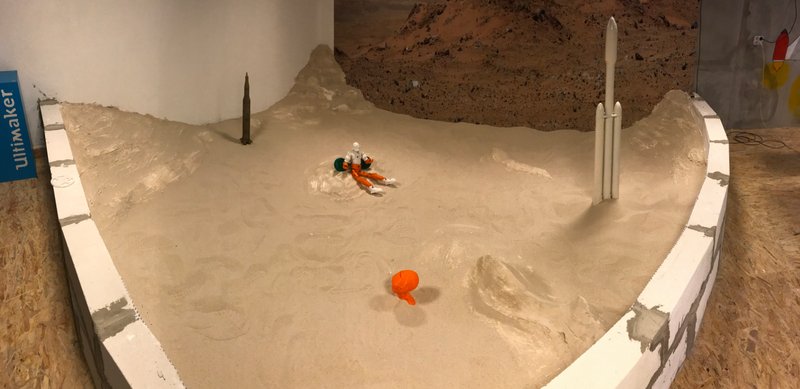 ---
I made general shape of mountains and rocks out of foam with knife, and covered it with plaster and sprinkle sand on it to make it look more natural. Also the sand application gives them a sandpaper look and feel, this helps rovers to grab onto them and operate more smoothly. We have LDR sensors on the ground , children will control the rover and its laser to make the operation quest successful. When the rover laser pointed at the sensor , bright leds are triggered and the mission completed. Real opportunity rover has its laser on its head and digs the soil with it, we tried to replicate the mission for children in a safe environment.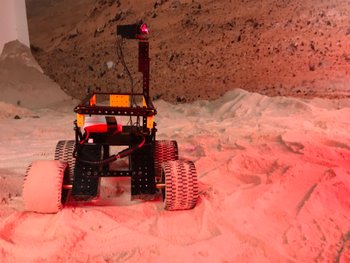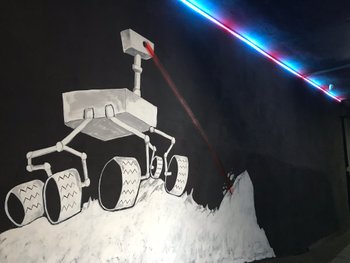 ---
---