If you are an astronomy enthusiast and enjoy the night sky don't miss this event: Late this evening, after midnight, from most of the world, look East and enjoy the Waning Crescent Moon close together to Castor and Pollux Stars.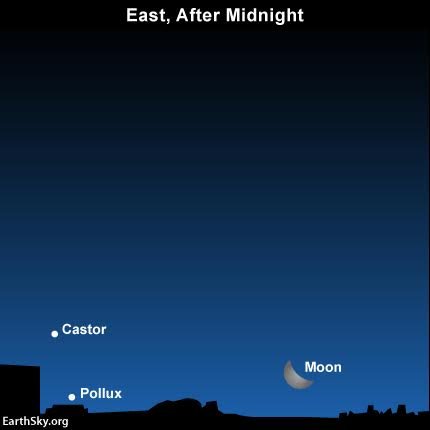 Pollux is the brighter star and golden in color, Castor is fainter and white.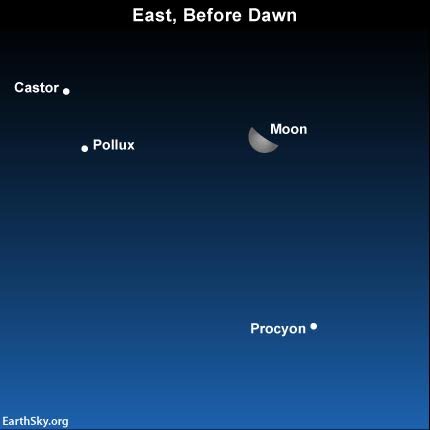 (Images courtesy of EarthSky)
Gemini is one of the brightest constellations and it is best identified by its two brightest stars, Castor and Pollux.
Mythology
Castor and Pollux were twin brothers. The best-known story is that Zeus disguised himself as a swan and seduced Leda, the queen of Sparta. Leda's children are said to have hatched from two eggs that she produced and had different fathers. Castor was the mortal son of Tyndareus, the king of Sparta, while Pollux was the divine son of Zeus.
The twins fought together in the Trojan War. Their sister was Helen of Troy.
When the mortal Castor died, Pollux was deeply upset. Then Pollux's father, Zeus, decided to make Castor immortal as his brother. Both became the two brightest stars in the constellation Gemini close together forever on the Sky's Dome. Like twin brothers!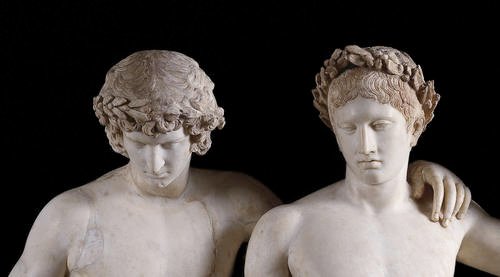 (Image courtesy of Summitpost.org)
Reference Wikipedia
Nice story, is't it?
You can watch the evening sky with your naked eye but if you bring binoculars much better! Don't miss it!.
Thanks for reading!
@mpa