So I'm having another fun flat earth debate, this time with the user @klevn on my video I re-posted the other day. There was an increasing amount to unpack so I thought I'd bring it to a full post rather than drowning out an old comments section and it might be enlightening either way. The debate can continue in these comments if need be.
Note, to those I am preaching to the crowd with here, feel free to keep the comments to a minimum level of condescension, and give some space for those who disagree to express their points!
1 - Why Doesn't the Earth's atmosphere get sucked out into the vacuum of space?
Nature abhors a vacuum. that is a saying. there is a reason for it, wherever there is a void, it will be filled.
I haven't heard of this saying, but it leads to the misnomer about a vacuum cleaner. When you associate a vacuum cleaner with a vacuum, you get this idea that vacuums create suction. But that's not how it works.
Here's the best way I can think to explain it.
If you look down on the round earth and cut out a square from the top of the atmosphere down to sea level, you get a big rectangular cube of air. The pressure of this air increases the closer to the surface you get? Why? Because the further down you go, the more 'weight' is piling on above it. The top 2 miles of air are essentially 'sitting' on the mile of air below it. The top 3 miles are sitting on the one below that and so on. By the time you get to the bottom of the earth, you have 62 miles of atmosphere piled on top of you, and this pushes or compresses the air to equal '1 atmosphere' of pressure.
The same can be found when you go into the oceans which is why the pressure at the bottom is so intense, barely any life can survive - most life tends to have air in them, and this gets crushed by the far more dense liquid around it. Some animals have special adaptations for this but even then there's a limit.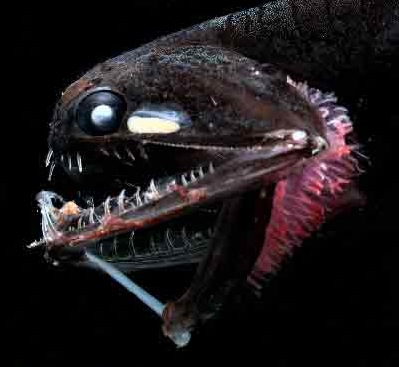 Public Domain
Ok, so if we understand this concept we can look at the vacuum. A vacuum doesn't actually produce a force whatsoever. No sucking, no blowing, pulling or pushing. It's just empty space (mostly). It's nothing. How can nothing have a force? This doesn't make much sense unless you create some mystery, magical force up that we haven't seen or understood.
What's actually happening is the air is the one producing the force, pushing itself into the vacuum to balance the pressure out, in the same way water at the bottom of the ocean crushes your soft human body to relieve the imbalance of pressure there. If you imagine you're in a glass box at the bottom of the ocean, the air inside the box isn't emitting some giant force outward into the water; the water is pushing onto the air. (Though, the air is producing a rather insignificant force).
The vacuum of space is like that glass box, just with a lot less air, and so even less effect. The air of earth is thus more powerful in this case and pushing into the vacuum.
So why isn't it going into space? Gravity. As I said above, the higher up you go, the thinner the atmosphere is. Gravity is a very weak force, the weakest of the four fundamentals in fact (it only takes a little magnet on a paperclip to completely overpower it), but its size is enough that it's pulling everything towards its core.
Since the top of our atmosphere is so thin, there is effectively no air pressure, just a few molecules of air bouncing around. Go even higher and there are even fewer molecules until, bam you're in air-less space. There is, at the top of the atmosphere, insufficient force to push the air outwards into space compared to the force of gravity.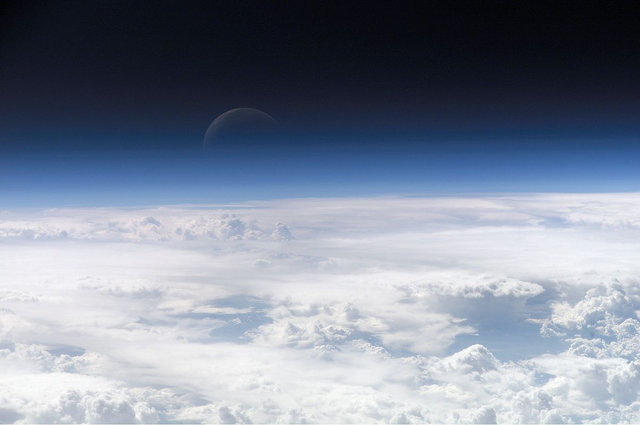 [Public Domain](
2 - Gravity doesn't exist
as for gravity... there is no actual facts backing it up. only the watching of the skies and then cramming a theory that appears to fit the data. that is not the same as a scientific test. a scientific test controls the environment and performs an experiment under extremely controlled circumstances that require that 99% of the variables be known and we test the unknown. Yet gravity cannot be tested in this way. the 'force' of gravity is so weak to not be testable (if it exists at all).
What is fascinating to me is how little gravity is actually understood. Of the four fundamental forces, this is the only force without an opposite; gravity pulls, and only pulls. There's no push. There is a conflict between Relativity and Quantum mechanics and so on.
But this doesn't mean it doesn't exist. The word is simply acting as a placeholder name for a phenomenon that is happening. We understand how it works, we can physically observe it in all and every planetary and galactic motion in the Universe, every star and every black hole. The word describes the idea.
So to say there are no actual facts backing it up is absurd. When you look at a tree, you make a factual claim that it is a tree. Sure, it COULD be a secret weapon of mass destruction disguised for the last 70 years in your back garden, but for the most part, it's a tree, and that is a fact unless the entire world is pulling the wool over your eyes.
Likewise, when we look at moons going around Jupiter, binary stars twirling around each other, black holes gobbling up gas clouds, and apples falling from trees, we notice that they're all under the same fundamental force - whatever it 'is' in the end when we manage to fully describe it.
In context, we also don't fully understand either the Strong or Weak nuclear forces that are responsible for binding our atoms together and causes radioactive decay. Do we deny that atoms are being held together by a force too? Do we deny that radiatiton exists? No, because there are generations of scientists rigorously testing and understanding these processes.
The same applies to gravity. The search for knowledge is not, and may never be complete - but that's ok. We still fully understand how gravity works in the Universe and can predict it with incredibly accuracy precisely because we understand it.
It fully explains why small rocks in space are little more than loose piles of rock and rubble; very little gravity, but enough to keep them together, and it explains why the sun is so hot. So yes, gravity can and is tested all the time, and whatever it is at the end of the day, it exists - even if it turns out to just be a natural outcome, a result of other forces interacting in the universe, like how putting a bunch of parts together creates the outcome of a motherboard. It's still gravity.
3 - i'm not denying, i am out right proving that space makes no sense
What the user was doing was indeed denying. The problem I raised was that flat earthers don't actually do their own experiments to provide a counter argument. They just dismiss, deny the work that has been done. That whale is a mammal? No, it's a reptile you can tell by its skin.
'Where's your research?'
'This YouTube video proves it'
This might arise from our liberal use of the word 'research' these days. Often when we write a post or have a debate, we 'researrch', as in, Google something or YouTube it. This iisn't what research actually is in the world of academia. Research is:
the systematic investigation into and study of materials and sources in order to establish facts and reach new conclusions.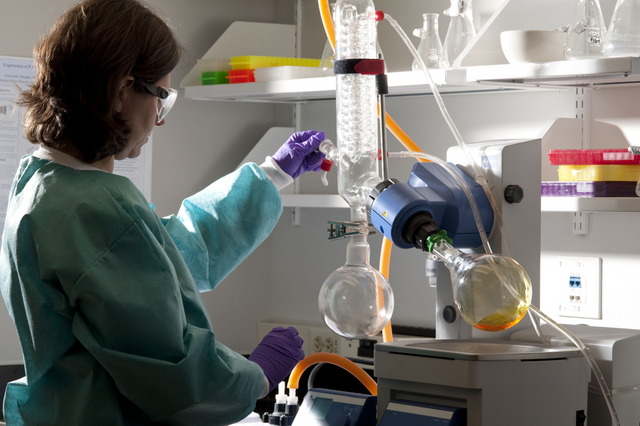 National Eye Institute, CC2.0
So where most people will stop at finding sources and using them, real research investigates, studies and establishes new facts, building on the shoulders of giants, not picking up the debris left behind and wafting it around like it's worth something. Until flat-earth individuals do actual research, the argument that they 'prove' anything is a moot point.
4 - Astronaut Contradictions
So the argument here is that Apollo astronauts said when they were in space they couldn't see any stars, but when Mike Massimino (sp) went to the ISS, they could see them all the time. Why is that?
Well the devil is in the details. The video provided was a list of astronauts contrardicting each other - but the video takes clips of interviews entirerly out of context. And it doesn't do a very good job of it either.
Apollo astronauts explain that they cannot see stars on the day side of the moon, in this conspiracy video. This makes sense. With all that reflective light, your eyes adjust and can't see the little stars, in the same way you can't see much in front of you at night when a car's headlights are blinding your face.
What the video fails to mention is, say Al Worden from Apollo 15 , who stated:
there was a little space around the far side of the Moon where I was shadowed from both the Earth and the Sun and that was pretty amazing. I could see more stars than I could possibly imagine. It really makes you wonder about our place in the Universe and what we're all about. When you see that many stars out there you realize that those are really suns and those suns could have planets around them and all that kind of stuff.
The sky is just awash with stars when you're on the far side of the Moon, and you don't have any sunlight to cut down on the lower intensity, dimmer stars. You see them all, and it's all just a sheet of white
The next point of contention was that Massimino (sp) said that he could even see the stars in the day. But this is picking hairs at this point. One has to understand that the Space Station doesn't even have day time like we do on Earth. There's no blue skies, nor is there a 24 hour cycle. They are whipping aroundd the earth at high speeds and they get to see sunrise 16 times 'a day'.
So there may be a time during this cycle, for a few minutes, where the sun is directly facing them and washing out all the visibility of stars, but if so, this passes in literally minutes, and the sky may be 'awash with stars' once more. I imagine you will see a lot more stars during the 16 'night times' than the day times, but we can wait for space tourism to take off to see for ourselves what it's like.
Another YouTube video came along (because likeminded people on YouTube seems to be the only source of information for flat earth), which was 20 minutes - they're always stupidly long. So I didn't watch it.
But the summar was apparently:
The 4th man to walk on the moon (supposedly) ... he says they had air conditioners to keep them cool. yet the apollo 13 astronauts claimed they almost froze
I'm going to go out on a whim and say one was talking about the daytime and the other was night time. With no atmosphere, there is no heat retention. As soon as the sun is gone, it gets cold, and vice versa. This is why Mercury reaches -173C on its far side, and 427C on its near side.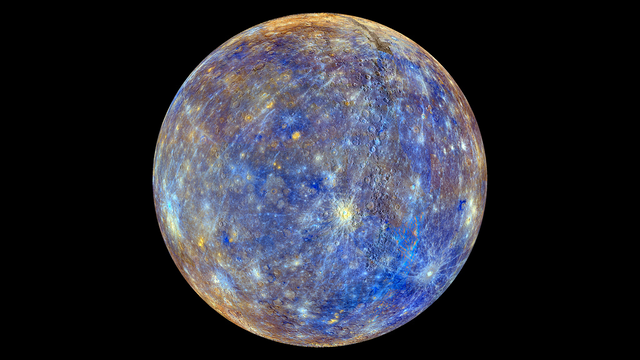 Flickr
There's more details about this simple situation based on a lie you can read more about here which involves insulation, the shared body heat, machinery and so on involved, but nobody was in danger of freezing, this has apparently been overstated.
So what now?
Well, What has just happened is that I addressed some points with knowledge, a little bit of googling for specific numbers. I put forth an argument with real facts in an attempt to answer some queries.
The response is likely to be quite different. It is not often that the response is to actually disprove with facts and data, but to show you YouTube videos carefully cut and edited to deliberately mislead you, then follow this up with questions meant to demean a point, denial and conclude with 'wake up sheeple' or a similar variant of opening one's mind.
But I don't need to open my mind to YouTube videos if I have an actual thorough understanding of the Universe around me, even if 'thorough' just means 'enough to not be constantly confused by everything'. I'm not believing in this stuff because it's what I have been told and taught. I believe it because I get it. I understand air pressure and it makes sense to me, it fits the experiences I have in my physical body when I go swimming or get on an airplane and my ears pop, or I start feeling dizzy when I hike up Annarpurna in Nepal because I got a little hypoxic. The experience matches the facts.
The only alternative is to accept there's an evil global government organisation working overtime to trick me into thinking air pressure is a thing when really it's just super fast centripetal forces as we whizz through space, and all those rotary motions of planets we can physically observe through our own telescopes are just tricks built into the telescopes from tthe government's evil manufacturing company that designs lenses to manipulate reality so that the same planets are circling around a star.
Evidence? Check out this YouTube video.
Actual References
Gravity Theory | The Problem with Gravity | Graviton Theory | What causes grarvity | The Strong Force | Astronauts seeing stars from space | Apollo accounts of stars on the moon - and photos | How Apollo 13 astronauts survived the cold | Mercury | Atmospheric Pressure | Vacuum