Designer Babies or Create your own child, cure genetic diseases, Cancer...the future? It is close, too close...
We can finally create our own custom kids?
CRISPR is a relatively recent breakthrough in genetic engineering that will change the future forever!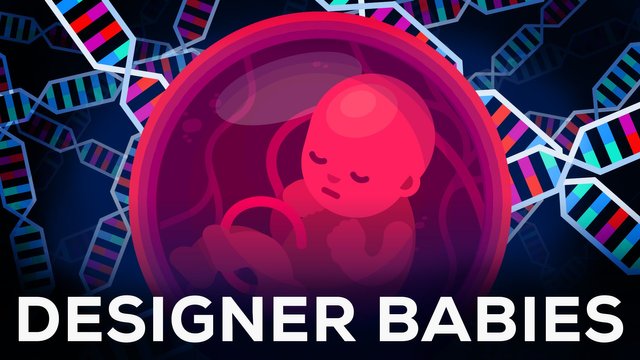 Scientists have discovered a way how to modify DNA with astonishing precision that can be done even in small labs worldwide. It's name in short is CRISPR. It will allow us to treat patients with it and cure diseases even as near as 10 years in the future. It's has already been tested many times on mice and monkeys with very successful results, but due to the morality of it, it's currently in a form of delay in terms of testing on humans.
This technology will change the human kind forever, it's only a matter of time. Genetically enhanced humans are the future. This technology will enable us to "customize" every aspect of a human being and cure numerous diseases.
But the question that's been debated now is, is it ethical? In a future where, we can choose the color of our kids eyes, choose the "desired" height, IQ...etc and all that in a embryo state, does that mean we would result in a world where imperfection can't exist, where humans like you and me are "faulty"?This is the biggest drawback of a technology like this, but it's positive sides are numerous, from curing diseases, to the creation of "super humans" ready for interstellar space travel, to extending our lifespan and so on... It's implications are numerous...Now you get why this discovery might be the biggest discovery in the 21st century.
It's a symbol of a new era in the human kind and a tool that would ultimately ensure survival of the human species. But all this is for now just, a far future. The first time that scientists expect us to come in contact with this technology is in 10 years for curing diseases, but human trials are already happening...
The video covers brief GMO history and CRHISPR, so please watch the video it's part of the post





More detailed info here introduced by Jennifer Doudna the co-inventor of CRISPR, watch this if you have time to



If you have 15min's to spare, watch it, if not bookmark it for later, it's worth it.




The future looks bright, even frightening, the stuff we see in Movies today, will become reality tomorrow. But for now let's stop thinking about the future and focus on the present. Scientists are currently debating the morality of this technology, so why don't we have our own little debate here on Steemit? I will start with my view on this and I encourage you to please state yours in the comments.

I think that this discovery is the greatest discovery in the 21st century and that this will save the human species, reduce the effect global warming has on us and all in one only benefit us. It will enable us to "conquer" other planets and expand as a species on multiple solar systems in the far future. We'll be able to use this technology and make "humans" with specific abilities that enables them to live on otherwise uninhabitable and hostile places in the universe. Is this ethical, will "faulty" humans exist in the future? I think that's not in our power to choose, governments will most likely influence it's implementation, but as In every movie and In our nature, there will be individuals that will fight against the system and that will resist. Will they be "banned" from society? Honestly, I think they will...if the current governing system stays. Yet in a more libertarian system, "original" humans would be "preserved". I think, that "designing your child aesthetically" is unethical, it's pure "cosmetic". Yet giving your child "basic" live improving abilities, like better eyesight would be normal.