Is superconductivity infectious?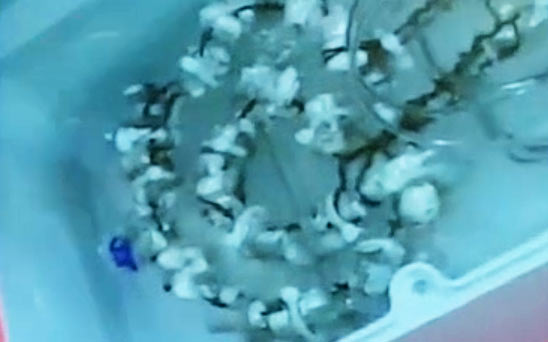 Has MFMP volunteer Bob Greenyer discovered evidence of a new pathogen or is it really just a vector?
Trivandrum Rotary Club, India (Mid 2009)
Scientist from Vikram Sarabhai Space Centre Wikipedia / Government official site
Was told that they had a device that could be fully immersed in a fire and produce electricity
Dr. Brian Ahern (18 Apr 2014)
Lead Scientist for US Department of Defence, specialist in superconductivity talked about Arthur Manelas' 'free energy' vacuum battery.
The device produced electricity - but got colder than the ambient temperature when doing so.
Francesco Celani (2016)
Talked about anomalous electrical production from his nano-coated wires whilst being heated.
ECCO fuel analysis (March 2017), Brno, Czech Republic
Discovery of natural elemental superconductors in Suhas Ralkars ECCO fuel, that is to say the highest temp type II elemental superconductor Nb (9.26 Kelvin) and the highest temp type I elemental superconductor Pb (7.19 Kelvin), in Suhas Ralkar's ECCO fuel that was produced with 3 cross axis 1.5kW 19.46kHz ultrasonic transducers processing a mix of Ni, Ti, C and H2O for up to 200 hours.
ASTI, Italy (9 June 2017) Condensed Matter Nuclear Science (CMNS) conference
Showed that we had seen a range of 'transmuted' elements in the analysis of ECCO and HOMO samples, these elements are common observations in LENR
Showed that process seemed to favour production of superconductors.
Breeding superconductivity, hypothesised that it was easiest to be in that state, that it maybe following somehow a resonance of the driving signals being applied like a metronome synching experiment.
told about super conductivity affecting whole wires, that is to say, when a superconductor is attached to a wire, after a while the whole wire starts behaving as a superconductor.
my presentation showed evidence that elements in a certain state could act as a superconductor regardless of ambient temperature

Tom Bearden (August 2017)
"Fer de Lance" and "Oblivion" books discuss 1990s soviet scientists demonstrating in Moscow and UK
Cold liquification / casting of metal
Huge currents through very fine wires

He raised the concept of Negative Resistor, that is a device that takes some form of energy from the environment and produces electricity.
Conference in Graz, Austria 1st October 2017
Keshe technology description by Australian, Dr. Richard Presser
System is apparently nano-coated copper wire
There is a "GAs in a Nano Solid state" GANS core
The wires apparently 'condition' wires and devices in owners house to use less power
Wires of device reputed to be cold even with huge amounts of power going through them

Making GANS
Assembling Magrav
Kits
Magrav Testing 1
Magrav Testing 2
NOTE: NO CLAIMS ARE MADE FOR THE KESHE TECHNOLOGY, THIS IS JUST A CIRCUMSTANTIAL PIECE WRITTEN BY MFMP VOLUNTEER BOB GREENYER FOR COMMENTARY
Superconductivitis
"A putative condensed matter / mono-atomic / mono-molecular phenomena, whereby other conductive elements in an electrically, physically or resonantly connected structure, progressively synchronise behaviour or form with a precedent superconductive structure in the same linked system."
Bob Greenyer, 9 October 2017
Please consider supporting the project
The Martin Fleischmann Memorial Project (MFMP) is a not-for-profit community interest company.
You can find more about it here
Direct Paypal address is:
Bank account
Donations of any size can be made direct to Quantum Heat C.I.C.s (the organisation that runs the MFMP) bank account here, thus saving charges:
BANK: HSBC
Branch Address: 153 North Street Brighton, East Sussex, BN1 1SW
Account Name: Quantum Heat C.I.C
Sort Code: 40-14-03
Acc No.: 12631571
IBAN: GB48MIDL40140312631571
SWIFTBIC: MIDLGB22
Bitcoin:
1JesTRUXU8jHb1haa1MoF2NvrU8gt5msCr