ECCO - An instant on/off ultrasonically fluidised dusty plasma New Fire reactor
It is with pleasure that we announce that the MFMP has been invited to openly test a claimed working New Fire reactor technology
No restrictions on our access.
When confirmed, claimant will make technology open.
This will make this the first fully described / open working New Fire technology in this epoch.
In brief
The "ECCO" reactor currently uses 8 alumina tube reactors driven independently to allow scaling of output power from around 1kW to over 8kW
Current fuel: Ultrasonic processing of powders in light water for about 200 hours is then finished by pyrolysis
3 Ultrasonic transducers @ 19.46kHz & 1.5kW each for a total of 4.5kW
Current fuel: Ti, TiH2, Ni, Al, LiOH, C, K2CO3
Core reactor is standard extruded alumina cylinder
Reactors in second steel sheath
Starting status: Initial vacuum in cell
Through fuel discharge provided by thoriated tungsten welding electrodes
Fuel held in place by Nickel foil formed into a plug in to which the needle point of the electrodes passes
Pure nickel foil made by plating from Nickel Sulphate onto steel using hydrogen plasma and ultrasonically de-laminating it
Fuel not tightly packed, 22mm active zone in Al2O3 tube with 1.6g of fuel occupying <1/3 available space
1 MHz non-symmetrical waveform (fast rise, slow fall) pulsed DC discharge provided by MOSFETs through fuel
2000 - 2400V discharge potential set to prevent spark
Approximately 100W applied in non-spark discharge
Ultrasonic vibration at same 1MHz applied to fuelled zone in tube in order to fluidise the fuel components
Between 15-30W used for the ultrasonic fluidisation
Peak input power is approximately 1kW
Core temperature (external of ceramic) 1100ºC using S-type thermocouple
Tested for 3 months in accumulated on time, only 2-3% output variation during that time
Heat exchanger enables transfer of heat to water which is heated to 101ºC
Instantly stops reaction when turned off
Water heated to boiling inside 5 mins of turn on
Claimant used his, his partners and his teams expertise alongside publicly available discussions on the New Fire
Reactor was arrived at by informed trial and error without specific theory consideration
Many areas identified for improvement and now from a theoretical basis
Good fuel testing platform
Makes a lot of cups of tea
How it was discovered
Suhas introduces himself and describes how he came to look for the New Fire
Technical discussions on SoundCloud
Part one
Part two
Part three
Part four
Fuel Processing
Fuel is processed in a chamber with the following design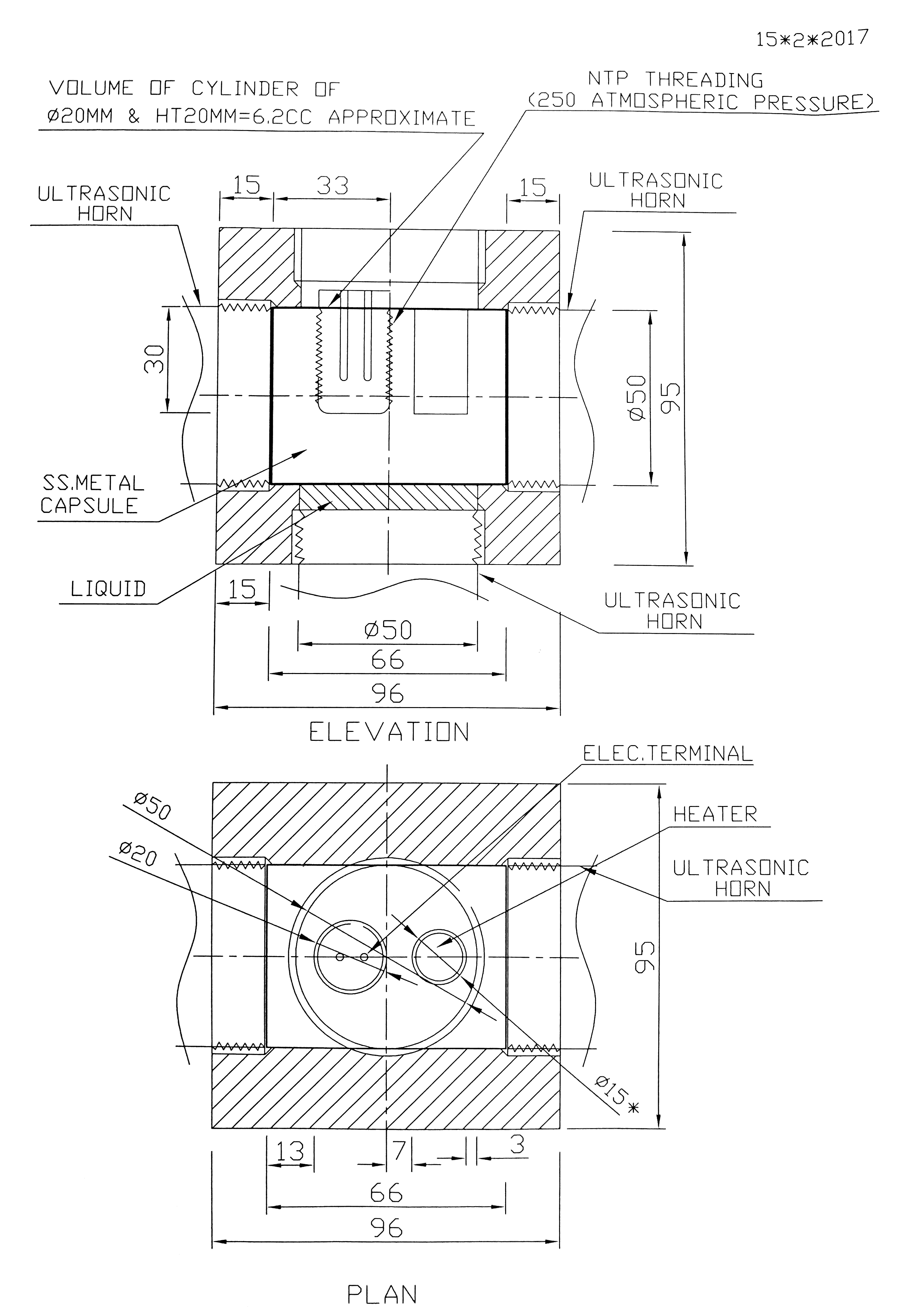 3 resonant ultrasonic horns are attached to the above block with the following parameters: 19.4kHz & 1.5kW each for a total of 4.5kW. The X/Y arrangement of the high energy ultrasonics reduces the fuel components in a light water solution over 10s of hours from off the shelf powder sizes of 80-100um to 1-3um. At the same time the fuel components are cleaned. In addition, there will be cavitation resulting in potential charge cluster effects and nano bubble formation.
Overview of fuel processor
Uncapped fuel processor in operation
Fuel composition, processing time, reactor core form and fuelling
The reactor in operation
5 mins to get to operating temperature from 28ºC line water temperature
COP 8
Close-up on steam

Water droplets are apparently due to partial condensation in metal pipe exposed to 35ºC air - to be verified by lagging pipe
101ºC - Steam quality
Summary discussion
Next steps
We need to get a team and equipment to India as soon as possible to verify this technology and document it fully. MFMP team members have expressed that they could put time aside to do this, but it will take more than just time and shipping of equipment. We must be completely independent testers, with no strings attached and also ensure that the Indian is not compromised by those wanting to 'help'. This is a critical moment in the Martin Fleischmann Memorial Project's history. Your support has helped get us here - this may well be the home straight.
The work of all the citizen researchers out there have helped the Indian make this technology embodiment and you can see how frank he is about that in discussions. You can all pat yourself on the back for being a part of lighting the New Fire together.
What we need to do to ensure independent evaluation
Raise money for duplicate production
Raise money for testing team to participate in verification
Ideally secure an SEM/EDX to do fuel / ash analysis without having to wait on or rely on the data from, third parties.
For those interested in an open working New Fire reactor becoming available, please consider a donation here:
MFMP Donation page
The project looses 4.5% on Paypal donations, so for those that can do a direct bank transfer, donations of any size can be made direct to Quantum Heat C.I.C.s (the organisation that runs the MFMP) bank account here, thus saving charges:
BANK: HSBC
Branch Address: 153 North Street Brighton, East Sussex, BN1 1SW
Account Name: Quantum Heat C.I.C
Sort Code: 40-14-03
Acc No.: 12631571
IBAN: GB48MIDL40140312631571
SWIFTBIC: MIDLGB22
Or bitcoin: 1JesTRUXU8jHb1haa1MoF2NvrU8gt5msCr
Alternatively there is a US 501.c3 that also supports the goals of the MFMP, you can request information on how to contribute by that route by writing an email to [email protected]