How computers were made and who did it?
Before you dig into #science tag, start reading my article, check social networks, etc...

PLEASE STOP!

Stare and think:
How is it even possible for me to do all these things?
Who should I thank?
How is this supposed to work?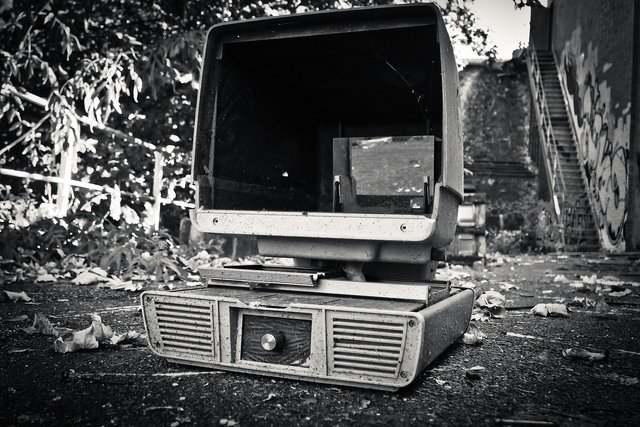 Nostalgic snap of an old Personal Computer 🖳
In this post, we'll discuss how science made us able to access, create and share new content every day on the web. We will explore the history of the computer and computer science too.
ARE YOU READY FOR A NEW JOURNEY WITH ME?
Preface
The history of computer can't be illustrated completely because it has its roots in the first human counting instruments, furthermore, there isn't a unique inventor for such a complex machine, but rather the entire human kind may be considered as such.
Do you really know what a computer is?
A computer is everything that can "compute" or help doing that, so the first computer was probably a dinosaur that could count from 1 to 5...
But wait! Not only dinosaurs can count, even humans can! So we could be considered computers too.
If we are computers, you won't be too surprised that some old tools were as well.
They aren't different, for definition, from an i9-9900K: all computers are all tools, they compute what humans (or intelligent life) tell them to compute; even AI (Artificial Intelligence) isn't genuine thinking.
At this point, you may ask yourself what's the difference between our way of thinking and the computer's one; for me, machines don't think at all, they just do a lot of calculations... But that's modern philosophy. Now, let's start!
Let's tell the (hi)story...
Once upon a time, a guy who had to do some math, decided to craft the first calculator that the world has ever seen: it was a kind of stick... a "tally stick".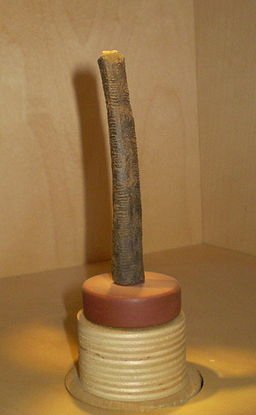 ‌ ‌ ‌ ‌ ‌ ‌ ‌ ‌ The Ishango Bone...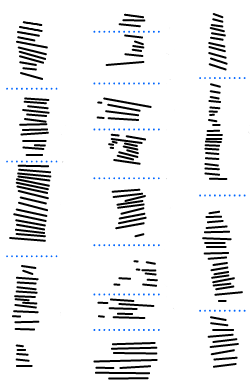 ‌ ‌ ‌ ‌ ‌ ‌
... and its "tally marks"
It was a very simple tool, it was used to write down natural numbers and then make summations and (maybe) multiplications. It was a supercomputer of 20000 BC and it used to run at (about) 9999999.9 GHz.
More than 19000 years later, in Ancient Greece, an unknown genius created a clock, a super clock!
It was able to calculate sunrises, lunar phases, movements of planets, equinoxes, eclipses, days, months, etc. and dates of the Olympic Games.
It is one of the most impressive Analog Computers of all times and today we call it "The Antikythera Mechanism".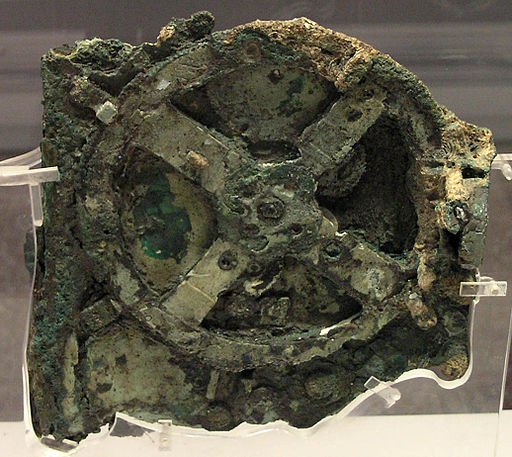 The Antikythera Mechanism
It was so complex that took the professor Derek de Solla Price 20 years to unveil the original mechanism and only in 2016 a team of scientists, by X-Rays, confirmed the purpose of the machine.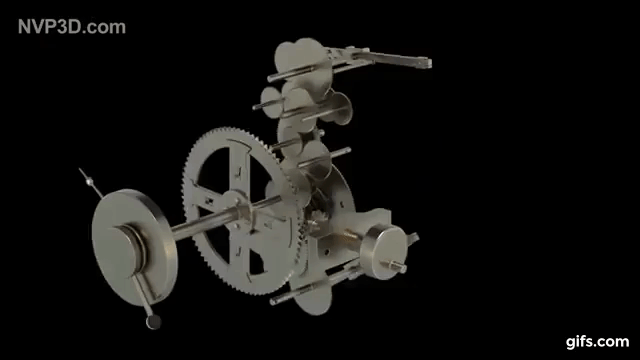 Antikythera Mechanism Computer Animation
In the 19th century, there was a man who was fed up of calculating by hand so he invented the first general-purpose computing device! He was mathematician called Charles Babbage and his invention wasn't easy to build at all because of the various problems he had to deal with. He created two versions of his machine: the Difference Engine and the Analytical Engine, the most important is the second one.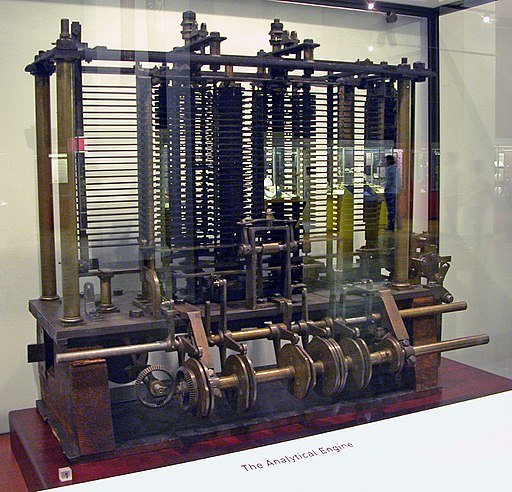 The Analytical Engine
In 1936, the mathematician Alan Turing (you probably know him because of "The Imitation Game") published "On Computable Numbers, with an Application to the Entscheidungsproblem", it is a paper where he defines in mathematical terms a class of computational devices that will be known as "Turing Machines" and in particular the "Universal Turing Machines", these machines are theoretically capable of performing any mathematical calculation if an algorithm is provided, moreover he demonstrated that the Entscheidungsproblem (a logic problem, also know as the "decision problem") is impossible to solve; he just created the theoretical computer science and the concept of AI (artificial intelligence).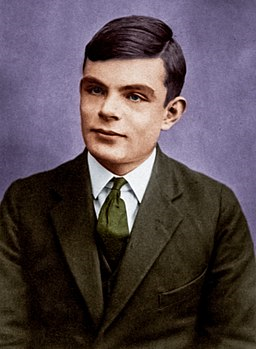 A colorful Alan Turing
The cryptologic war
Finally, during WWII, the first digital computers were born.
Most of them were created to fight Nazism and the first ones were called "bombs" 💣, although thery're not explosive, they had the purpose of decoding ENIGMA machine messages, the first bomb was Polish and it was called "Bomba", it was designed by Marian Rejewski, then the British Alan Turing improved it and created his own "Bombe", in the end, Americans developed faster versions of the British Bombe.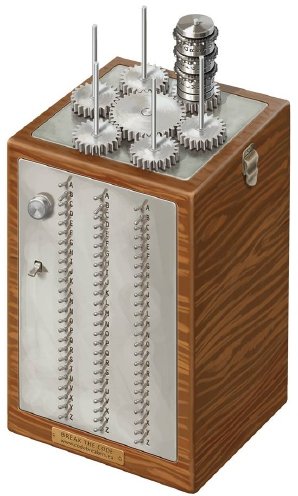 A Computer-made recreation of a Polish Bomba 💣
Many of these bombs still exist, except for the Polish Bomba machines, they were all destroyed during Nazi occupation of Poland; during wartime, there were so many machines because of the continuous improvement of the ENIGMA machine, in fact, there were several versions.
The world's first programmable, electronic, digital computer was "Colossus", it was manufactured in order to decrypt the Lorentz Cipher.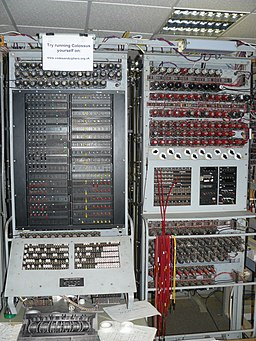 ‌ ‌ ‌ ‌ ‌ Colossus Control Panel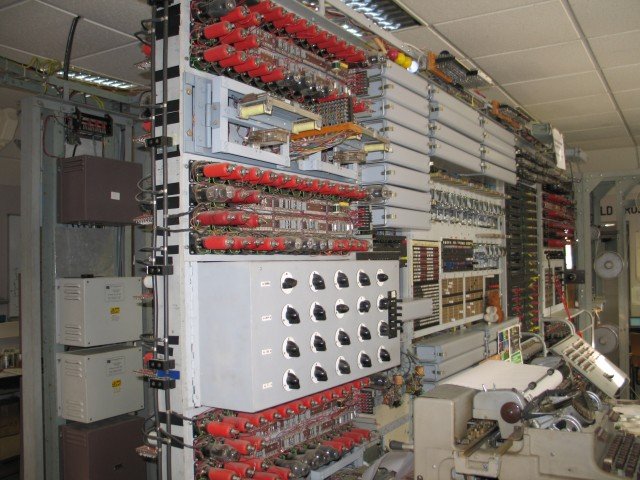 ‌ ‌ ‌ ‌ ‌ ‌ ‌ ‌ ‌ ‌
Colossus in Bletchley Park
Although Colossus was programmable, it wasn't a general purpose machine. The first machine that was both electronic and general purpose was ENIAC.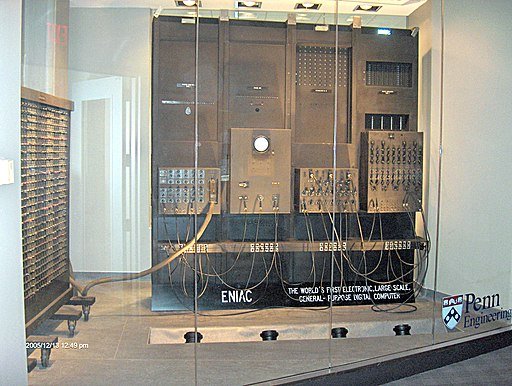 ENIAC (Electronic Numerical Integrator and Computer)
Both Colossus and ENIAC were very hard to use; and usually, the problem solving along with programming took weeks. The first computer that was a little more practical to use is the "Manchester Baby".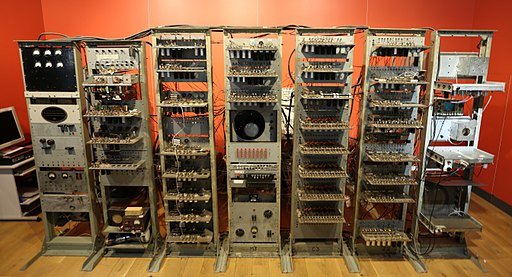 The Manchester ‌ 👶 (sleeping 💤)
Its new features were the capability of storing programming instructions into electronic memory (he has got a kind of RAM) and, even more important, there were no scattered wires and was easier to programme.
The last steps that led humanity to build the computers we know today are the invention of transistors, integrated circuits and other major improvements.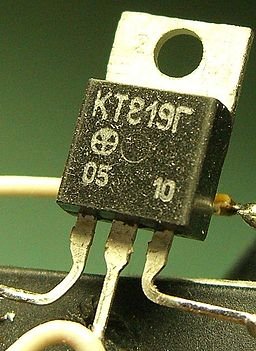 A bipolar junction transistor
Transistors are very important because they totally replaced the vacuum tubes that were too bulky, energy inefficient and ugly. Today's computers also take advantage of resistors, capacitors, inductors and diodes.
Credits
The Ishango Bone... → Ben2
... and its "tally marks" → Wero
The Antikythera Mechanism → Marsyas
Antikythera Mechanism Computer Animation → The Antikythera Mechanism - 2D
The Analytical Engine → Bruno Barral (ByB)
A Computer-made recreation of a Polish Bomba 💣 → Unfogettable War
Colossus in Bletchley Park → Ian Petticrew
Colossus Control Panel → Ibonzer
ENIAC (Electronic Numerical Integrator and Computer) → TexasDex
The Manchester ‌ 👶 (sleeping 💤) → Geni