The End Of Economics: Does Mars Need Money?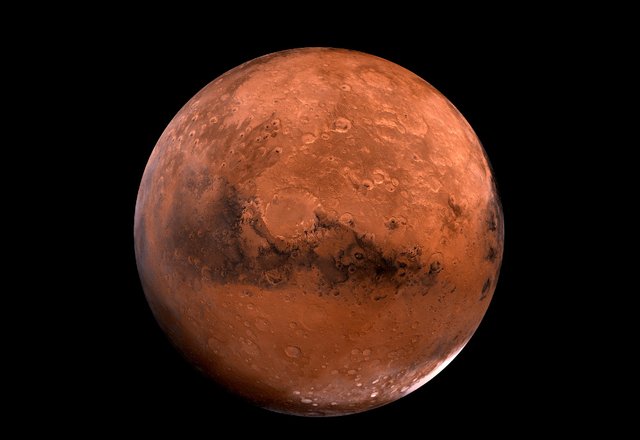 What do SpaceX, NASA, and the Mars One Foundation all have in common? You guessed it, they all want to start human colonies on Mars. However whilst they are all focused on the challenges of biology, how to grow food and extract water. Or logistical challenges like sourcing and using building materials.
Today let us look a little bit farther than the first settlers and ask the question:
Does Mars Need Money?
As the 90s house band Marrs told us, Mars needs women. However the question is, will Mars also need money? Will we need a barter system that will allow us to buy and sell goods and services?
Or will there be an inherently better system that future Martians will use to replace the need for money?
In order to answer these questions let us both try and imagine a future Martian society.
The Build Up
It is clear that once the first human beings do finally get to Mars, they won't immediately start building mega cities, or planting forests to cover the land.
The film The Martian, shows Matt Damon's character planting potatoes in the Martian soil and fertilising them with his own poop. Whilst this may work as an interesting experiment, as far as a survival tactic goes it stinks. Literally.
Apart from the fact that human excrement might actually poison the potatoes and other plants you grow on Mars. The percholates (toxic chemicals in the Martian soil) would definitely end up poisoning you if you ate any food grown on the red planet.
Besides having to deal with no fertiliser and toxic chemicals. Early Martian settlers would also have to deal with the fine nature of the soil on Mars which will not hold water in the same way soil on Earth does.
It is no secret that the first colonists on Mars will have a tough time. Growing edible food will be just one of their major problems. From sourcing fresh water to building habitats that can protect us from harsh radiation. To protecting ourselves from tiny and destructive silicate balls blowing round the planet. There is no doubt that it will be far from easy when it comes to establishing a thriving human colony on a new and inhospitable planet.
Coming Out Of Mars Beta
The beta test phase of Mars will be very clearly defined. It will essentially be the period in which the Martians need supplies and assistance from Earth in order to survive.
Once we have established an ecosystem that can look after itself. Or at least can be tended by the people living on the red planet, then the beta test phase will be well and truly over.
That is the point whereby it will be interesting to observe whether Mars automatically inherits the Earth's financial system, or if it functions with one of its own making.
In order to answer that question we have to try and imagine what that point will look like. Clearly the very early Martian settlers will rely heavily on Earth to survive.
Things like fertiliser, building materials (probably plastics at first), tools including mining and digging equipment, plant seeds, food and much much more will be ferried from Earth to Mars in what will surely represent an impressive interplanetary supply chain.
However if we fast forward some decades, then perhaps we have a situation whereby large portions of the planet are covered in greenhouse-like dwellings, supporting animal and plant life alike.
Along with that there are various mines and robot labs extracting and utilising resources. There are also water treatment plants and air purification projects underway.
As far as infrastructure goes, we have built various roads. There is a functioning airport to go along with the long established spaceport, and there are various ground and air vehicles available to be used by most colonists.
Most of the resource was shipped from Earth either as whole pieces of equipment, or as raw material. Being pioneers the colonists themselves won't have paid for anything that has travelled from Earth. That would be taken care of by the companies involved in sending them there and perhaps some rather interesting Kickstarter campaigns.
It is clear then that the early Martians will have no need for money save for any financial responsibilities they have left back on the Blue Marble.
Money Motivations
Part of the reason that money exists within human society, is that it represents an uncomplicated way to transfer the idea of value. So whilst the inner workings of a financial system in itself can be complex. The motivations that drive that system are inherently simple.
One such philosophy is the one of investment. A person or company invests money in an object, person or project, with the hope of receiving a greater amount than the investment at some point in the future.
Of course when we look at NASA and possibly Mars One Foundation, they are not necessarily viewing their investment into the Mars project as one that is returnable in cash. More so these organisations are investing in the human race for its future betterment.
However SpaceX is a commercial company, and whilst Elon Musk has stated that he wants to change the world. He is ultimately head of an organisation which must return profits in order for it to be able to function as a business.
The commercial advantages of having a Martian outpost could make whomsoever manages to get a commercial foothold in the region some kind of mega-trilionaire. For instance mining of the potentially lucrative asteroid belt becomes more feasible from Mars by way of proximity and reduced launch costs.
Whilst mining the planet itself could produce some very handsome profits for anyone willing to transport the minerals back to Earth. It is unlikely in the extreme that any of those profits would be generated by selling goods and services to the colonists.
The Power Of Incentive
It is obvious that the first colonists of Mars will be given as much help as possible from the Earth, and that the help will be completely free of charge. After all, risking life and limb to establish a Martian colony is one thing, but being in crippling debt should you survive is quite another!
However even beyond the beta-test phase of the Martian colony, it is easy to see this status quo continuing. At that point whilst Mars may be habitable, it won't necessarily be comfortable. Apart from the fact that living on the planet will be nothing like living on Earth. You won't be able to go for a trek up Mons Olympus without some pretty serious survival equipment. Your diet will be at best be described as basic, and your health may take a serious battering.
In other words it will be very tempting to just jump the next Earth shuttle and come on back home. So in order to keep you there, companies are going to have to heavily incentivise you.
Of course it is one thing getting you to stay on Mars, however for the first few phases of humans living on the planet you will need to work. The first colonists will be incentivised to work in order to ensure their own survival. Ultimately the need to survive will supersede any financial needs you might have.
Mars Future Work
Moving forwards as survival becomes less of an issue, other reasons might be needed to mobilise a Martian workforce. However, if we look at the nature of work on Earth today then we see that a large majority of it is nonessential.
Take for instance the field of marketing and advertising. Whilst it is necessary for a product or service to advertise itself. If you were to press a magic button and make all forms of marketing and advertising disappear, society would survive without it.
If however you pressed that button and got rid of all doctors, then eventually society would begin to suffer as mortality rates soared.
Next, if you took away all delivery drivers, there would be an instant and catastrophic societal effect. Food and medical supplies would remain undelivered and there would shortly follow a global crisis.
Lastly, let's use that button to get rid of all the hairdressers in the world. Whilst we may end up being a bit more hirsute and less groomed, as a society our survival would not be under threat.
So we can explain work using these four examples and categorise them like so:
Nonessential, zero impact work: This refers to areas which may have a high impact on society, and may even be missed if they're gone. However society can function with little or no difference without them. Like the marketing example above, and most, if not all of the entertainment industry.
Essential high impact work: This, as the name implies, is work that is absolutely essential to the smooth running of a society. Which, without its existence will have a negative effect on mortality rates. The example above focuses on the medical industry. However things like plumbing and other industries linked to sanitation would also be classed as essential high impact industries.
Essential low impact work: As cited above, logistics falls into this category of work. The category is defined by the fact that the work done is essential, like delivery driving. However their absence simply slows the growth of society, rather than killing it off completely.
Nonessential low impact work: Nobody actually needs hairdressers to stay alive. However there can be no doubt that we would feel their loss. The same could be said for many other industries built up around personal grooming.
So coming back to the issue of Mars, we can see that a lot of essential high impact work will be done as a matter of survival. For instance if you're a future doctor on Mars, making sure the indeginous population is healthy has a direct effect on you and your survival.
As far as essential low impact work, such as maintenance and transportation, it is not hard to imagine a lot of this work being almost, or even completely automated. Even on Earth, many such jobs can already be done by machines. The reasons for them not being done so range from public mistrust of robots, to the simple protection of human jobs. For instance most developed countries could easily accommodate an entirely automatic rail transportation system, yet they don't.
When it comes to nonessential low impact work like hairdressing and fashion, there may be other reasons why someone would undertake these other than money. The simple feeling of enjoyment and fulfilment, especially on a new and foreign planet would be enough of a motivation in many cases.
Of course nonessential zero impact work would pretty much disappear for the very reason that nobody needs it, and its absence is hardly noticed.
A Paradise From Home
So in summary we see that the early colonists will not be using money on the planet because things will be done in order to survive.
Later as the colony starts to thrive and flourish, a lot of the menial, yet important tasks will be done by machines, and even the maintenance of those machines will be done by other simpler robots and machinery.
When it comes to doing things that we enjoy yet do not need. We could find that people are happy to do these things because they don't necessarily view them as jobs, more as fulfilling pastimes.
So essentially we won't need money on Mars, it will only be introduced if we feel that we want it. Which in itself is not such a crazy thought. We have used various bartering systems from our very earliest days, and those very same systems played a huge part in creating large societies. So we may feel uncomfortable without such systems in place on Mars.
Let's also not forget of course, that the Earth will still have an economic system, therefore humans will still be creating, making, and spending money. In later articles we'll explore what that could mean for us as a two-planet species and beyond. For now though, to the question; Will Mars need money?
We can give a resounding, and definite, no.
Sources & Further Reading
'The Martian': What Would It Take to Grow Food on Mars? - livescience

The resources of Mars for human settlement. - *Pubmed
Elon Musk SpaceX Update Mission to Mars
###### Mars Needs Women
WHAT DO YOU THINK; WILL WE STILL SPEND MONEY ON MARS OR WON'T WE? IF YOU DON'T THINK SO, DO YOU THINK THAT WE'LL REPLACE IT WITH ANYTHING OR SIMPLY START THE NEW COLONY WITHOUT THE CONCEPT OF MONEY?
AS EVER, LET ME KNOW BELOW!
Title image: Creative Commons free to use on Pixabay