Homeopathy: Just water?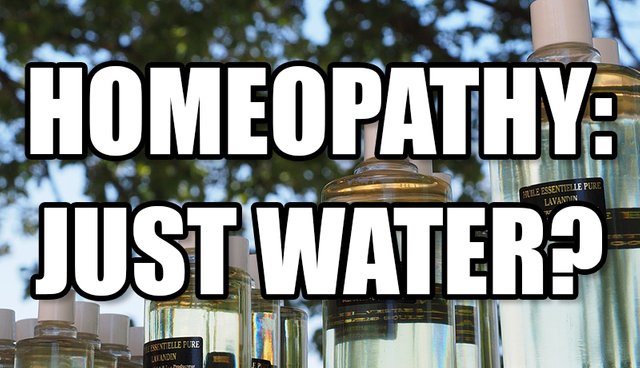 Firstly, I should mention here that my goal with this essay isn't to make the case that homeopathy works. My experience with homeopathy has been positive, but too limited to even convince myself that it works, so I'd hardly expect to persuade anyone else. My intention is to present the much humbler case - that it's not clear that homeopathy is false; and that the most commonly-accepted argument against homeopathy is indeed false, based on phony logic and mistaken premises.
You'll know the argument if you've taken any interest in the subject. It goes like this: "They dilute it so much. It's just water. It can't work."
To phrase the argument more formally, it goes like this:
Homeopathy involves extremely high dilutions, less than a part per million in some cases.
Such a dilution is so high, it is pure water.
A molecule of water in this solution is identical to a molecule in a regular glass of water.
Therefore, this solution has identical properties to a regular glass of water.
Therefore, the medicinal effect must be identical to regular water (or a placebo).
If you made it through Logic 101, right away you can see there's a problem here. The assumption is that, because the water molecules are identical in a vial of pure water and a vial of homeopathic solution, the water must have exactly the same properties. However, groups of things sometimes have different properties to individual things. The mistake is a fallacy of composition.
A classic example of a fallacy of composition is to say, both sodium and chlorine are fatal to humans, so when combined they must also be fatal. Therefore sodium chloride (table salt) must also be fatal to humans. But, it's not. The combination of sodium and chlorine in a compound has different properties.
Looking at how chemicals are structured, starting at the subatomic level, we can see how big this error might be. The same kind of neutrons, electrons and protons can be formed into atoms, having much different properties to the original particles. The same kinds of atoms can be arranged into different molecules, with much different properties again. Molecules can even be arranged in solids to form different crystal structures, or to lack crystal structure, with different melting points. So why would it be so strange to suggest that molecules might form different structures in liquids?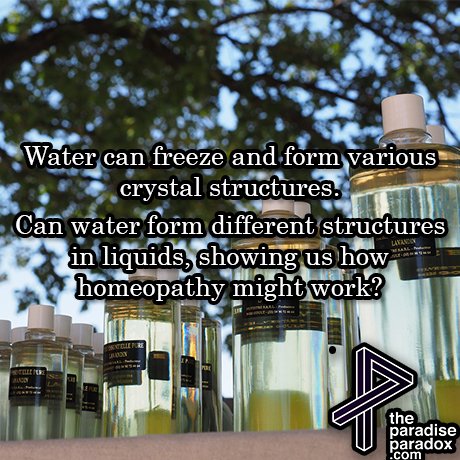 In fact, that's exactly what Nobel Laureate Luc Montagnier suggests as a hypothesis to explain his unusual experiments in which water can be coaxed to emit electromagnetic information about a DNA sequence, even when the DNA isn't present in the water. He calls these water structures "naneons".
Other experiments also show that water isn't "just water", such as the work of Louis Rey, showing that water can emit light signatures specific to the solution, even once the salts are in an ultra-high or homeopathic dilution, and a study from The Pennsylvania State University, which indicates that homeopathic solutions can be distinguished using stereoscopy, detecting very small bubbles apparently caused by the agitation of the medicine.
Finally, people like to say that there are no peer-reviewed studies that show a positive result. In reality, there are scores of studies that can be uncovered with a simple Google search. Here are a handful of these studies:
So, does this mean that homeopathy works? I don't know. But I do know that reality is too complex and too subtle, and too fascinating, to allow our discovery to be halted by a reductive phrase such as: "It's just water". We should not be guided solely by our preconceptions, as it is only through the challenging of our previous ideas that we can truly gain knowledge, and wisdom.
---
About me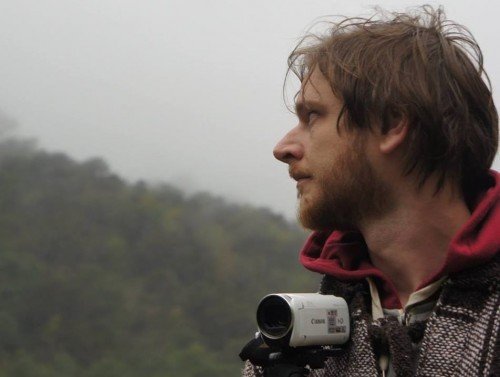 My name is Kurt Robinson. I grew up in Australia, but now I live in Guadalajara, Jalisco. I write interesting things about voluntaryism, futurism, science fiction, travelling Latin America, and psychedelics. Remember to press follow so you can stay up to date with all the cool shit I post, and follow our podcast where we talk about crazy ideas for open-minded people, here: @paradise-paradox, like The Paradise Paradox on Facebook here, and subscribe to The Paradise Paradox on YouTube, and on iTunes