Are You Simplifying Your Life With A Daily Schedule?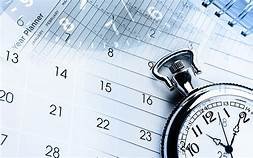 A daily schedule is crucial to the success in quality of life you wish to live. Most people do not live on any schedule except for getting up at a certain time, getting ready for work and leaving for work. Any time before or after that is up for grabs. Although it may seem when you're not on the clock, time should be spent relaxing and enjoying whatever inspiration comes to mind, having a schedule will actually bring more time to enjoy, relax or accomplish any task you want. The truth is most successful people live and breathe on a schedule to truly maximize every second of every minute of their day. They know exactly what time to accomplish this and when to do that so there is absolutely no confusion (and time lost) in terms of what or when to do something. And this goes beyond money-related activities.  
Scheduling home life is actually more important because what we want to experience is a higher-quality of life, which means there must be a balance between home and work life. For example, scheduling exact times of when laundry is done, what gets eaten at meal times and when the kids are going to get picked up will actually save you a lot of time, money and headache in the long-run.  
Every detail of every aspect of life should be planned out so one can truly be in the moment and enjoy the simplicity of a high-quality life.
Do you follow a schedule? Let me know!!