The integrity and perception of God's word
The dependability, the reliability of his word, when it comes to exploit in the kingdom, the principal channel for receiving and participating in the miraculous service is through faith and your faith is inactive until the word of God brings it up in your life. There are so many believers who expect God to just bring the miracle, without understanding this things. The Bible made us to understand that heaven and earth shall pass away because the word created them both, but the word of thy lord abide forever.
The principal channel to commit God to work in your life is his word, it's not your tears, your tears move God but they can't commit him, your lamentation can moves God, the Bible says we don't have high prince who hasn't been touched with the feelings of our infirmities but being touched is not the same as responding to it, the only channel that can bring and commit God to the scene and perform on your behave is the word of God, not a man, for he may only be a vehicle.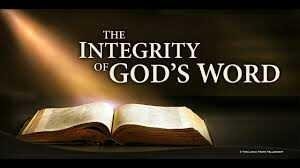 image link
When ever we talk about faith, it's simply the vehicle that give his word an expression, it's important and paramount to understand and know that the word of God can be trusted, the scriptures we read was inspired by the Holy Ghost through holy men as moved by the spirit, so regardless of the imperfection of the translators or the writers, the power behind it modify their imperfections and make the word produce a result, when believed and acted upon.
Your faith, ever time in the scripture, Jesus will challenge the faith of his recipients, Jesus never told anyone that you have ask a hard request, it was Elijah who told his son in the gospel that you have ask a hard thing, it's possible. But Jesus will only ask them, believe thou, your faith has got it to you.
Faith is sharing responsibility with God, in the light of his word so as to get your desire result, there is a path to a miraculous life that depends on God and it's exclusively left to his wisdom and power but there is a path to the delivery and manifestation of your miracle that depends on an operation you must do. So many believers wants to receive from God but will approach God like one approaching an idol, hoping he will perform some Magic, No!, there are spiritual dynamics to reception.

image from newchurch.org
Results are predictable, there is a technological/system to predictability of results, not a trial and error. Imagine one going to the hospital with his pregnant wife and about to give birth and the doctor tells him that he's not exactly sure and let's see and trust God on what will happen, seeing your wife crying, the question now is will you trust such a doctor, the words he said? And you ask him how he got the title because the title is an implications, it means the doctor was certified, means he went through rigorous season that trained his mind to be intelligent on that wise, when God names a meeting, it's an implications and calls it a miracle service to back up his name and this is what the doctor understood.
It has never being the inability of God to step into people's lives, there is no case presented to God today that's above or below his ability to steps in. There are impediment, mountains that stand against us limiting us to move further, the present of this impediment is our inability to trust God. Let's build our faith through the word of God.
Till we meet again!
I want to use this opportunity to wish my mom HAPPY BIRTHDAY, help me celebrate her.