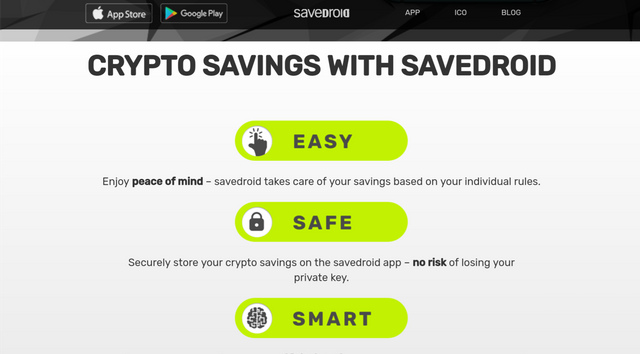 There are hundreds of cryptocurrencies in existence today, however, alot of them are not successful. At least 80% of them end up as scam projects, most of them have not been able to satisfy their customer base due to poor management, low funding, lack of experienced, trained and dedicated work force. These factors are practically the reasons why crypto investors tend to be scared and confused about choosing a crypto project. After due diligence on researching savedroid, I have come to the conclusion that savedroid is one of the safest and smartest crypto projects out there today. savedroid is an award winning Fin-Tech company specialized in Artificial Intelligence ("AI") saving technology. It creates a unique saving system based on cryptocurrencies and fiat for the masses without any technological barriers. Being a German company, savedroid aims to drive crypto inclusion for all, and is managed by a strong team of experienced and dedicated experts with the aim of bringing cryptocurrency to mass adoption. Here are some reasons why you should consider adopting savedriod for your savings needs.
➢ Self-learning Algorithm: Savedroid's award winning AI algorithm is based on self-learning,
makes saving money easy, automated, and cool. Savedroid's AI saving technology enables users to automatically save up for their wishes without thinking about saving.
➢ Savedriod is the first ICO of a German stock corporation that follows German's legislation and regulation to provide participants with the highest level of security. This implies that the German Government is fully aware about the existence and services of Savedroid, making it very impossible to be unsecured.
➢ Experienced and Dedicated Team Members: Savedroid's team combines long-time industry experience in AI, UX, Tech, Finance, and marketing with the right start-up mindset and user centricity. With this skill set, savedriod can deliver financial innovations faster and in a particularly user-friendly way which is unmatched so far.
➢ Super Cool App with Excellent UX and 97% Recommendation Rate: Savedroid has successfully launched Europe's first AI-based savings app, which has generated more than 200k+ downloads and more than 10m savings transactions since its launch in October 2016.
➢ Savedroid Eliminates Today's Complex Savings Process: this is achieved by creating smart user experience ("UX"), which conveniently auto-converts savings to crypto currencies, securely stores them, and makes them easily accessible, tradeable and spendable.
➢ Savedroid Brings Crypto Currencies to the Masses: This purpose well oriented token helps in making sure that the crypto world does not leave anybody apart when it comes to digital assets. Unlike many other tokens, most users find it very difficult to asses and properly carryout their transactions based on the part of the world where they manage to find themselves. Being a part of the Savedriod project, gives you full access to the digital world where you can easily convert your savings to cryptocurrencies and helps in making your transactions more efficient and time saving.
When I say savedroid is the best for you, I literally mean savedroid is one of the evolution in the crypto world
we all have been expecting to see. I will encourage us all to stop-by and check out this mind blowing platform in other to experience the real transformation in the crypto world.
To learn more about savedroid, the links below will be useful to you:
Facebook - https://www.facebook.com/savedroid
Twitter - https://twitter.com/savedroidAG
YouTube - https://www.youtube.com/c/+savedroidAGFrankfurtamMain
Medium - https://medium.com/@ico_8796
Reddit - https://www.reddit.com/r/savedroid_ico/
Bitcointalk - https://bitcointalk.org/index.php?topic=2578161
Telegram group and channels: https://t.me/savedroid;
https://t.me/savedroid_svd; https://t.me/savedroid_de
Whitepaper: http://ico.savedroid.com/whitepaper
My bitcointalk username: Obasi1