Steemclan is on fire in the Satoshi's Treasure hunt! | Now we need your help to obtain the next key | Vloggers unite!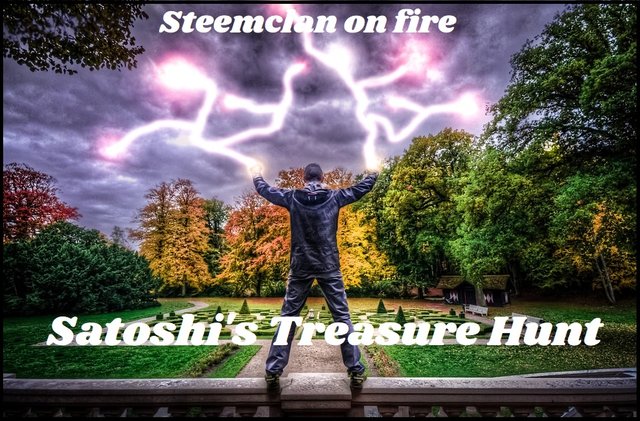 Source
---
Unlocking keys is addictive and makes you even more competitive to unlock a new one
A week ago I wrote about the fact that I managed to unlock my first key (The Freedom Key) for #satoshistreasure, you can see my post here. From that moment, the game was on, as it's very addictive trying to unlock another key. Things got a bit quiet until they revealed the DLive keys: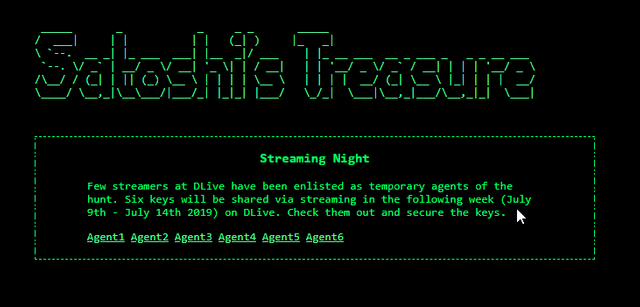 Six streamers on the DLive platform have been turned into agents for Satoshi's Treasure for the next week or so, meaning we would have to watch a lot of hours of (mainly) gamers streaming. The closest that I get to being a gamer is playing Steemmonsters, so not really my cup of tea. The first task was finding out who we needed to follow to find the clues and pass phrases to unlock the keys. This was all we knew: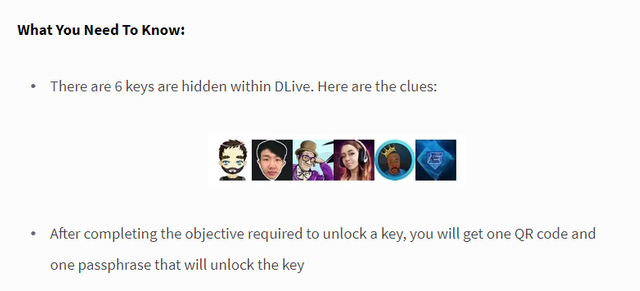 Source
Luckily, soon we knew exactly which 6 streamers we needed to follow, and the game was on. The first key got unlocked by @paulag, which was her first key to unlock, so that's great, congrats!
---
A very fruitful week for the @steemclan
We can look back on a very good week for our clan in the hunt, we obtained a total of 7 keys last week, so that's good! We managed to get them all unlocked, and although it was very time consuming, we nailed it. Yesterday I was super surprised when @littlescribe wrote a post about the clan, labeling me as the Most Valuable Player of the week.. Always nice to read something like that right?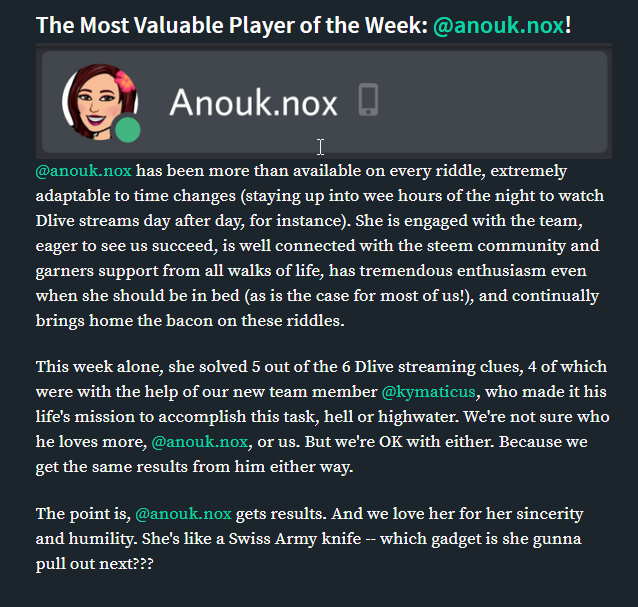 Not only can the girl write in an awesome way, but she's also got some humor there! We just met a few weeks ago, and I' glad we did.. If you want to read the full post, click here.
---
Next up is the obtaining the street keys "Hit the street"
A new key has been released yesterday, and basically we have to go out on the street to ask random people about cryptocurrency. The questions you ask are your choice, they have given a few examples in the clue for the task: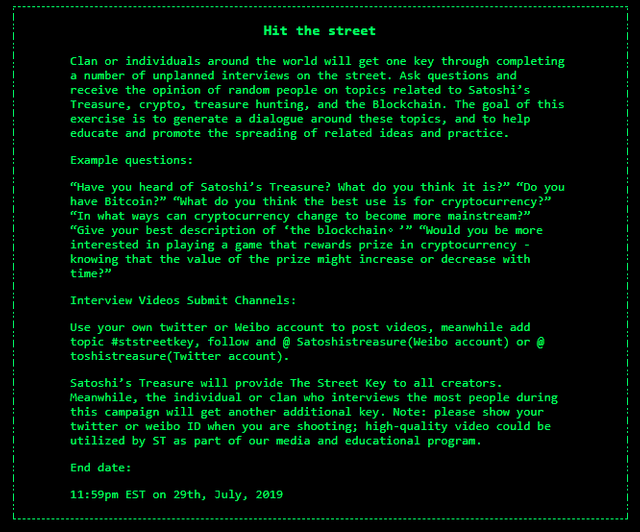 Recap: everyone that joins this hunt and publishes at least one interview on twitter or weibo will get the Street key, so this key is a public one that will probably be owned by a lot of people. What we're aiming for is the private one that you get when our @steemclan will have the most interviews done for this task. An interview should be short, and only contain a few questions, and should not be longer than 2 minutes max. You could ask:
Have you heard of Bitcoin?
Have you heard of Satoshi's Treasure (in case they have heard of Bitcoin f.e.)
Do you have any cryptocurrency?
Did you know that you can also buy only tiny parts of a coin when you purchase cryptocurrency? For example for 10 dollar worth of BTC/LTC/.....
Have you heard about Steem / Steemit?
Do you know or play Steemmonsters / Splinterlands? etc etc...
You can also choose to continue a short conversation about Satoshi's Treasure hunt whenever you see they are interested in finding out more. If that's the case you can tell them to go to https://satoshistreasure.xyz/ to read more about the hunt in general.
Steemclan is rewarding every person that has a Steemit account and completes the task of doing at least one interview for the clan with Satoshi's Treasure Tokens (SST)
To get the reward you should make sure you edit the video afterwards, please make one video for every interview, and add this in your video to make sure the interview will count towards @steemclan's total amount of interviews:
Use your own twitter or Weibo account to post videos, meanwhile add topic #ststreetkey, follow and @Satoshistreasure(Weibo account) or @toshistreasure(Twitter account).
Important: Interviews can be done in another language, but in that case it's mandatory to add subtitles to the video.
It would be awesome if everyone does more than 1 interview, as we don't have a clan account on Twitter yet, please also mention @noxa76020592 (don't forget to also mention @toshitreasure!) in every tweet. I will make a list of every interview and after this task has ended (July 29th) I will contact everyone to make sure you will be rewarded for your efforts! You will get rewarded per interview done, so if you have the option to do several (or a lot haha) please do..
---
If you participate you will also get a key for participating
So if you don't have a key yet from the hunt, you will have your first key, and hopefully it will get you interested to start hunting with us from that point on. You can join our discord by clicking here please be patient until someone asks your Steemit account name, and can verify you. After that's done you will get access to the rest of our server.
Needless to say that you should always be polite and don't force anyone to be on camera, and make sure people are ok with you filming them. You can explain that it's for the contest, and if people prefer so, you can tell them to remove the video after this task is completed. Always thank them for their time and if you see they are accompanied by friends/family, try to get them to do the interview as well. It never hurts to ask right?
These interviews are a huge opportunity to promote Steem/Steemit, and who knows how many new people will join after being interviewed by all of these Steem enthusiasts.. 2 birds in one stone!
Good luck everyone, happy hunting!