Gun Control? Safer Schools? Are we willing to pay the price?
Here's an old fashioned method that worked years ago. The people in the picture are a social group called "a family" complete with a mother and a father and with children.
They are pictured here in a social activity that was known as "going to church together".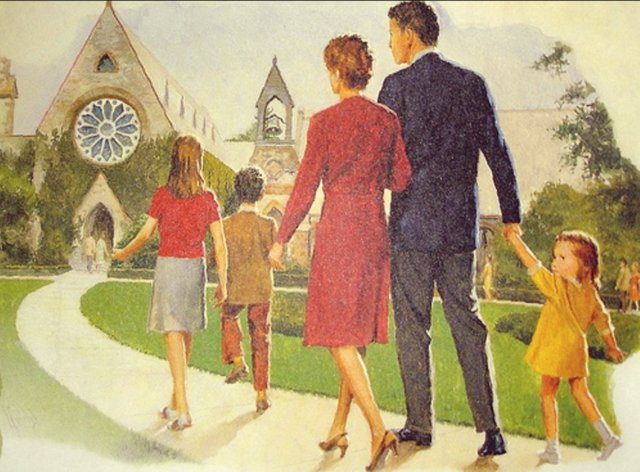 Here they learned about "Thou shalt not steal" and "Thou shalt not kill" and other old fashioned ideas. And what they learned at church reinforced what they learned at home.
This was back years ago when people still believed in God, went to church together, prayed together and ate together.
Family dinner wasn't just something you watched on "Blue Bloods" on TV. Back then most breakfast and supper meals were families sitting down together.
This was back when people got married and had kids.
This was before birth control and abortion.
Speaking of abortions - how come there is so much attention given to the few kids who are tragically shot and killed each year at school, and so little attention is given to the thousands and thousands* of kids who are killed each year before they are old enough to go to a nursery?
Times have changed and there is no easy way to turn back the clock. Besides who wants to go back to those old ways. The new ways are so much more exciting than the olden days -
back when Families went to church together and kept the Sabbath Day Holy.
God, who needs Him? We're getting along just fine without Him - aren't we?
Gun Control? Safer Schools? We are not willing to pay the price!